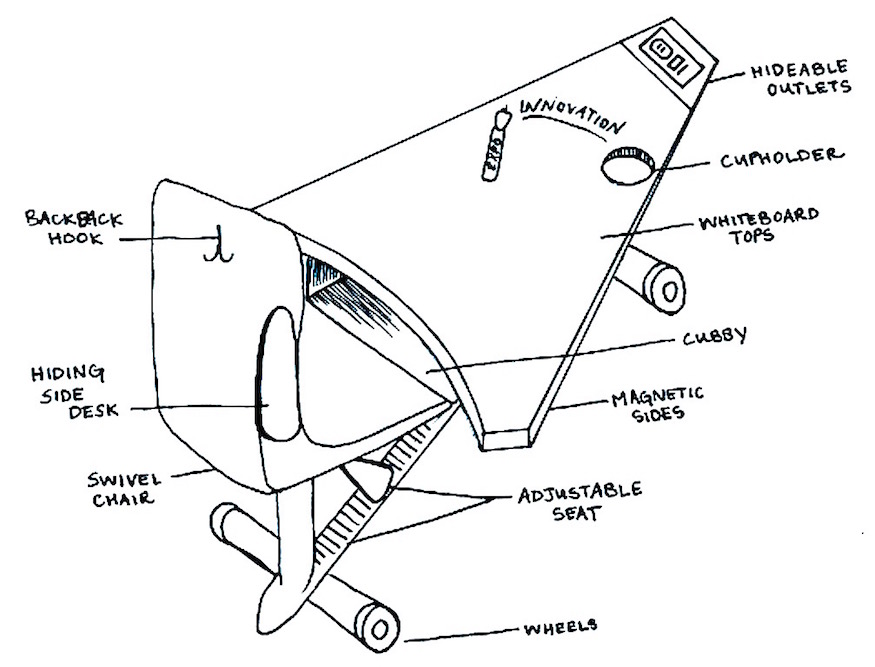 Students across the nation are rushing to study entrepreneurship hoping to become the next Jack Dorsey, Biz Stone, or Travis Kalanick. Universities too are expanding their curricula in a shift from more traditional liberal arts and science courses toward the promising territory of startups and innovation. I know this first-hand, because I'm one of the lucky guys teaching one of these newfangled classes at the University of San Francisco.
Today's entrepreneurism students often dream of creating a hot new app or a breakthrough online business model, much like the San Francisco legends who founded Square, Twitter, or Uber. But four of my students took a more physical, yet to my mind, equally inspiring approach to a class project. They focused on a central pain point for nearly every student today in high school and college in America. While modern education is bursting with technological tools and advanced curriculum, the desks and tables made for students are like leg irons, hampering collaboration and creativity and harkening back to the 19th century.
USF is a beautiful hillside campus, with a mix of modern and traditional classrooms, and a vibrant, international student body. Forbes just ranked USF in the top 20 nationally for entrepreneurship studies. I enjoy teaching there in no small part because many students are catching the entrepreneurial startup fever of the city and Silicon Valley.
Swathi Reddy, Hollis Helmericks, Timothy Castillo, and Ande Woodhams began their project with solid research and anthropology. They visited dozens of classrooms and snapped countless photos. What they found might surprise you. Older USF classrooms are often crammed tight with 1970's-style wraparound desks, themselves inspired by 19th century wooden models, requiring students to squeeze into a vise that echoes a traditional educational pedantry, where the space and furniture reinforces the subservience of the students. Next, the team documented USF's beautiful, modern, high-tech business school classrooms. Some had no desks at all, just vast, 15- to 20-foot semicircle tables bolted to the ground and pre-arranged in large rows for students to take in the professor's lecture. Do you see the pattern? Desks, tables, indeed the spaces themselves, communicate the uniformity of the student body. Professors broadcast, students receive. These designs are typical of most American colleges, universities and high schools. The truth is, there's very little that's innovative at most campuses when it comes to how students sit and work. Indeed, our team found that the best desks on campus – the ones students preferred – were arguably the simplest. Long, unfixed rectangular tables large enough for several students, freed of the modern lecture hall design limitations, with no 19th century influences.
Project work is the foundation of my class and most college classes focused on entrepreneurship. Teamwork is essential. As is prototyping. It helped that one member, Ande Woodhams , has excellent drawing skills. It also helped that they are all strong, self-directed students: training to be a director of an oil company, planning to go into business development, web development, and automobile design – with majors in Entrepreneurship and Innovation, Business Administration and Computer Science.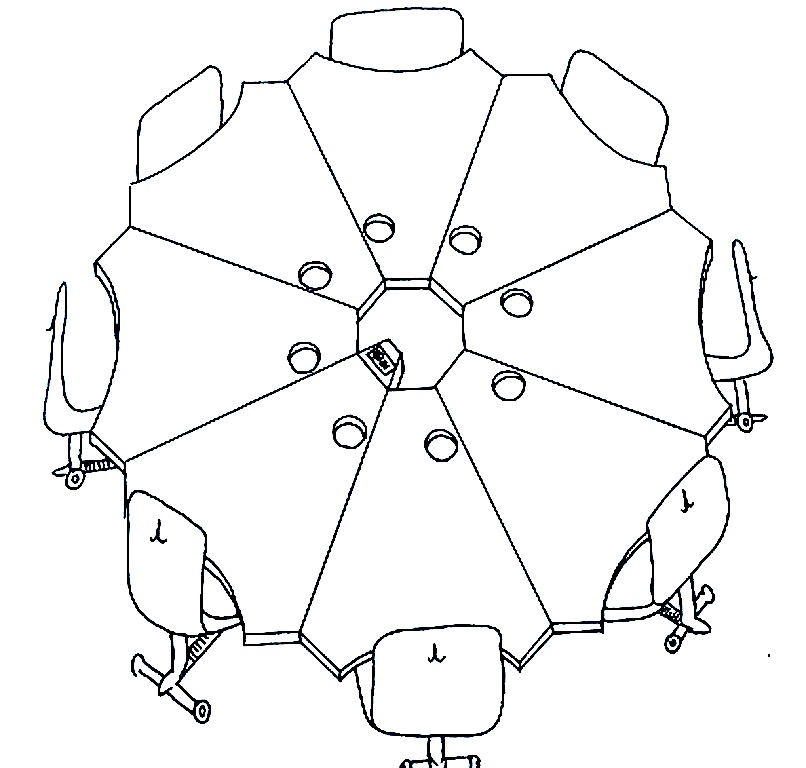 Judge the designs for yourself. These students are not furniture designers, and perhaps that's why their ideas are so powerful. They are three young women and one young man seeking a better physical tool for ideation and brainstorming, the sharing and vetting of ideas and influences. The visual metaphor they hit upon for the classroom table is not unlike a flower, a universal symbol of growth, beauty, and connection. Each six-student team table magically separates into individual petals or desks. The tops are whiteboards, the desks and chairs mobile, with smart touches like hooks for backpacks, a hiding side desk, and a cubby for books. Magnets link the desks.
Look closely at these designs to catch the signature element. Students and teams are the focus, working and studying in idea pods where they can brainstorm and prototype with abandon, and that just might be the best path to inspiring the next Jack Dorsey, Biz Stone, or Travis Kalanick.