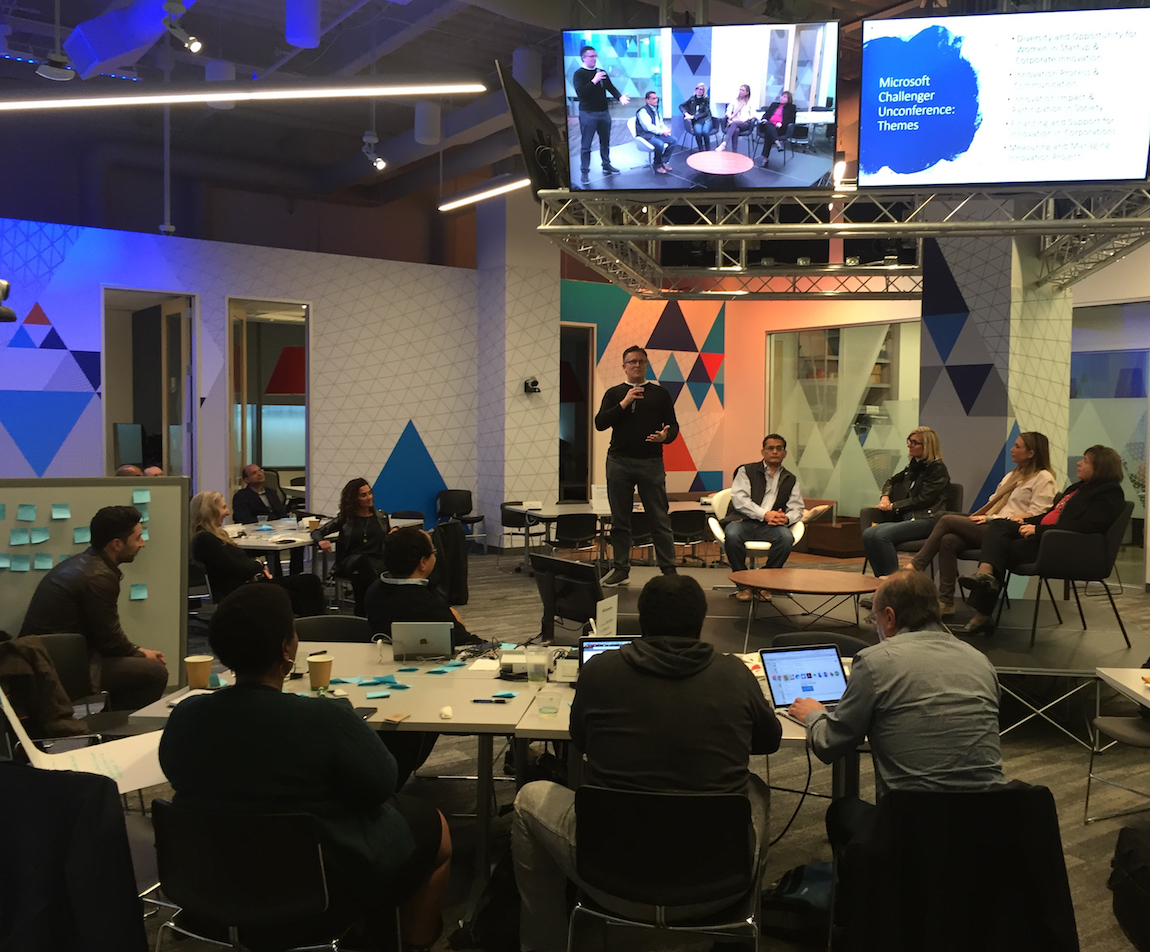 We all know that hemmed-in feeling. Tech events that put us in a box, stick us in the predefined role of "the audience," and exclude us from any real creative, participatory role. Tired of being force-fed canned lectures from vendors masquerading as keynote speakers, in a top-down, broadcast, go-nowhere kind of session? This week we got a taste of a promising new model at the "unconference" hosted by Future Think Labs and Microsoft.
It was clear from the get-go that this would be a collaborative experience. The Microsoft Challenger Unconference took place in the company's stylish San Francisco Reactor venue, set up with team tables and white boards around a central stage. Everyone was greeted at the door by our hosts, John-Michael Scott of Future Think Labs, Karim Nurani of Sandalwood Ventures, and Mike Kremer of Microsoft Reactor.
Human connection came first. We had a good thirty minutes to get acquainted with half a dozen of the 30 corporate innovators in the room. Then we broke into four teams. John-Michael kicked off with a call to action. Our task: brainstorm collaborative solutions to common problems in corporate innovation projects – such as funding tied to quarterly reports, untimely interruptions, metrics that are static and don't reflect evolving needs. Each team could choose a deep-dive on a major theme: diversity, corporate innovation strategies for project management, funding, or measuring impact.
The Unprocess of Innovation
How to inject diversity into projects was central. We were lucky. Our team of seven boasted three women, and a global perspective, with members from France, Poland, Canada and Russia and diverse backgrounds in telecom, fintech, and big tech. Our goal was to present our concept a few hours later. We asked ourselves, if this was the "unconference," why not forgo the tired pitch? Why not show how the challenge unfolds in a real-life scenario?
Daniel Chatelain, Founder and CEO of PayKademy, a fintech business school, ably stepped into the role of head of the fictional Jurassic Bank, one of the oldest banks in London, with 38 million customers, $2 trillion in assets, and branches worldwide. Our blockchain man, Gideon Nweze of KickCity, portrayed the CIO and enumerated all the traditional things the company had done to try to keep pace with the industry – they'd spent tens of millions on an innovation lab, startup acquisitions, and a blockchain-based settlement process pilot – yet Jurassic Bank was still struggling to stay relevant. A major industry analyst had labeled it a dinosaur, ranking the institution last among international banks in innovation metrics.
Into this all-too-familiar corporate quagmire walked our nimble, proactive corporate instigator, Ann Marie Kenitzer, VP of Tech and Innovation at Flex. She portrayed the power of the outlier. Head of operations at Jurassic's Polish subsidiary, she'd deftly purchased a small local bank, and had been far enough from the mothership to boldly break the rules and deliver results. Ann Marie confidently rattled off all the reasons the prototype was successful, showing how Jurassic Bank could adopt many of these new technologies in other regions. New management strategies like nurturing accountability and commitment over time, implementing dynamic metrics, and knowing how and when to pivot would be key.
Fun, serious, and competitive all at once, the exercise tapped the talents of our entire team, including Jonathan Grover, Innovation Business Development Senior Manager at Plantronics, and Larisa Antsukevich, Partnerships and Marketing Consultant at Sandalwood Ventures. We all came away with a better sense of the realities of the universal corporate challenge. By working and collaborating together we also bonded and made lasting impressions. We were co-creating the content that day, not just passively absorbing someone else's broadcast.
And the day was about more than just our collaborative work and presentations.  Karim Nurani led an inspired panel on diversity and opportunity for women in startups and corporates, including Julie Christ, Business Transformation Architect at VMWare, Monica Puchner, CEO of Hilo.io, and Kenitzer. The panelists flipped the dynamic and asked the audience to share their own diversity challenges. In the afternoon, we were treated to a brief chat with entrepreneur William Kamkwamba of Malawi, the bestselling author of The Boy Who Harnessed the Wind, a personal story about transcending hardship by bringing wind power to his village.
Start with an Open Canvas
At the end of the day, people were talking about getting together for coffee, and sharing ideas on projects and passions. This rarely happens at most tech events, and we think we know why. Put people in the back seat, and they'll assume a passenger mentality. Keynotes simply puff up the ego of the speaker and tout your brand unless there's an opportunity to fully engage with the content. We question the merit in convening a group of experts without a designed interaction to intelligently harness their input to brainstorm solutions.
Start with an open canvas and simple tools. A whiteboard. A table, marker pens, a small group amplified by skilled facilitation and the expectation of collaboration. Continuity matters, and this too was baked into the unconference. There's even a Slack channel for the group, and the next quarterly session's already on the schedule.
Microsoft's Unconference proved the value of connecting through doing. We learned from one other, and came away with a stronger understanding of strategies to address core innovation challenges.
We look forward to keeping the conversation going.