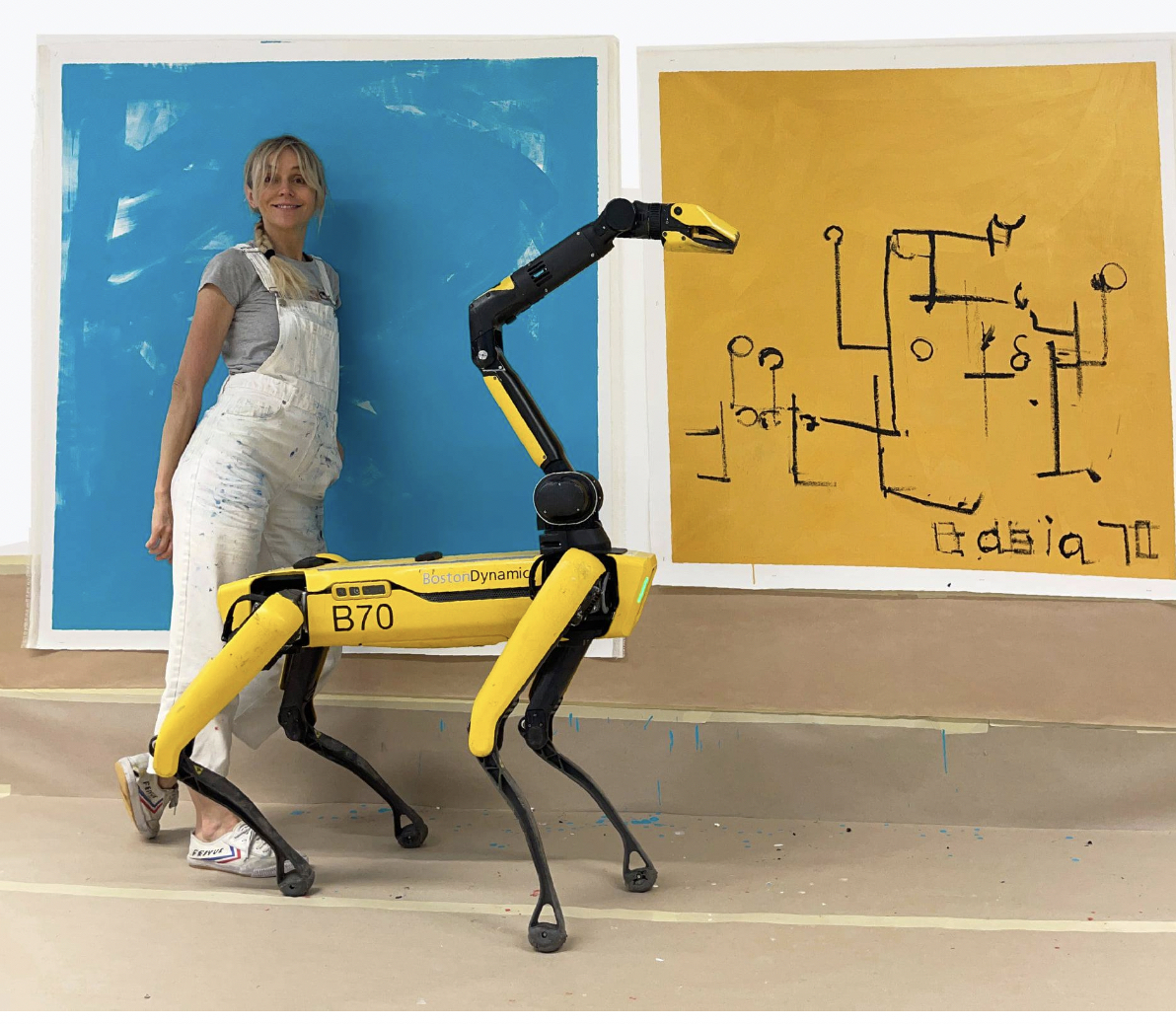 Agnieszka Pilat came of age during Poland's communist era, a time when Soviet tanks would roll through the public squares under towering monuments to the past. Statues of military heroes, murals celebrating the workers in the factories and fields, these monolithic post-industrialism relics served as public art. Eventually, as Pilat learned the hard truths about Poland's history of occupation by the Soviet Union, she came to understand these works as propaganda, even while appreciating its artistry.
In Pilat's memory, everything was shades of gray, until suddenly there was light. In 1989 when communism collapsed and global brands began to arrive, colors flourished. When McDonald's opened in Poland with its vibrant red and yellow exterior and modern furnishings, "I was blown away," she said. "This was my first encounter with color." Seduced by the promise of the West, Pilat came to the US to train as a classical artist.
In her new home of San Francisco, colors were everywhere in a chaos of newness and youthful energy. And yet, even among the hyper growth, Pilat could see the old souls of aging machines struggling to stay relevant as the world renewed itself around them. Like the heroic statues of her youth, she set out to memorialize them in painting, portraying their pride and essential character: "Machines are humanity's children," she said. "I'm just giving them a page in the family album."
And so began her unique body of work, as her career in the US kicked off with a series of residencies at tech companies. At her studio aboard the USS Hornet, a decommissioned WWII aircraft carrier, Pilat felt at home amidst the gray steel structure, drawn to old pieces of radar equipment she humanized in a portrait called "The Radar Sisters." At Wrightspeed Drivetrains, the company formed by Tesla co-founder Ian Wrightspeed, she dressed up engines with feminine elements. Soon, her paintings captured the attention of Silicon Valley tech moguls and billionaires like Google's Eric Schmidt and One World Trade developer Larry Silverstein, who recently plucked her away (temporarily) from San Francisco for a residency in New York.
Eventually, nostalgia gave way to curiosity about the future. Instead of celebrating the old souls of aging machinery, she's shifted her focus to newer technologies, what she fondly terms the "teenagers." The Amazon Echo device, the Lidar equipment atop Waymo cars, and the famous Boston Dynamics robot dog, Spot, whom she befriended and even taught to paint. Through Steve Jurvetson, the venture capitalist and early backer of Tesla and Space X, Pilat gained access to artifacts from NASA and Sputnik, and most recently has turned her attention to the next frontier: space.
She "pitched her heart out" to land the residency of her dreams at SpaceX, where she's started a new series painting the spaceship hatches. "These are the doors that open up when the astronauts go out to space," Pilat explains. "I think of them as the doors to the infinite." Space, she says, represents society's collective hope for the future, "and how technology is the conduit of the optimism of our culture."
Agnieszka's craft has evolved with the technology she portrays in her work. What's next, a residency in outer space? If that doesn't happen, her earthbound adventures will continue to delight. Check out her website for details on upcoming work, at pilatart.com.
---
About this content: I'm writing for Donna Loughlin's Before It Happened podcast, crafting weekly profiles of innovators, and showcasing their aha moments. This post originally appeared on the Before It Happened Blog. Be sure to listen to the related podcast!
---