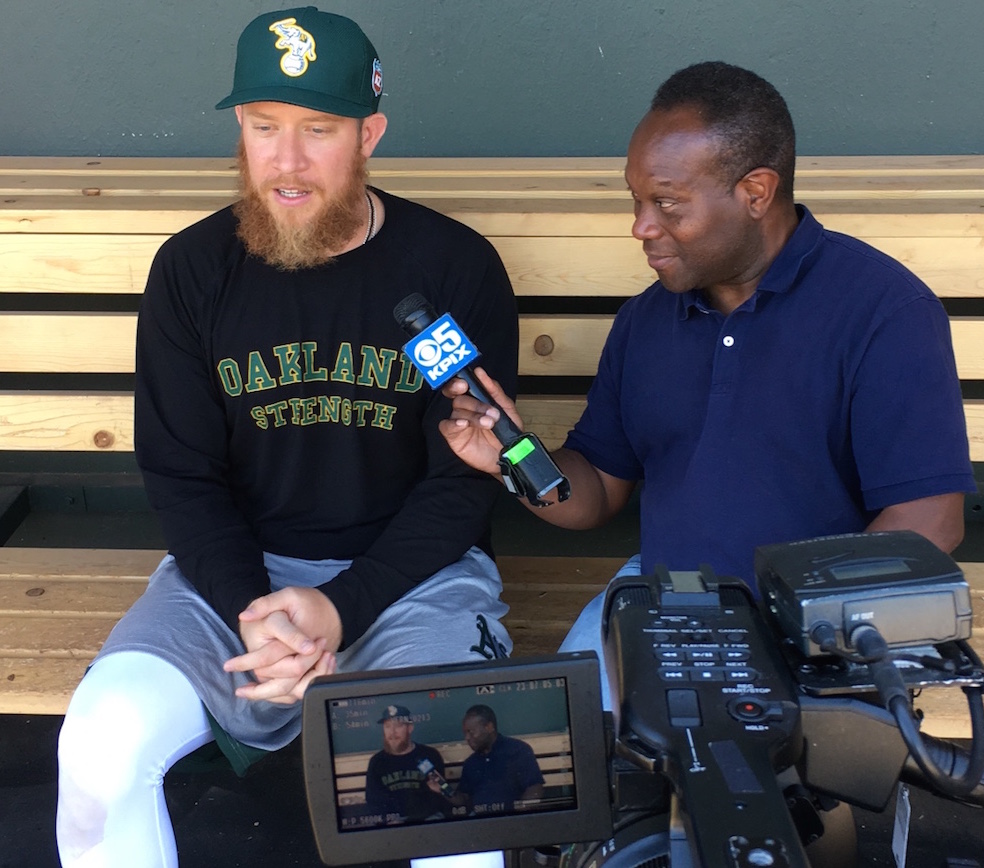 Vern Glenn figured out way back in high school in Richmond, Virginia, that he was better at talking about sports than playing them. At 5' 3", he wasn't going to be a star football player, but he dominated every sports conversation in the school cafeteria. "It was all sports, all the time," he says. "I knew then that I wanted to be a TV sportscaster." What Vern didn't know was how to achieve his unlikely goal, a journey in which, like the athletes he loved to chronicle, he'd need to craft his own quirky blend of creativity, engagement, and physicality that would later earn him the nickname "Mr. Involvement."
After earning a bachelor's degree in broadcast journalism at the University of Virginia, Vern went to work in sales at Reynolds Aluminum, the same steady job that had earned his dad a solid career. But Vern wasn't like his dad. At 7 a.m., he would drive to a local radio station to "rip and read" scores and headlines over the air. Then, after his 9-to-5 at Reynolds, he clocked back into the radio station in time for late afternoon drive time, and kept right on going for a doubleheader, helping the sports director of the ABC television affiliate produce his 11 p.m. sportscast. The full court press paid off. Nine months later, "the weekend guy left the station to go to a larger market," says Vern. "They were looking to pay someone cheap." He talked a TV news director into letting him tape a demo reel. He got on air, turned it in, and then got a call. "Kid, ya got the job," Vern was told on a Wednesday. "You start Saturday."
There were bumps along the road. The first words out of his mouth that Saturday were "Aw, shucks," after a generous on-camera buildup. His enthusiasm and knowledge "just didn't translate" the first time. "That new guy is terrible," said viewers, who called into the station to complain. But Vern "worked at it every single day. Soon, his 6 p.m. and 11 p.m. spots were far smoother. He sent demo tapes to guys he'd interned for, Glenn Brenner, the humorous Washington D.C. sports commentator, and Frank Herzog, the broadcasting voice of the Washington Redskins. Vern was crafting his own off-beat, fun style. The agent Steve Lefkowitz phoned and hit him up: "Kid, I've seen your stuff, we can go places." Vern signed a contract, and relocated to Baltimore, Maryland. His salary had tripled. He was the weekend sports anchor covering the Orioles and Arena Football, working with the legendary Baltimore broadcaster Vince Bagli. "I thought I had really made it. It can't get any better than this."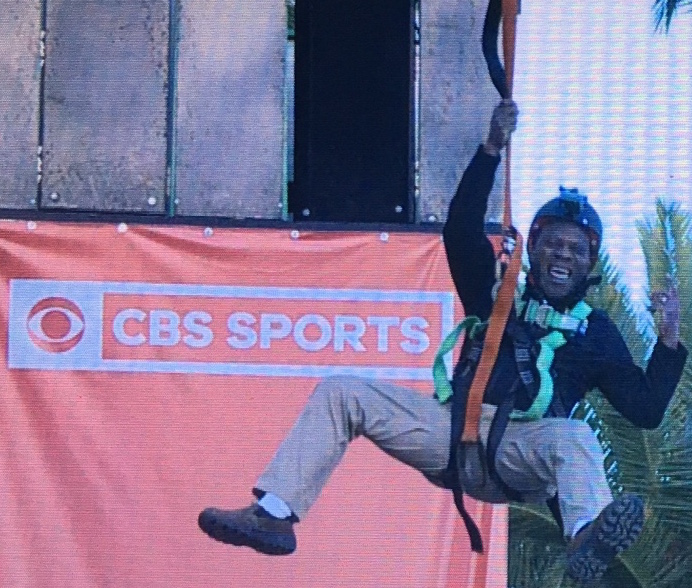 Then, in 1989, his agent sent his stuff to KRON in San Francisco. Vern couldn't imagine leaving the East Coast, but the Bay Area was a top five national media market, the 49ers in their Joe Montana-prime. He got the job and it wasn't long before Vern began putting his own stamp on his broadcasts: The sportscaster who got in on the action. He suited up with the Cal Bears Football team, bungee jumped, and caught pitches from Oakland A's pitchers. "I wasn't this hot shot former jock," he says. "I'm 5 foot 3 – this shrimp. A beer-swilling, couch potato regular guy who tries this stuff." And reveals his humanity. On the bungee jump, he hung on the bridge. And hung. "They're telling me to let go, and I don't let go. They had to count down six times." Cal's coach suited him up, and gave him a #4 jersey (Vern worked for Channel 4), and the ball on the 10-yard line. He had three chances to score. He barely survived. Catching a major leaguer was equally perilous. "Put a cup on, you're going to hurt yourself!" he was told. Vern winces at the memory: "I had so many balls ricochet off my jewels." Gary Radnich, the station's veteran sports anchor, began saying, "He's involved…he's Mr. Involvement!" The nickname stuck, evolving into a "Mr. Involvement" series with local professional and college teams inviting Vern to join the action.
Vern's passion took him beyond sports and his fearless, good-natured curiosity morphed into performance art. Vern was flung by a bull, body-checked by hockey enforcers, crashed a motorcycle into a wall, caught (and dropped) passes, got steamrolled by 49ers, traded slaps with a clown, raced cars, milked (and got kicked by) a cow, and swung his hips with the comely Warriors cheerleaders ("loosen up and smile") for a gyrating on-court dance routine. During a televised Giants game, Vern suited up as a ball dude, fumbled a grounder, and broadcaster Duane Kuiper, wryly commented, "Nothing seems to faze Vern."
These were the boom years – Vern worked Super Bowls, NBA All-Star weekends, the World Series, and the Summer Olympics in Sydney. But the times were a-changing. During the 2000 Olympics, his station, KRON, overplayed its hand and lost the backing of NBC, and was suddenly independent. Viewership, budget and salaries sank. Vern had young children and wanted to stick it out in the Bay Area. In 2005, Mr. Involvement became Mr. Adaptability. "They called us video journalists," says Vern. "It was relatively new. A station in New York was doing it. They were cost-cutting. They put a camera in our hands, gave us laptops to edit. It wasn't for everybody."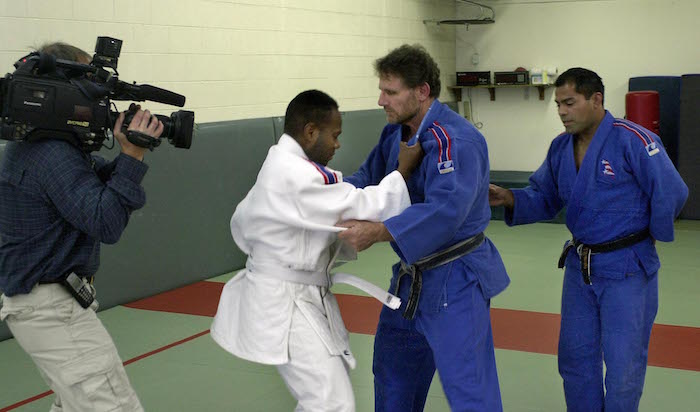 Vern embraced the change. He'd worked the camera at his first TV job, and figured he was adding a skillset. "You could look ten years into the future and know that's where it's going. The skills to write and edit the whole package – to be more than just a talking head." This shift in thinking required humility, a trait honed as Mr. Involvement. "I remember all the looks I would get, rolling all this gear, the tripod and camera, all the other TV broadcasters waiting for me to get going."
Vern adapted and "hung in and weathered the storm" until 2012, when was hired by Channel 5 KPIX, the local CBS affiliate, joining his friend and former colleague Dennis O'Donnell. Vern is a survivor, and here in San Francisco, the city of instant entrepreneurship and overnight innovation, we sometimes forget how much effort matters, and how essential creativity and durability are to your ability to anticipate trends and stomach adversity.
I met Vern this spring when he'd just gotten back from a long road trip with the record-breaking Golden State Warriors, and he was clearly thrilled to be back in the spotlight. "It's a lot of work, bringing all your own gear, shooting stuff, getting it back in time," Vern says. "But this is why we do it. I always strive to be at an event, to be in the moment. I still remember my first World Series, my first Super Bowl."
Broadcasting for more than three decades, Mr. Involvement seems ready for the next. If he's learned anything in his storied sports career, it's how to pivot.