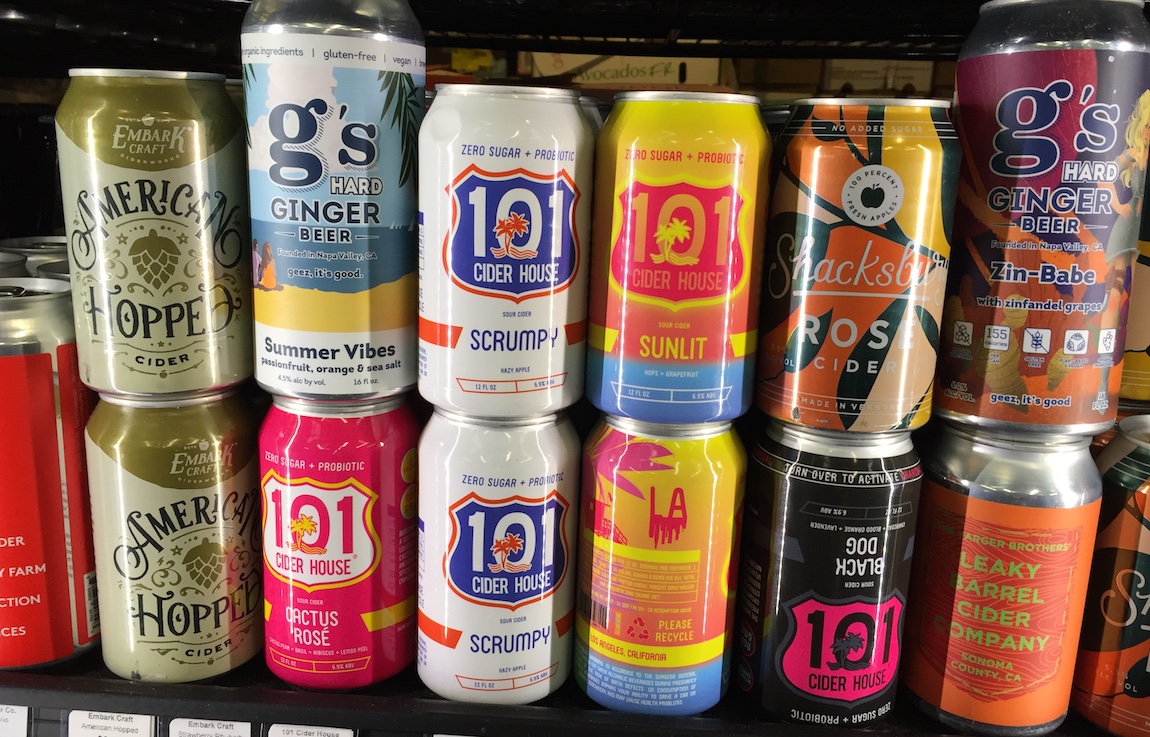 Let's face it. New Year's Resolutions are pretty useless. Not much room for fast-prototyping and pivoting when you set an all-or-nothing ultimatum. In most cases, you're asking for failure. Instead, we offer an upbeat, action-oriented alternative. If you want to see change in 2020, try embracing iteration. Get out in the world and play the role of the hungry anthropologist seeking cool new ideas to cross-pollinate.
The idea is simple and transformative. Train your mind and body to turn everyday experiences into opportunities. Where can you begin? Your local grocery store, of course. Why? Because there may be no better single place to see and comprehend how ideas pop up, combine, and catch fire. Bottled and canned drinks (along with chocolates and nutrition bars) are wonderfully fertile examples.
Down the street from our Sausalito office just across from San Francisco, we stepped intro Driver's Market, a modern, community-based grocery store. On this chilly January afternoon, a cider seemed like the right choice. Cider is trendy, and growing. One industry source pegs it as a 4 billion dollar market, owing much of its growth to millennials who consider it a healthier gluten free and gender-balanced alternative to beer.
There was a time not long ago when there were really only two kinds of cider – dry and sweet. But the packed refrigerated display case before us proved this was just the canvas for today's wild flourishes in flavors and ingredients. The "sour" cider branded Cactus Rose was spiced with cactus pear, basil, hibiscus, and lemon peel. The Summer Vibes ginger beer offered a ripe concoction of passion fruit, orange and sea salt, a day-and-night contrast to Black Dog, which brought charcoal, blood orange and lavender to the mix. The epitome of this abundant experimentation could be seen in an over-the-top, cartoonishly labeled ginger beer, named Zin-Babe, concocted from alcohol fermented from organic cane sugar, fresh pressed organic ginger juice, and yes, Napa Valley zinfandel grapes. Is it beer? Cider? Wine? We couldn't tell you, but it's definitely tasty and a great example of how innovators today are thinking outside the can, bottle or box.
Jamming with novel ingredients is just the start. Craft cider labels are a veritable gallery of playful and vibrant colors and designs, with whimsical product names like Leaky Barrel, Scrumpy, Rainbow Seeker, and Hopped Cider. You get the sense the marketing people love their jobs! Startup founders take note: diving into this kind of anthropological, cross-pollinating mindset is just the sort of thing you'll learn at Anne Cocquyt's GUILD Academy, which kicks off this week with my Idea Hunt session. The ten-week online program continues again with a new cohort opening this spring.
In the meantime, ditch those tired New Year's Resolutions, and head down to your local market. It's time to get out there and taste the possibilities!
---