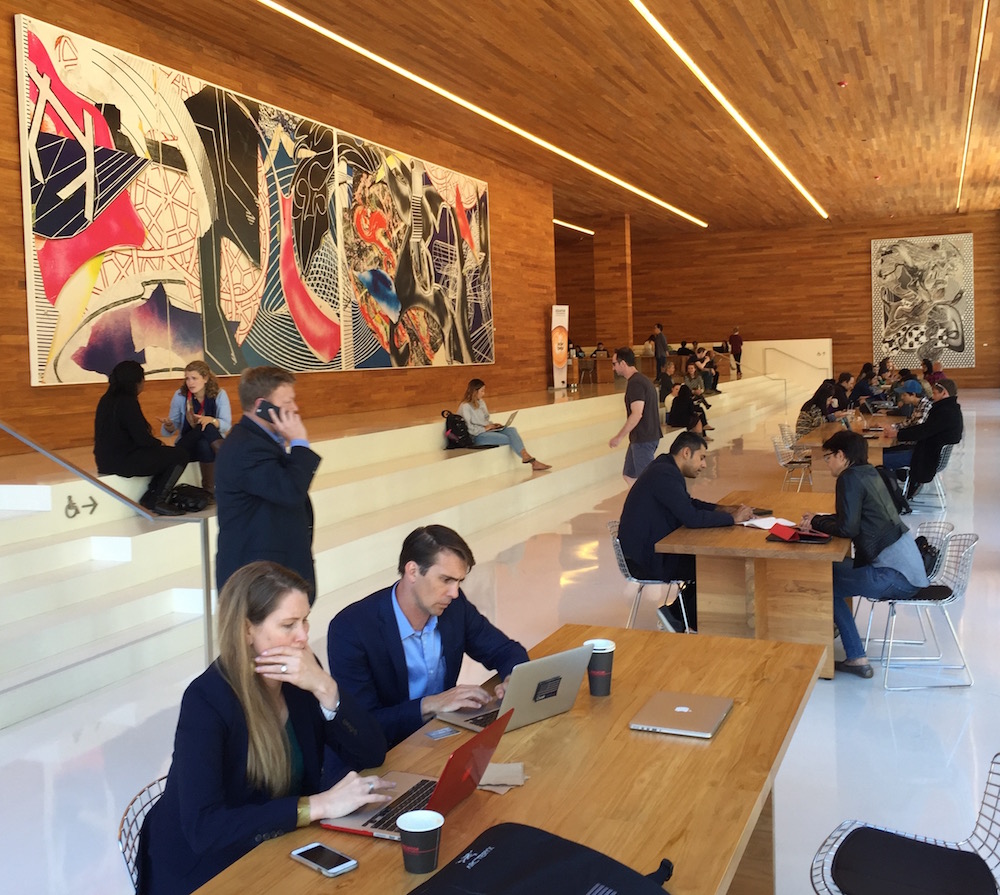 Reject the Pokemon Go craze. Instead, search for something real: hidden urban "gardens" where anybody — and that means you — can surf the web, crank out some emails or code, or just hang. If you know where to look, treasures await.
How can you find these spaces?  Look for the Public Open Space plaque below: it is your access card. It signifies that this is a public space. It means nobody, not even security guards, can mess with you. Best of all, the plaque means it's free.
These quirky San Francisco public spaces form a small but valuable counterpoint to the increasing lack of access characterized by the recent tech boom. The city requires developers to provide public access to plazas, gardens, lobbies, and even rooftops. Some forward-looking companies go a step further, recognizing that if you truly believe in open innovation, it doesn't really make sense to build moats around your castle.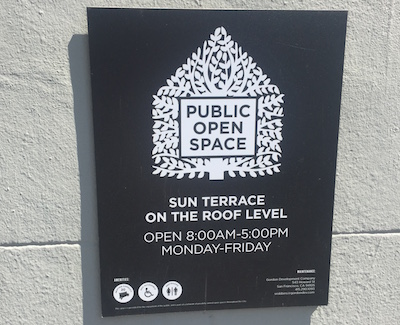 Here are a few of my favorites:
LinkedIn Tower Lobby: Second Street at Howard Street

An artful cross between a spacious art gallery and a free-flowing co-working space, LinkedIn's lobby starts at Second Street and runs the length of the building along Howard. Colossal modern canvasses adorn the intricately crafted walls above a gleaming white marble floor. Broad glass doors open onto the street, enhancing the inherent openness of this space. This is a place to think expansively, to brainstorm, to let your ideas soar. Come early to grab a spot at the long wooden tables (where chairs can be scarce). Open from 8 a.m. to 6 p.m., with an Equator Coffee outlet tucked in the corner, this makes hanging at Starbucks seem pedestrian.
Galvanize: 44 Tehama Street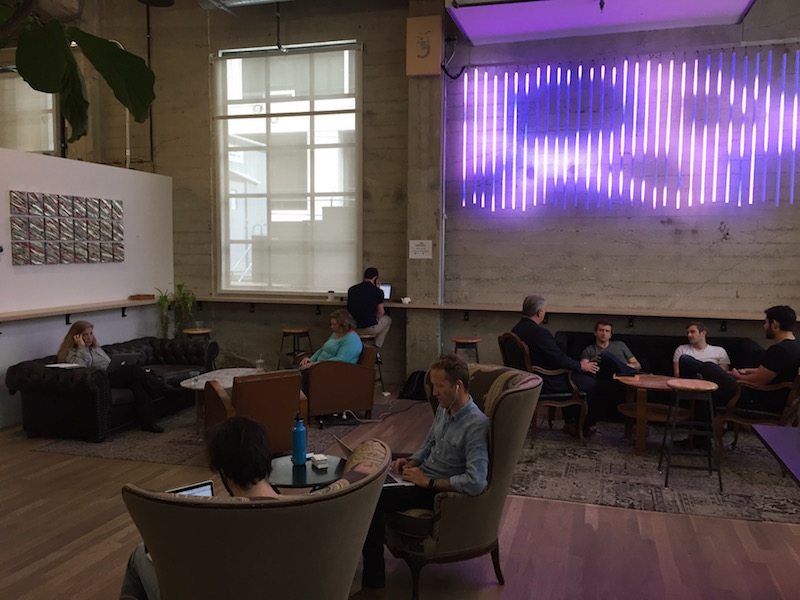 This is open innovation at its best. San Francisco may be crowded with startups, tech giants, co-working spaces and accelerators, but the vast majority of these businesses are closed to the public. This practice limits "border crossing", or the spontaneous interchange of people or ideas. Such gleaming office towers often sport faceless lobbies and forbidding security counters, more in tune with Wall Street than the open spiritedness we've come to expect in the world's most entrepreneurial city. These private edifices are status symbols designed to keep people out. Indeed, while LinkedIn's higher-floor offices are decidedly cool, staffers for the Microsoft-owned firm enter through a private door, where there's no mixing with the public – an off-key note given the networking giant's business of linking people.
Not so with Galvanize. a coding campus and incubator hosting 250 startups, 200+ tech students, and roughly a thousand members, that artfully pokes a hole in the clichéd tech tower. The building's ground floor lobby is industrial, stylish, spacious, and high-ceilinged – and also boasts an art collection. The upscale Sightglass Coffee features tasty beverages and snacks, with superb wifi. You can stay all day, lounging in comfortable chairs, couches, or bar seats, working on your own or holding meetings. Here, you can rub shoulders with Galvanize members as they work and collaborate – and you just might be tempted to join. Oh, and if you tire of being cooped up indoors, here's another secret: enter Galvanize on Howard Street, check in at the security desk, and take the escalator to the top.  The building's rooftop garden terrace offers stunning views of SoMa, along with public wifi.
Apple Store "Plaza":  300 Post Street
Yes, you can work as long as you want, from the brand new store at the corner of Union Square. The secret garden patio is out back, next to a giant, 50-foot living wall, complete with a fountain designed by San Francisco sculptor Ruth Asawa. The Plaza may be the ideal afternoon weekday spot for work and meetings.  There's the plus of being outdoors, shielded from the wind and late afternoon sun. On weekends, you might catch an acoustic concert here. And if you need a little tech support, the "Genius Grove" is just a step inside.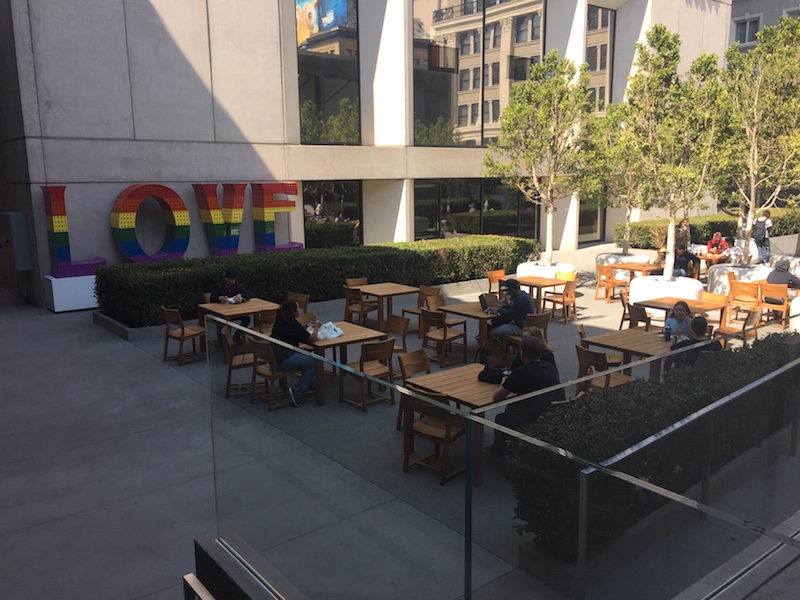 The Palace Court:  2 Montgomery Street
My favorite Secret Garden in San Francisco isn't a public space. It doesn't even have wifi. But, in a city that is furiously chasing the future, history matters. Established in 1875, rebuilt in 1909, and relaunched in 2015, the Palace Hotel features a grand entrance, ethereal stained-glass-ceilinged ballroom, classical marble columns and crystal chandeliers, with a turn-of-the-century charm harkening back to San Francisco's early boom years.
In today's frenetic mobile tech world, it's common to find yourself out in the world and needing to connect. Maybe elsewhere this translates to working while sucking down a Frappucino at the local Starbucks, but in San Francisco we have much richer and more creative urban oases. Whether you choose to pick up a rooftop garden perch, rub elbows in a gallery environment with tech entrepreneurs, find a spot under the Apple Store's knowledge tree, or bask under the stained glass glow of The Palace Ballroom, a world of inspiration awaits you in San Francisco's secret gardens.