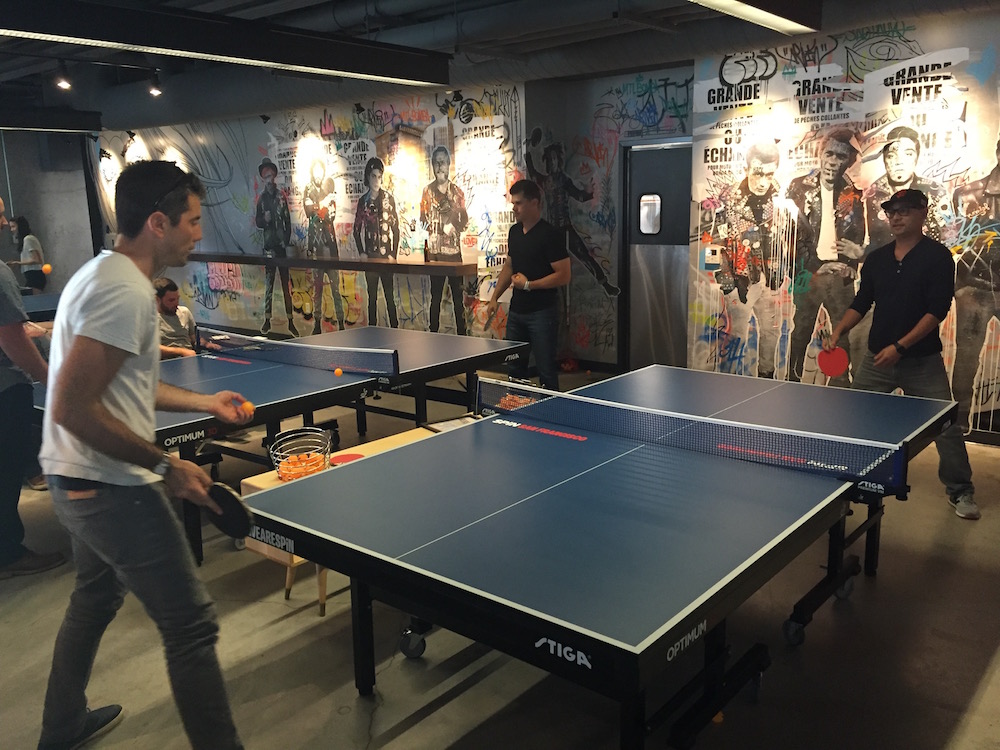 Ping pong is all about spin, and that's why the SPiN Ping Pong Social Club has located its latest franchise smack in the heart of San Francisco's startup gulch. Celebrity actress and activist Susan Sarandon is behind this multi-pronged experience, offering ping pong galore, a full bar featuring signature cocktails, and DJs spinning nightly, but what you probably didn't know is that table tennis is closely equated with startups, and that sales of ping pong tables mirror the health of the tech industry.
Long a staple of startup culture, ping pong has been emblematic of the California tech zeitgeist for decades, and its popularity as a workplace productivity tool is multifaceted. For starters, there's no barrier to entry. Anyone can play. Unlike pool, it's still fun even if you're not particularly good at it. Best of all, the learning curve is short, leading to quick and gratifying improvement. Ping pong can be played for just ten or fifteen minutes, and studies show that taking a quick break from work sparks creativity and boosts morale. Finally, the zippy pace is a metaphor for youthfulness and proactivity, while the ball's often random trajectory forces you to learn to pivot quickly. The table itself has also become a visual, iconic symbol of startup culture. "If you don't have a ping pong table, you're not a tech company," Sunil Rajasekar, CTO at Lithium Technologies, a San Francisco software startup, recently told The Wall Street Journal. Some say the lack of purchases of new tables by a particular tech firm (notably, recently, Yahoo) can signal a canary in the coal mine for a company's decline. Meanwhile, increased sales of ping pong tables to companies in Silicon Valley correlate with a rise in venture capital deals.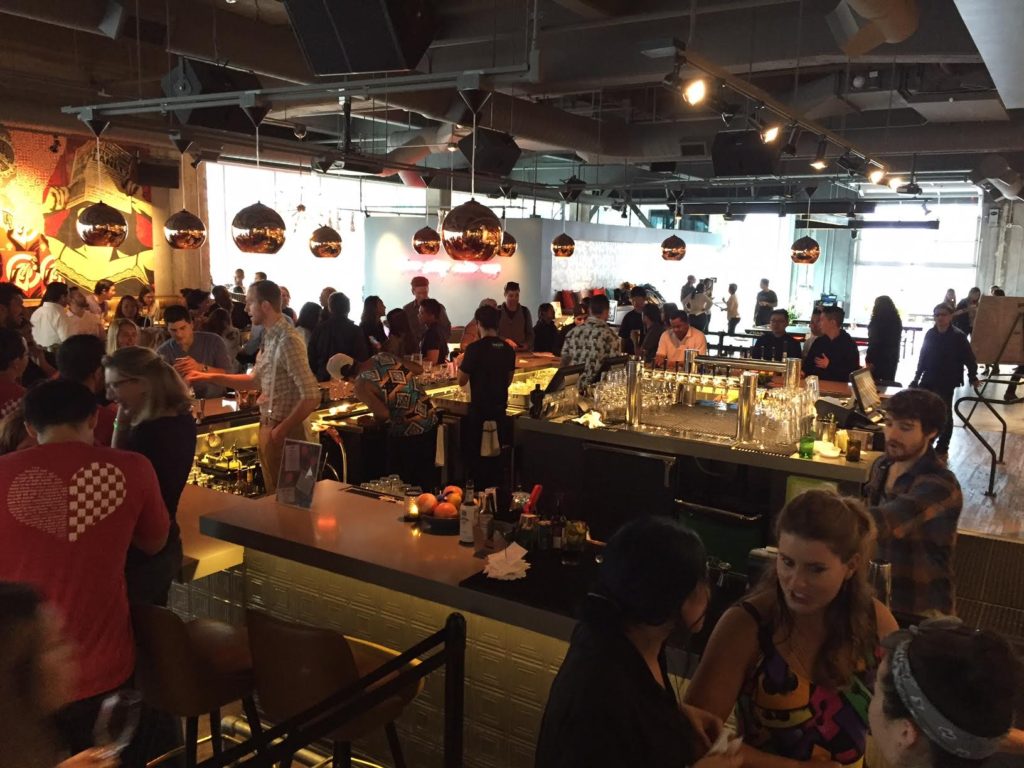 SPiN is jumping on these trends and smartly capitalizing on the vast pool of young tech workers already hanging out in the SoMa tech district after hours. Mixing social lubricant (i.e., drinks) with play is a winning concept. Playing ping pong there, I can attest, definitely stimulates your creative senses. In the heat of the game, my design-thinking senses riff on ways that a space or product can be improved, and playing ping pong facilitates the flow. After half a dozen SPiN visits (yes, I've caught the fever), I've ideated aplenty. SPiN could host team playoffs to pit tech companies against each other – say, Twitter vs. Fitbit (that idea might not be far off: the SPiN Open, a public tournament, kicks off in late September). Wouldn't it also be cool if SPiN would invite professionals or Olympians to play in exhibition matches? Offer group classes or personal instruction? Play instructional, goofy, and even Olympic ping pong videos? Design the floor so the thousands of orange balls effortlessly pool together? And, most importantly, engineer the ultimate invention: a ball-return delivery mechanism in which the next ball almost magically appears in your hand? (Sorry, I'm keeping that innovation under wraps for now.)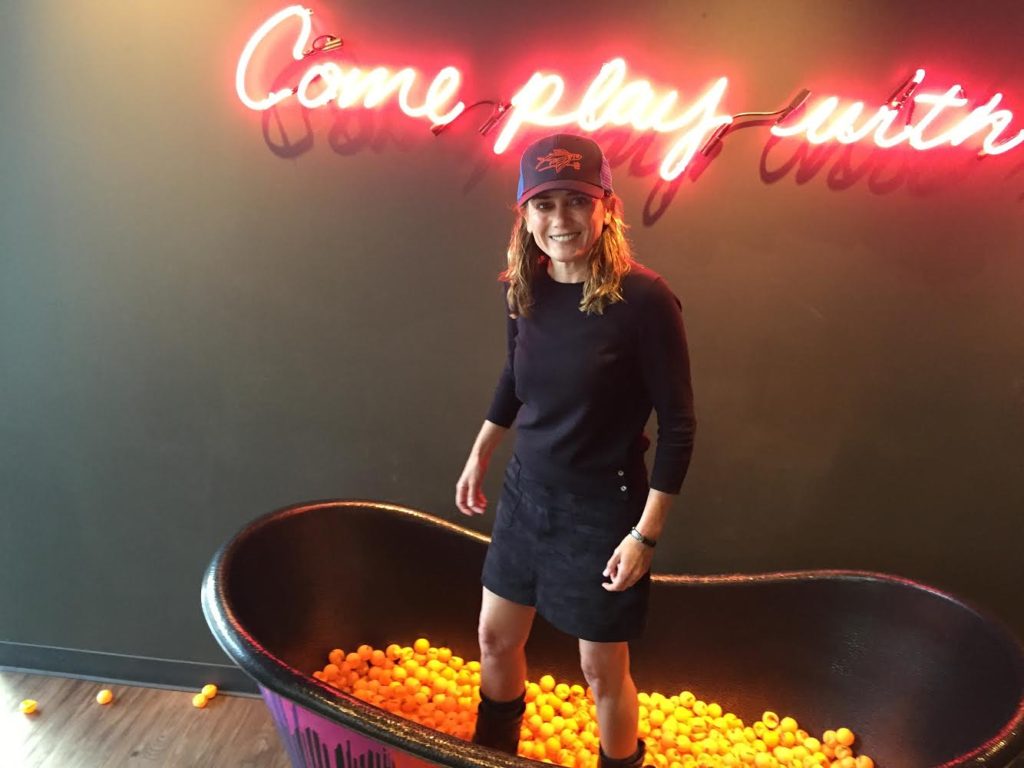 SPiN is already packing the house. On a recent Friday evening at the "Babes and Balls Burning Man Pre-Playa Party", the whole cavernous joint was rented out, the drinks flowing, couples frolicking in the clawfoot bathtub filled with ping pong balls, and all twenty tables booked until midnight. The venue is perfectly situated on a main artery on the way to AT&T Park and across from Moscone Center. SPiN has clubs in five US cities, and expects to expand to new urban tech horizons.
As startups increasingly go global, I'm looking for the game that symbolizes tech creativity to keep bouncing over borders to other startup centers, so that we can connect, and play, in Tel Aviv, London, Seoul, Stockholm, and Shanghai.
Ping pong, anyone?