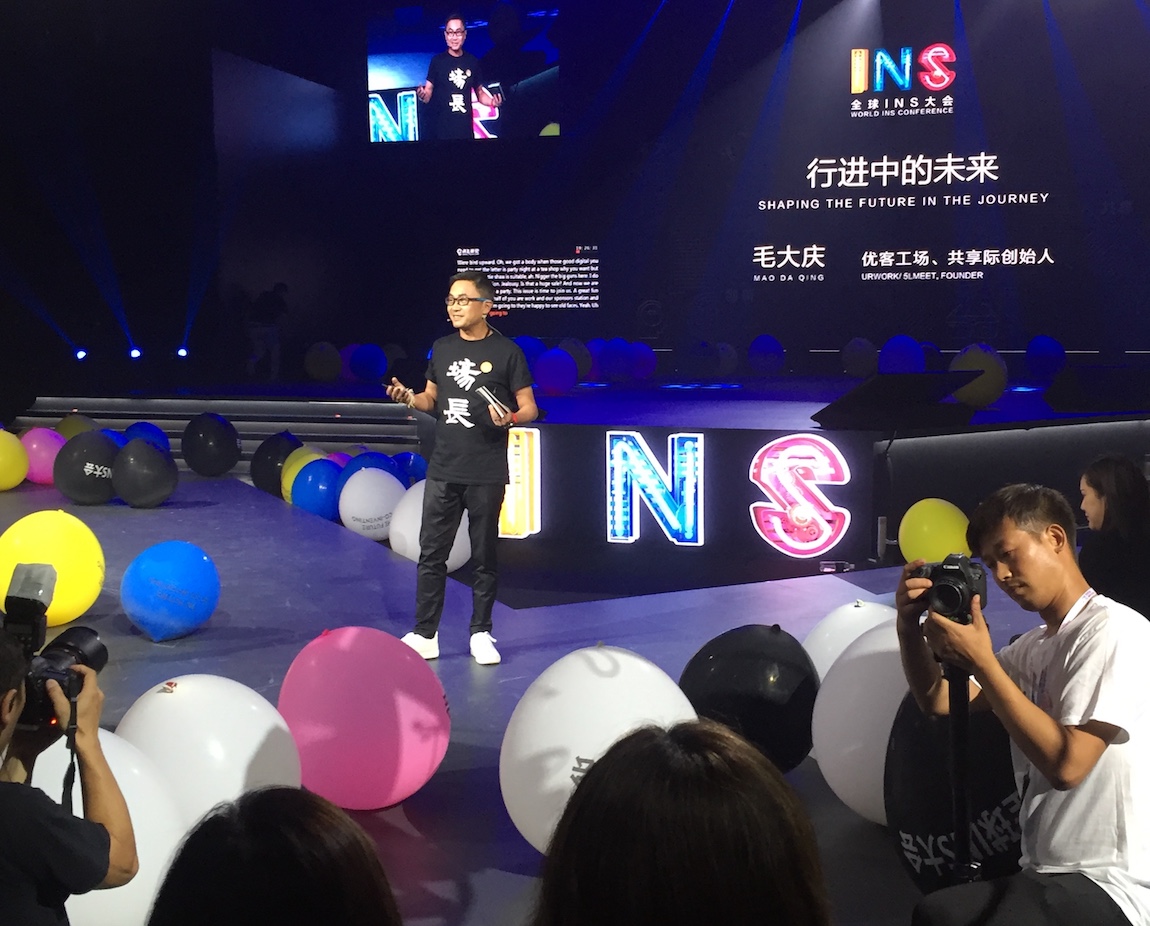 Mao Daqing moves easily on the stage of a fashionably repurposed factory in Beijing, the ideal setting for this week's INS Co-Invention conference on reinventing work, the office and technology. An athlete and marathon runner, the founder and CEO of the rising powerhouse incubator URWork is running fast in what looks like a long game. In the last year, he has more than quadrupled the number of incubators his company has opened in China, a telling snapshot of the country's breakneck pace of change.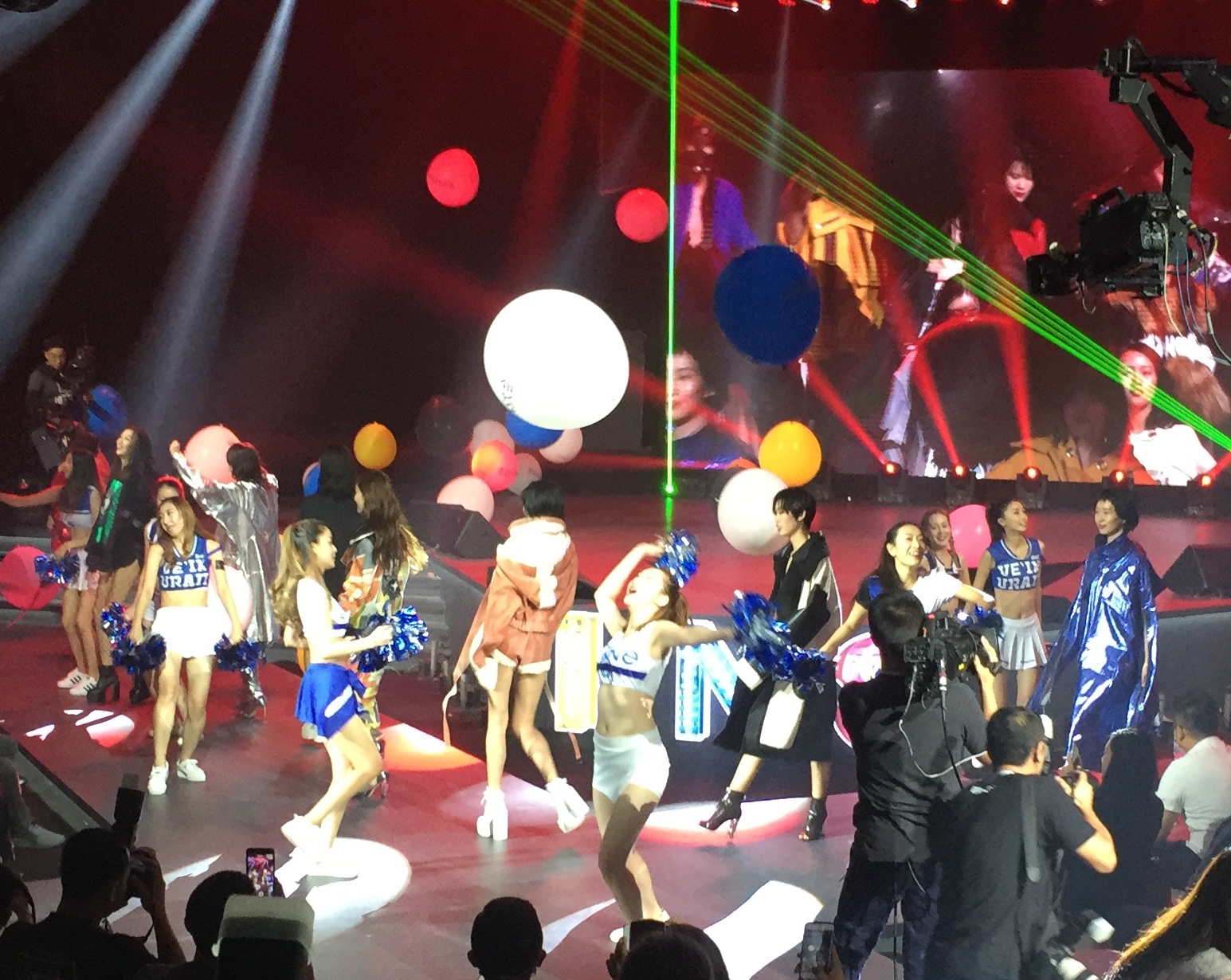 The INS Co-Invention conference, where I also presented and participated as a panelist on the relevance of San Francisco, celebrates the sharing economy and future of work that is mirroring China's rise as a global technology superpower. Replete with top executives from major tech firms, a full slate of speakers and panelists, the event featured national and international media, a crush of camera men, photographers, media – and even cheerleaders.
The SF-China Connection
At its heart, the conference is about how people will co-create dreams, ideas, business opportunities, and work, and Mao Daqing is in many ways the perfect human symbol of this transformation, the man setting the stage for this accelerating international trend. I first met Mao earlier this March, when he was just in the first phase of building out incubators for startups and entrepreneurs across China. Mao and his colleague Kate Chan, who heads a Beijing-based research firm, joined me for a tour of San Francisco's local incubator and co-working scene, as I filled them in on the context in which we've developed new innovations in co-working. Mao jumped on key insights: Galvanize's holistic approach, with its unique mix of startups, entrepreneurs, corporates, consulting firms, and a tech coding campus; the upscale, sophisticated design sensibility of swissnex's gleaming international tech and business hub on Pier 17, a compelling model for other nations seeking a dynamic San Francisco footprint.
But at that time no one would mistake URWork's ambitions for those of the American co-working giant WeWork, with its astronomical $20 billion valuation and some 155 offices worldwide. Mao was just getting started: he only launched in August of 2015, and had nearly no international presence. But fast forward to just two years later, and now there are over 80 URWork incubators in Asia – more than twenty in Beijing alone – with plans to open new locations in New York, Los Angeles, and London. The company is valued at over $1.2 billion, with investment from major American venture funds such as Sequoia Capital and a fund linked to Alibaba founder Jack Ma. WeWork is not taking kindly to the competition: it just filed a trademark suit against the Chinese firm in London.
Sharing and Scaling
As Mao explains it, the sharing economy and the rise of entrepreneurship in China are intricately intertwined. He describes the past four years as when entrepreneurship became not only acceptable but decidedly "cool" in China. The expansion of China's sharing economy took off, with the rise of co-living and co-working spaces, and also bike sharing, ride sharing, and all manner of investment for ventures developed for redistributing everything from washing machines, to basketballs, to umbrellas. We have yet to see how all this sharing potential will play out in a country of 1.4 billion souls.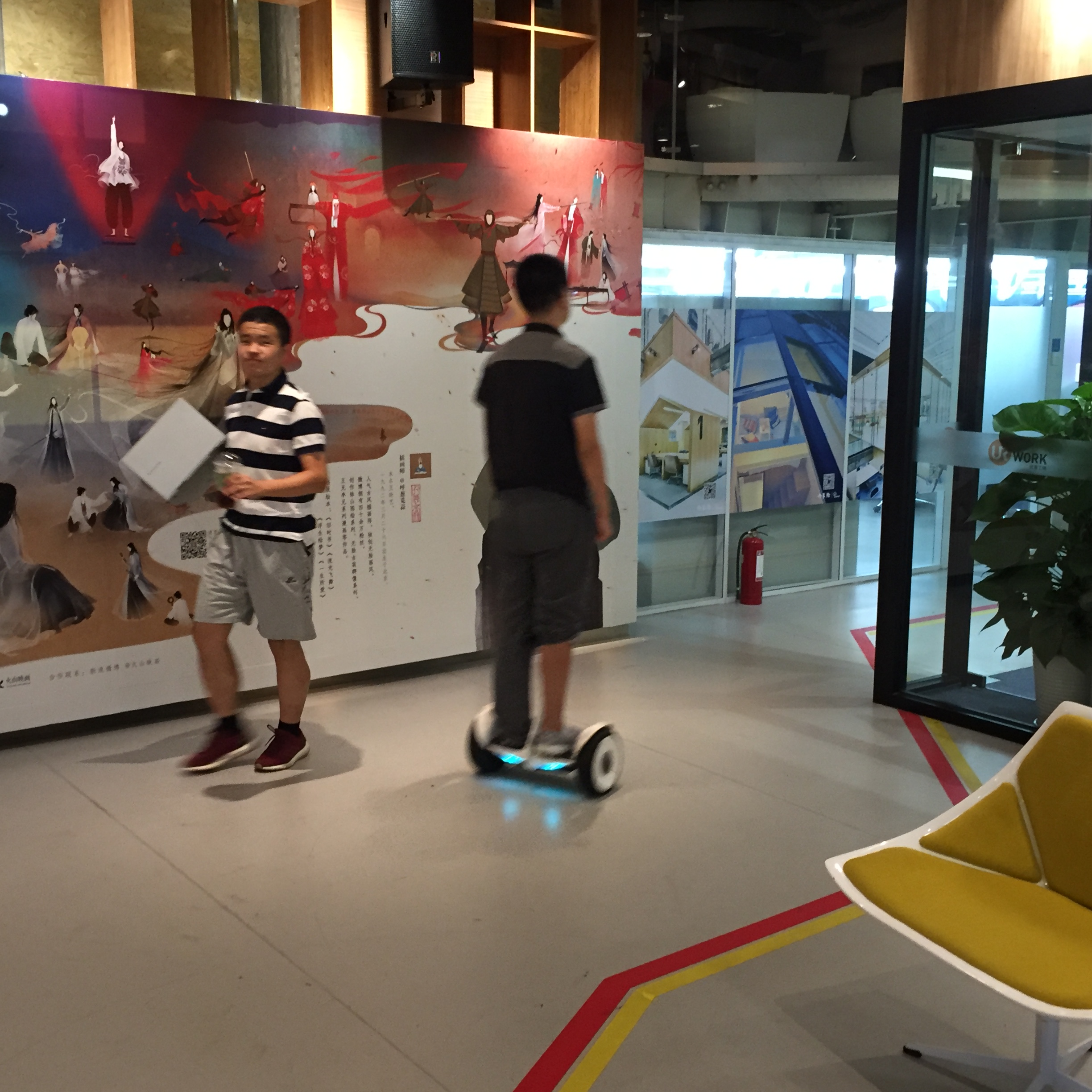 This is about scale, the insatiable Chinese thirst for exploration, adaptation and experimentation. During my visit, I toured URWork's Beijing headquarters, where members zipped around the offices on hoverboards. The space covers three floors of a large building, including a cavernous and well-appointed basement. URWork hosts a strong array of promising startups and even a number of small- to medium-sized tech businesses. Surprisingly, the design, vibe and environment was more varied and animated than you'd find in most US hubs. There was a fun, quirky look and feel: lots of lucky, feng shui-friendly aquarium fish, proud product displays, whimsical toys and art, and playfully constructed, if makeshift, workspaces.
This hub is more than just startups building apps. There are startups and small businesses focused on art, music, and group running, generating a holistic, community feel. There's a gym, half a dozen spots to eat, an expansive and classy café, a restaurant, two fully stocked community kitchens, honor-system scan-and-go mini-stores, and even a full bar and specialty beer and wine store. While the design might not win awards for aesthetics or consistency, URWork provides a nice balance of private and open work spaces, with ample comfortable nooks where individuals and teams can work. The ideas and influences bounce from all directions. Outside firms showcase their products here – everything from e-bikes and new-fangled devices to monitor your health, to online marketplaces for traditional gifts for Chinese New Year. Walk (or better yet hover over) these halls and you feel like you're swimming in a world of prototyping. A central tenet of the coveted lean startup method is to get your product out when it's just good enough, and keep building from there, and that's what's happening here.
URWork was a host of the conference, along with Beijing-based Standard Ranking and Trends Group. Speakers and panels covered multiple aspects of AI, smart cities, urban renewal, even climate change. Sitting on playful white fabric stools among my colleagues at the front of the 1000-strong crowd in the warehouse-like space that felt more like a concert venue than a convention, I met and had a rare chance to talk at length with two of my fellow panelists on our topic, "Breaking International Boundaries: International Networking of [the] Future Office." (Competitor WeWork, who also aspires to dominate the sharing space in China with $4.4 billion in investment from Japan's SoftBank and extensive expansion plans underway, was not invited to the party.)
Frank Cottle, who hails from Huntington Beach, heads the Alliance Business Centers Network, with a staggering 650 offices operating in 42 countries. Talking to Frank was like getting a crash course in a strategic understanding of all the major players for both co-working locales and incubators. Frank is a big player and knows the landscape, the size of the opportunity and the strengths and weaknesses of the competition. Sitting nearby was one of the local upstarts, Dominic Penaloza, the CIO of Shanghai-based Naked Group. His company is building an upscale series of highly curated and customized co-working destinations in Asia called naked hubs, drawing from the founders' background as luxury hotel developers.
Defining New Service Levels
Talking to these leaders I understood for the first time that just as there are several levels of quality and service in the hotel business, so will there be distinct classes of properties for everything from startup incubators to multiple kinds of co-working facilities for a wide range of business people, companies and industries. These shared spaces will boast unique value propositions and goals. At the bottom, there may emerge reliable Holiday Inns, then a Hilton or Marriott class, on up to luxurious five-star Four Seasons-style exclusivity. This emerging understanding of brand, centered on building distinct enclaves around space, work, creativity and shared values is just now being shaped. The words and terminology don't yet exist.
On stage, the conversation swirled around "sharing models," with both Frank and Dominic making clear that winners will not simply create these engaging business communities, but will build them in a sustainable fashion. We're early in this global shift, said Dominic, at a theoretical phase one on a potential scale of ten in this massive worldwide transformation.
When our panel was done, the China-San Francisco connection, the topic of my talk, took on new, personal dimensions. Three of my fellow panelists introduced themselves, and while still under the spotlight, walking off stage, with the cameras clicking, we exchanged WeChat accounts and emails.
It was all a bit surreal. We'll meet in two weeks when they will be on my end of this vibrant Trans-Pacific corridor. Having gained a sense of what's afoot in both these dynamic cities fueling the tech revolution, this much is certain. San Francisco and Beijing will keep talking, meeting and exploring.
Innovation is increasingly international, and nationalities and borders are slipping away. We've got a lot to learn from one another in designing and implementing the next phase in how and where we create, collaborate, innovate.
---
This is the fifth in our How We Work series on tech incubators. Check out our first, on Allan Young's SF Runway incubator in the Twitter building, and our stories on Galvanize, swissnex, and WeWork.