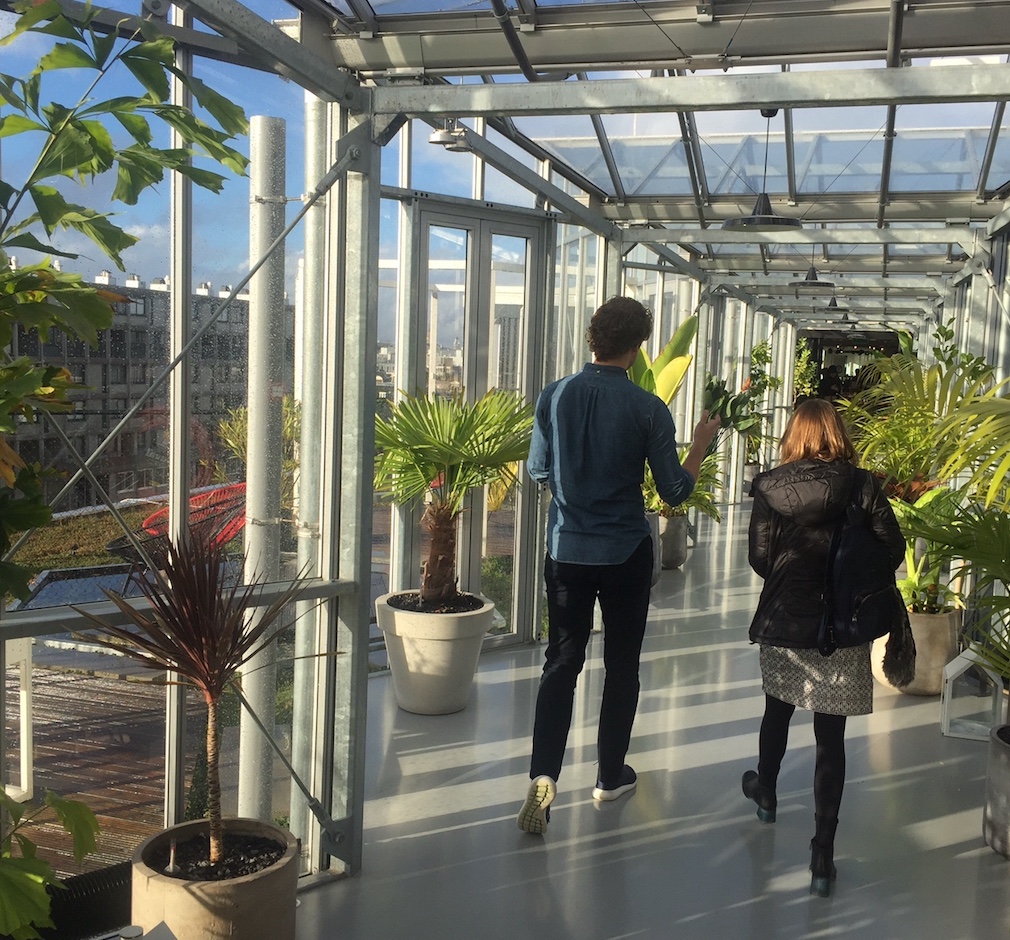 Zoku Amsterdam is a new way to travel, work, and yes, live – from the glorious, expansive, roof garden café, a communal space that blends a bustling co-working tech hub and hip social club, to the perfectly designed details in the six floors of suites. Last week we joined Hans Meyer, Zoku's charismatic co-founder, at a table looking out onto the city's historic Eastern canals to hear the story of this extraordinary new destination for digital nomads.
Proof of concept was everywhere. As we stepped out of our Uber, we nearly collided with a keynote speaker we'd just met at TNW's StartupCity Summit, and exiting the elevator at the rooftop garden, we ran into another keynote speaker. An hour later, as our meeting with Hans wrapped up, a Dutch friend arrived to join us, and a charming Frenchman at an adjacent table introduced himself as a global ambassador for the famous winery Chateau Margaux. We were enjoying a taste of the future of life and work – all before we'd even checked in.
Zoku turns travel clichés on their head by reinventing the business hotel experience. Out with the tyranny of the bed, in with creativity, collaboration, and community.
Open your door at Zoku, and it's like magic. The bed has disappeared. Instead, there's a comfortable couch, a generous kitchen table with ample space for a collaborative team of up to four people, an intuitively designed, fully-stocked kitchen, and a comfortable bathroom with a large shower. Where did the bed go? It's above you, tucked discretely behind wooden slats. Tug on a small leather strap, and stairs slide out for you to ascend to your loft bedroom.
And that's just the start.
Nearly every interaction has been carefully considered at Zoku, a hip destination designed for a week, month or half-year stay. The room, and indeed the whole property, is a designer's delight, filled with clever "affordances," intuitive markers and signals that help people adapt and thrive in an unfamiliar environment.
Beyond the Bed: The Deep Dive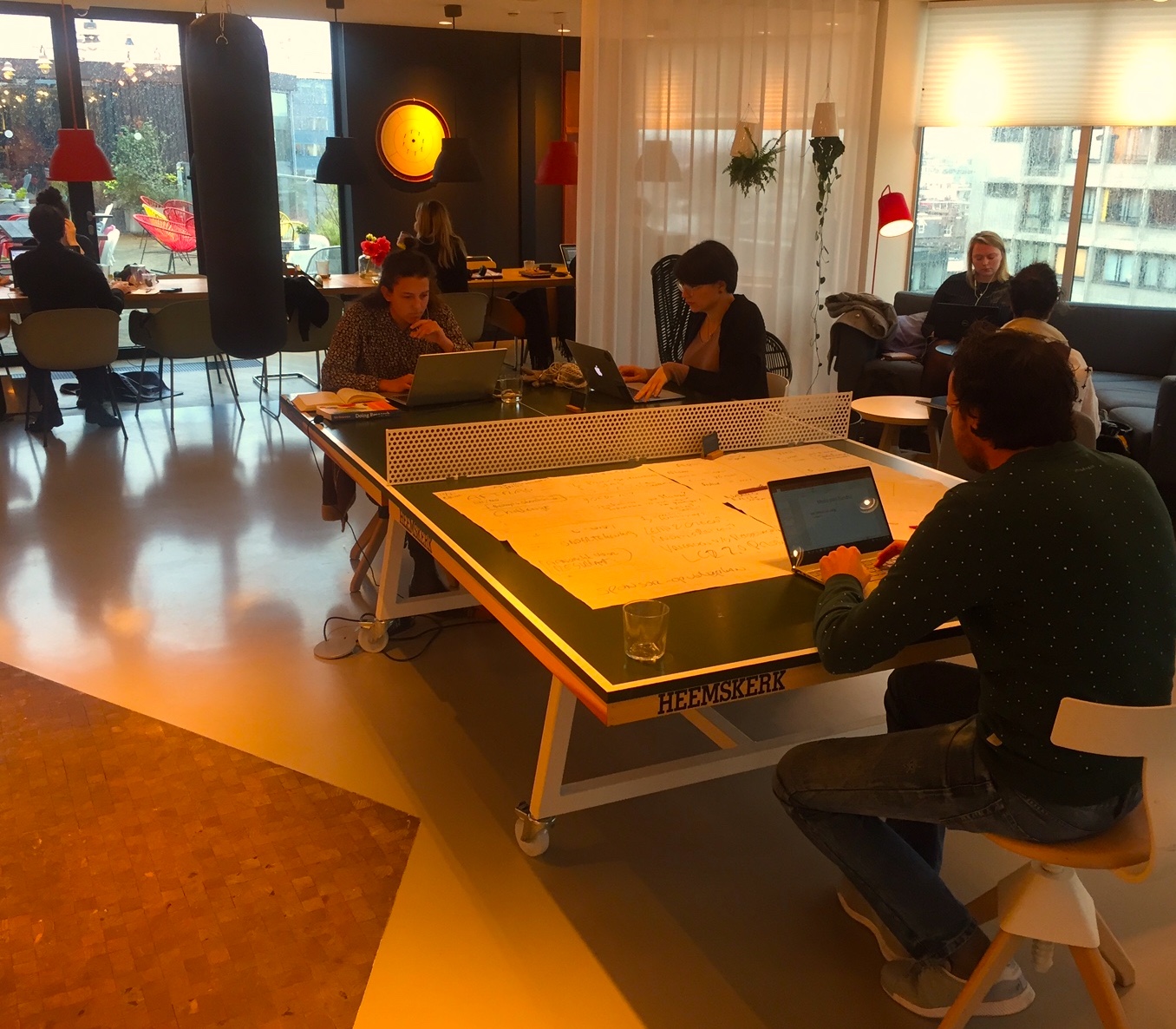 That's no accident. Hans Meyer is the consummate hospitality pro, curious by nature, and an indefatigable prototyper. He got his start washing dishes at 12, then was cooking at 14 and heading a kitchen at 18. After studying at the world-renowned Hotelschool in The Hague and running a catering business in his early twenties, he worked at hotels in exotic locales, including Cuba, soon heading food and beverage for a luxury hotel chain with 55 restaurants. Hans was the initial creator and a founding partner in Citizen M, a breakthrough, digitally chic international hotel brand featuring art, large public spaces, ubiquitous technology, and smaller, refined room designs. He sold his stake in 2008, and ached to break the mold.
Though he'd been immersed in hospitality his whole life, Hans set out on an international, personal exploration to discover fresh insights into one of the world's oldest businesses, spending six months as a digital nomad, living two months at a time in Buenos Aires, Washington, DC, and Bali. The inspiration came gradually, often when he was showering. Hotels aren't ideal to live in or work in for more than a few days. If you travel alone or can't speak the language, "you quickly start to feel disconnected, and you're definitely not able to build your network."
The deep dive began upon his return to Amsterdam: 150 interviews conducted over a year with the help of trainees from his hospitality school alma mater. He targeted expat corporate managers, international techies from Google, Tesla, Netflix, even teams from the nearby headquarters of Booking.com. The key learnings: working in your hotel room is at best lonely and at worst depressing, and the biggest pain is the bed. Explained Hans: "you don't bring a person you don't know well to your hotel room." The exploration demonstrated why business people value travel. "Why do people pay so much to go to a tech conference?" he asked. "It's the people you meet. The value in the community."
The idea emerged to create a "home-office" social club hybrid that would work equally well for a week or a few months. The challenge: to shrink the size of the typical, bloated extended-stay hotel and simultaneously spark meaningful interaction among guests. Design thinking was key to the discovery process.
By 2010, the first prototype was installed in an office in the north of Amsterdam. Hans worked with Future Lab in London, known for coining the term "bleisure" (combining business and leisure). As they tested, they took an inclusive approach, with over 290 people playing a role in the development and iteration of the concept. Testers even entered the prototype rooms wearing mobile EEG scanners on their heads to measure excitement and anxiety, gathering real-time, immersive feedback on nearly every aspect of the guest experience.
From the get-go in 2016, Hans and his co-founder Marc Jongerius   smartly partnered the launch with Startup Fest Europe, hosting conference attendees onsite and organizing learning and networking events. Zoku means "family, tribe or clan" in Japanese, and the tribe is growing. Nearly a full house from the start, Zoku now runs at over 95 percent occupancy. Two new locations are in the works in Europe, with interest from several countries, and Hans is now working on a residential project to extend the vision. "A lot of people [who stay at Zoku] want to live here. We're looking to develop other versions."
Finding Community at Zoku
 On the road this summer for an extended European road trip to research our new book on global entrepreneurism we've  learned a thing or two about what matters in a hotel or Airbnb.  Our stay in Amsterdam was unique and inspiring. The refined and ultra-functional Zoku room was superb, but the most critical architectural shift can be seen and felt in how your Zoku journey starts not in a lobby but in a thriving nexus of activity.
Instead of burying the check-in on the first floor, the experience begins on the rooftop. You walk through a glassed-in, covered walkway with tables and chairs on either side open to the sky. Guests are reading, drinking wine, socializing and collaborating, along the path to the main entrance.
From that entry-point, you emerge into a world of beautiful people of varying ages and nationalities, working alone or in teams, lounging on high-end furniture, in cozy, built-in nooks, and on outdoor terraces. The kitchen is the comfortable centerpiece, an open gourmet cooking space with a couple of amiable chefs cooking and bantering with guests (of course, there's an easy-to-use iPad ordering system too).
Beyond the eating area, which features a mix of communal tables and smaller ones, there are more collaborative spaces, complete with a ping pong table, punching bag, mini fab lab, another roof deck, and conference rooms. The design, colors and feel are light and airy, with fun, artistic touches.
While we loved our room, we were always wondering what was happening on the top floor, where we met and engaged easily with fellow travelers. One evening a young manager from New Jersey, packed off to Amsterdam for six months to open an office for Stryker, told us how she adored the Zoku experience, and couldn't imagine living anywhere else. Later that night, a Chinese couple in their twenties studying in Amsterdam told us Zoku was their favorite bar and hangout spot. At breakfast, we chatted with a young Portuguese designer living in London, who'd flown over for a long weekend with his girlfriend to check it out.
"People as a Starting Point"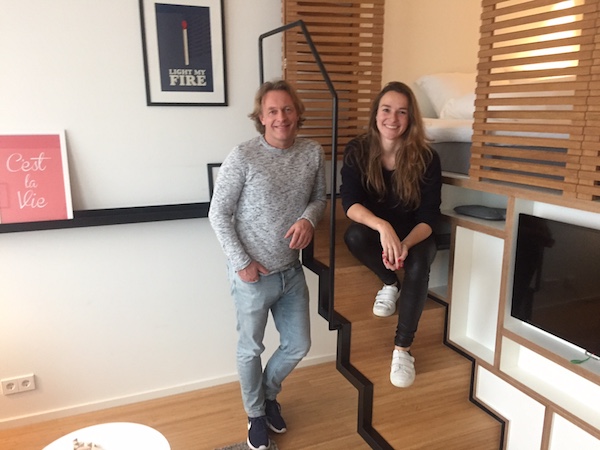 Business travelers have two basic choices: hotels or Airbnbs. Both models struggle with community. Hotel business centers are sterile while Airbnbs are hit-and-miss on workability and wifi. It's just not in their DNA to help you to make meaningful connections in a new city.
Most tech hubs and co-working spaces stumble in spurring collaboration. Tellingly, people who spend a lot of time there tend to shut each other out with headphones. The food and atmosphere are usually subpar, adequate while you're cranking away at work, but hardly a destination or lifestyle you'd independently seek.
Hans thinks that mediocrity offers a tremendous opportunity for innovation. "Real estate is the industry that hasn't had any disruption," he said. "It uses fifty percent of the world's materials, and produces the majority of the pollution."
The financial incentives for fresh ideas and new initiatives are abundant. "The tech companies, Amazon and Google, they see that." But the digital behemoths "take data as a starting point, whereas we take people as a starting point."
This summer, we too are at a starting point, experimenting with the spontaneity and twists and turns of the global, digital nomad life. We've stayed in hotels and Airbnbs that ranged from great to terrible. But the only place we found a vibe that rose above the quality of the room or the cachet of the bar was this refreshing concept of an emerging global movement called Zoku.
---