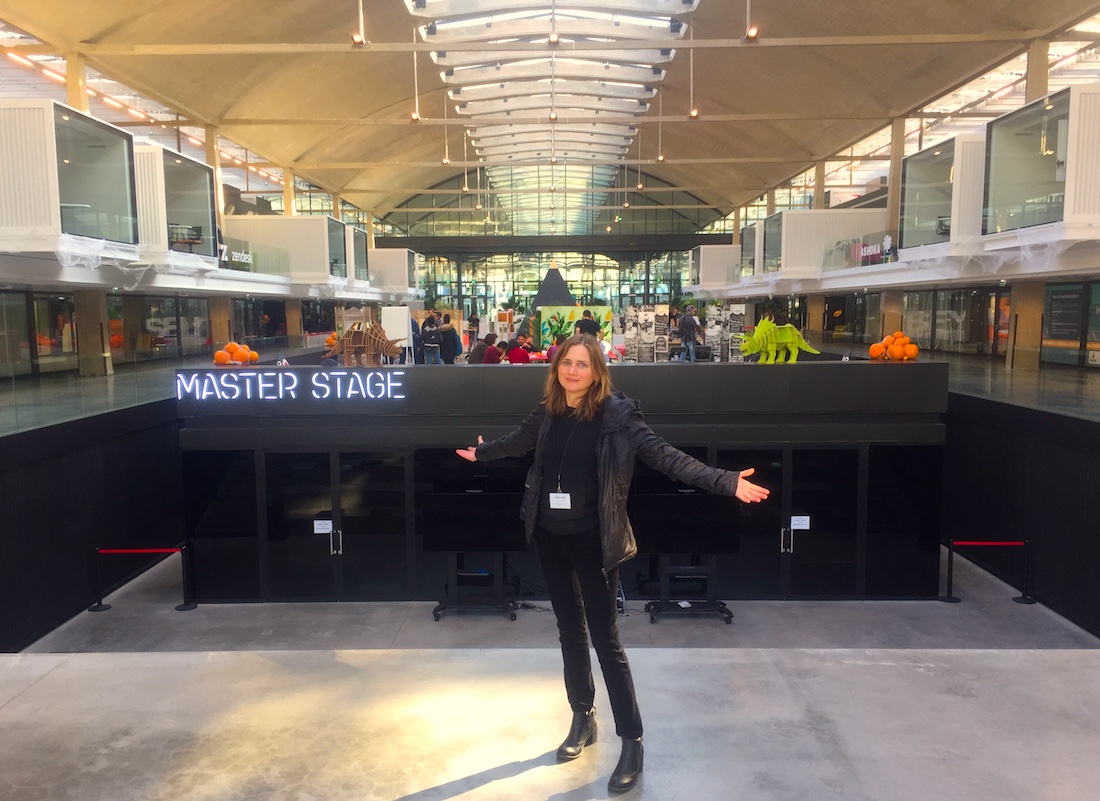 Meet La Nouvelle Paris, a dynamic, accelerating ecosystem of bold tech shrines to global startup fever, coding mastery, and business innovation. Plug into the wildly disruptive, zero-tuition, gamified non-university, 42: the coding school sans curriculum or professors. Reside in Le Village by Credit Agricole, ideal for startups seeking to incubate and connect with the corporate clients of France's largest bank. Enter the gravitational vortex of la pièce de resistance, the world's largest tech cathedral, Paris's new Notre Dame, the gloriously fashionable 1,000-strong startup colossus Station F, the nexus of the nation's burgeoning love affair with tech.
Last week, after zipping through the countryside from Lausanne, Switzerland on the 320-kilometers-per-hour TGV express to Paris's Gare de Lyon, we skipped the traditional tourist pilgrimage to the Eiffel Tower and Versailles, and set off for France's ultra-modern techie mecca, Xavier Niel's Station F.
The Grand Scale-Up
Imagine a building longer than a football field, twice as wide as a basketball court is long, three open bay floors on each side. Now line up three of these enormous structures like the linked torso of a caterpillar – all told, more than a thousand feet long, a mind-boggling 366 thousand square feet.  Xavier Niel, France's seventh richest man, is placing a very big bet on France and Europe, a gamble that looks especially prescient in the wake of Brexit.
This continental shift is intellectual and emotional as well as physical. France's readiness to compete on a global stage has become a hot topic in the press and in business. Two men we met during our visit recently authored books that trumpet the country's growth, due in part to openness to innovation: Fabrice Cavarretta's Oui, la France est un paradis pour entrepreneurs ("Yes, France is a paradise for entrepreneurs"), and Robin Rivaton's La France est prête: Nous avons déjà changé ("France is ready: We have already changed").
"Entrepreneur is the new France," the French press has declared, dubbing Station F "Le plus grand incubateur au monde." The words don't fully convey this vision borne out of an old freight train depot and christened this summer before a cheering crowd by France's new pro-tech leader, President Emmanuel Macron.
Station F, Paris's Master Stage
Open innovation is the canvas. Enter a world unto itself, Europe's grand portal to international entrepreneurism and startups, the vast expanse of the first "Share Zone" building, sparkling new container-ship-sized, glass-fronted meeting spaces perched on the second floor like a showroom of gargantuan TVs facing the Master Stage at the entrance of a 350-seat subterranean theatre, a vast, vaulted ceiling open to the light, where several hundred techies and entrepreneurs busily map the future on laptops and computers on multiple floors.
Startups are the honey at Station F. The Share Zone is the money. Near the entrance are the VCs: Ventech, Daphne Capital, Xavier Niel's own Kima Ventures, and desks for 40+ individual investors who have purchased annual memberships (Xavier believes continuous investments fuel the startup world; he is said to fund two or more ventures a week). Then come the big-box equivalent of anchor tenants, the world's mega techs, AWS, Microsoft, the San Francisco-based cloud-centered help desk solution Zendesk, and social and environmental projects such as former President Hollande's foundation La France s'engage. A FabLab is under construction, La Poste is here, and just about any service that a business might need. Oh, and soon they will open the Chill Zone, the third building, which will feature restaurants and be open to the public 24/7.
We returned several times during the week to meet with managers in the Startup Zone, home to some of Station F's most thriving programs. Numa is an offshoot of a larger incubator born in 2000 in the Silicon Sentier district that in many ways laid the foundation for Paris's current entrepreneurial boom. Numa hosts a few dozen startups at Station F paired with corporate partners such as Orange and SNCF (and thousands more in Numa branches worldwide).
Incubation and Acceleration
Damion Roch, the program director, introduced us to one of Numa's startup founders, Jonathan Chester, an enterprising 26-year-old graduate of the University of California at Santa Barbara, who recently won the French Tech Ticket (receiving a prize of €57,000 and the right to remain in France for five years, starting with a residency at Numa and now at their Station F campus. Jonathan is the co-founder of BitWage, a fast-scaling, cash-positive startup that enables employees to avoid hefty international bank fees, and take a portion of their pay in cryptocurrencies.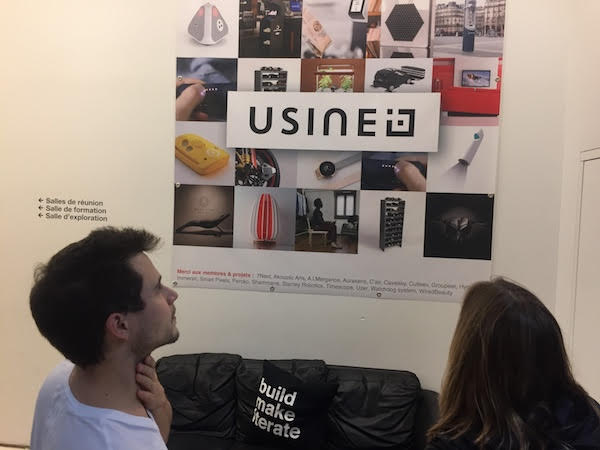 Across the street from Station F, Emanuel Allely of Usine gave us a tour of the expansive hardware accelerator. Focused on autonomous and connected mobility and robotics, Usine's advanced machine shop drives hundreds of hardware projects each year, providing a rare capability to create physical prototypes in an increasingly virtual and CAD-driven world, with a state-of-the-art fabrication lab including laser cutters, 3D printers, lathes, CNC machines for working with machine metal, welding equipment, and numerous other sophisticated prototyping tools.
Newron Motors is one of six high-profile incubees housed in Station F, a 100-horsepower "Tesla of motorcycles", which charges an ultralight electric battery in just 20 minutes for a range of 300 kilometers. And there's Timescope, a self-service virtual reality kiosk already live in Paris where you can view spaces in different times – for example, Place de la Bastille on the morning of the French Revolution. Or Station F in the past or the future. Usine leverages partnerships with Nvidia, PwC, Allianz, and other major corporates to facilitate services and find test markets, in its journey to be Europe's top hardware accelerator.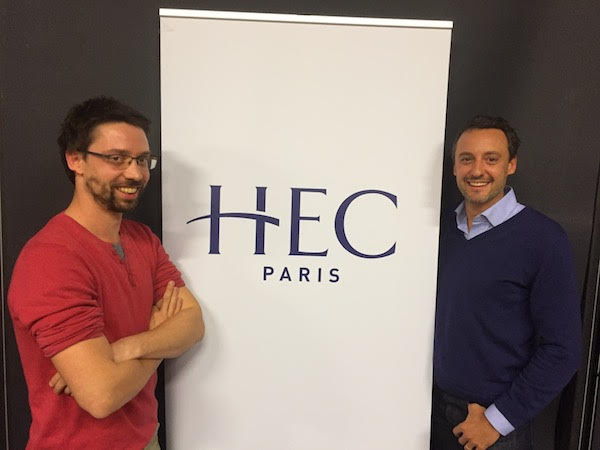 One evening in a loft at the top of Station F, we met Antoine Leprêtre, director of the 78-startup HEC incubator at the hub, and Guillaume le Dieu de Ville, program director of the HEC-42 Startup Launchpad program. HEC is considered the Harvard or Stanford Business School of France. "If you look at HEC, it's the third school in the world for [the number of] CEO alumni," said Antoine of the famed business school celebrated for "the strongest ecosystem in France for business." The incubator supports over 400 projects per year. Incredibly, one in five students launches a startup, with 80% still in business after three years. Antoine pointed to huge successes, including Big Mamma, the hit Italian restaurant chain which recently won the contract to open up Station F's food court in the forthcoming Chill Zone.
The university's Launchpad program is one key source of startups for the HEC Station F incubator. "We plunge the student into a very entrepreneurial environment, with one main goal: launch your company within nine weeks," said Guillaume. What's unique – and perhaps sets it apart from other elite launchpad programs like that of Stanford or MIT – is the depth, sophistication and diversity of the program. It begins with an online application, several weeks of student meetups, and ongoing feedback with professors, mentors and venture capitalists throughout Paris.
"We've got four sequences," said Guillaume. "The first is the idea, the design thinking and adding value. Second is the product. So, you're working on the UX design for the product, and all the strategic phases and aspects, and then you launch your services. At the end, of course, you've got the demo days, with angels and VCs."
HEC's "special sauce" may be the diversity of the teams. "For us, it was very important to have these worlds coming together," said Guillaume, of the open source strategy. HEC students team with engineers from 42, Ecole Polytechnique, Sciences Po, Université Paris-Sorbonne, and even designers from the Strate School of Design. "It's a business guy, an engineer and the designer," said Guillaume of an all-star, cross-disciplinary approach that has been delivering impressive results.
42, Le Village by CA , Schoolab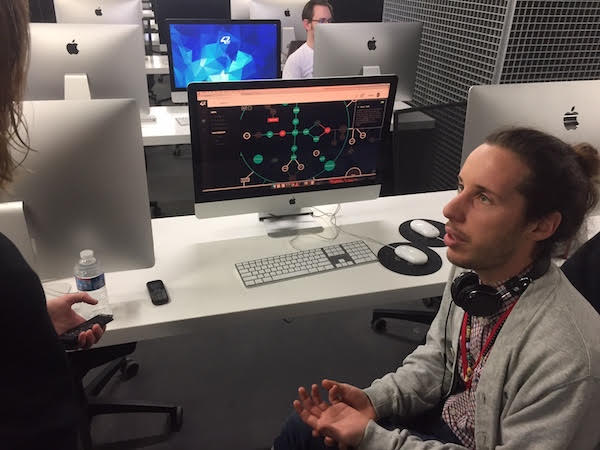 Xavier Niel's mark is ever present in Paris. At the outskirts of the 17th arrondissement, we toured 42, a private coding school founded by Niel and partners in 2013. Admission is free – if you can first pass a tricky online logic test. Then, it's sink or swim in the "piscine" (French for swimming pool). Students are thrown into an immersive four-week indoctrination period. No teachers, no guidelines. Just sprawling factory-floor seas of Apple iMacs, an email with a log in and password, and no instructions. The goal? A Darwinian process whereby the best learn how to learn (teamwork is essential). "Knowing things is not what will make the difference," 42's Technical and Educational Programs Manager Catherine Madinier told us. "It's knowing how to look, where to look, how to prove and test what you're finding. Because you can't just trust anything you find on the internet, you have to be mature enough to reflect on the knowledge you get, and test it and then apply it. That's the answer."
It doesn't take long to catch on for these brightest of prospects, just three thousand of whom are selected from 50 thousand applications (about 900 are accepted at the end of the piscine), though many shed tears in the process. During the piscine, many students are on their computers for 20 hours a day, and most sleep on a mattress in the basement. Students have between 18 months and 5 years to learn everything they can about computers, starting with C, the most fundamental of computer languages, because from there you can easily learn other languages, including new ones as they emerge.
The students we met were unanimously passionate: "I love coding, I love 42, and I love this way of sharing knowledge," Anthony Civitas told us. "Not like where there are teachers, and they have the answer, and you have to learn the answer." This kind of meta-cognition is transforming the future of tech worldwide. There's a Silicon Valley campus, and franchises in Ukraine, Romania, Moldavia, Belgium, and also in Lyon and elsewhere.
Near Place de la Madeleine, we visited yet another bustling Parisian incubator, Le Village by Credit Agricole. Launched six years ago, the program aims to create a mutually beneficial relationship with startups. France's largest asset management bank – serving corporate clients in health, energy and housing sectors – has taken a proactive stance on innovating customer experiences and digital developments. "We know we cannot do it alone. We need to shift our mindset," said Le Village's Deputy Mayor, Benoît Bourdin. "We are bankers, we're not used to being very open minded. There's a lot of legacy and regulatory barriers. We needed to add something strong at the base of our business."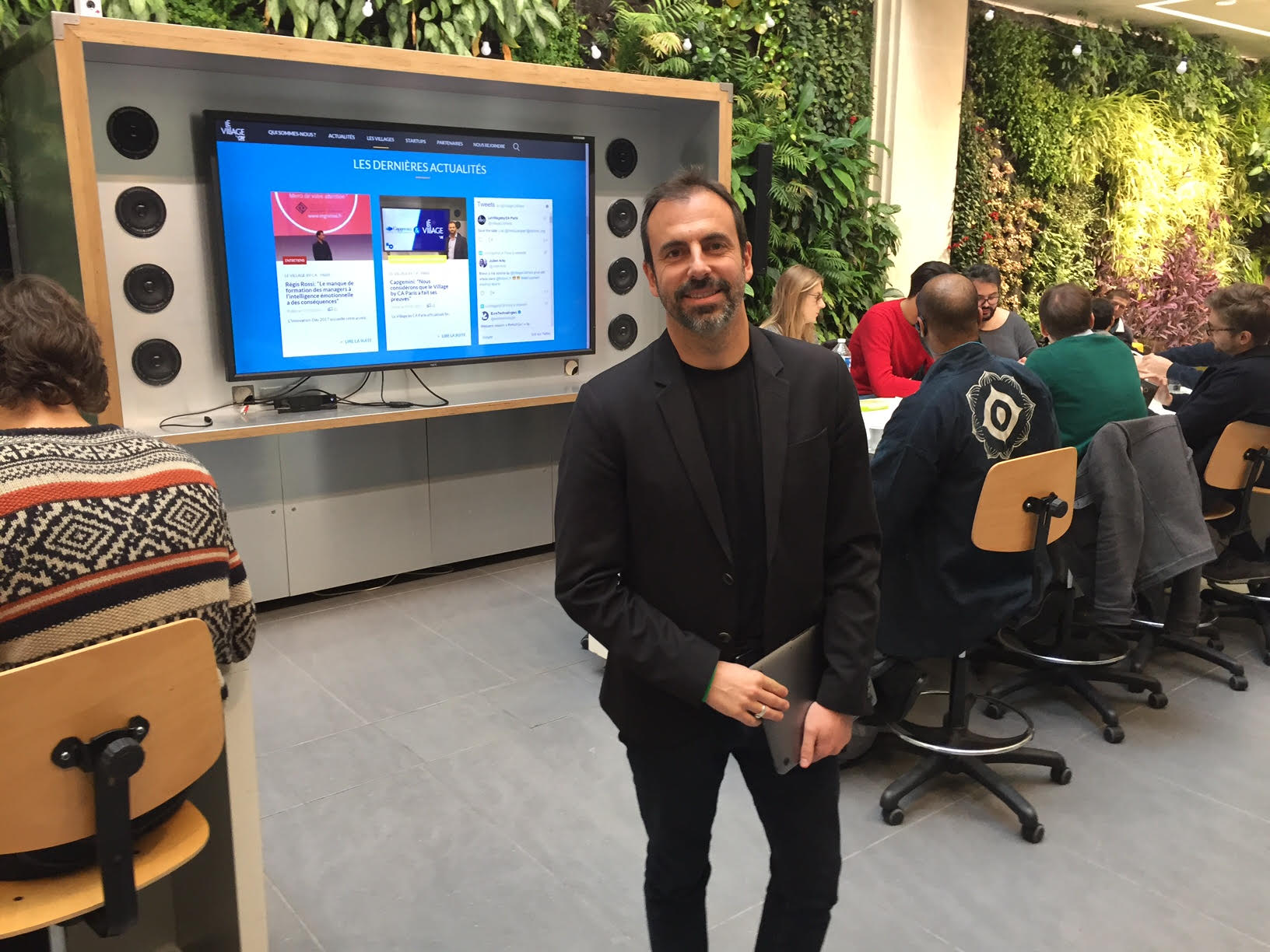 Benoît pointed to innovations like Data and Data, a startup within Le Village dedicated to mining big data with algorithms tuned to identify counterfeit sellers on the Internet. "When we received this company, we saw something very important. They are an expert in big data and security. We have clients working on the luxury sector. So we connected them to the sector."
Now, Benoît told us, Data and Data is identifying about 15 thousand counterfeits per month among the luxury brands. It's a perfect example of one of Le Village's "pépinières" (a nouveau-tech term that refers to a greenhouse nursery), who make up a large part of the firm's incubees. And for the lucky chosen 90 startup applicants, it's a sweet deal. Le Village grants half-price rent in its swanky location for up to two years, takes no equity, and helps the startups create major partnerships with global enterprises.
Back in Silicon Sentier, Schoolab's five-story incubator in a converted garment district building offers a vibrant community with a fresh twist. Student-led teams provide consulting to local companies by building diverse squads from top local schools, such as ESSEC and Strate. "The company comes with an issue," said project lead Pierre-Emmanuel Saint Esprit. "A real problem they want to address on a large scale." They're then matched with a team of students who dive in for six months, applying design thinking and agile methodologies to dream up concrete solutions, like a new packaging solution for McDonald's restaurants in Paris that reduces waste.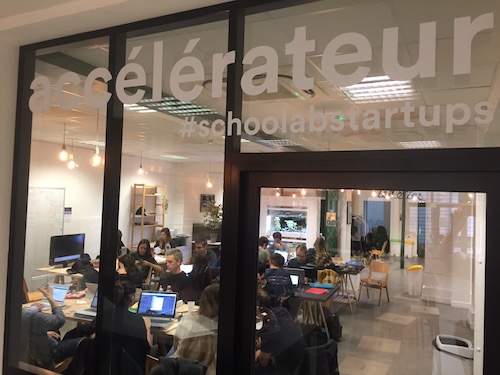 Corporate partners La Poste and BNP each have a floor at Schoolab (corporate managers regularly take seminars on design thinking, agile methodology, and the like) while startups rent space on other floors, all immersed in a constant stream of tech events, in an environment that eschews "hypertech" development. The mentoring is top notch, including support from a Yoda-in-Residence, Henri Lachmann, retired former CEO of Schneider Electric, France's largest corporate electrical contractor. And Schoolab is expanding beyond Paris's orbit, opening a new space this year in San Francisco, and working with the French government on an ambitious public-private partnership to be launched June 6, 2019, the 75th anniversary of D-Day. They're building a giant hub in northern France called MoHo, where farmers, syndicates, retirees, unemployed workers, startups, universities and big corporates will gain residency in a "collider" to work on three themes: climate change, cybersecurity, and civic tech.
France's Workforce Goes Global
Schoolab, 42, Station F, Le Village, and dozens of other experiments exemplify Paris's new identity as a startup unto itself. There's a recognition that the traditional linear French academic and career path (secondary school followed by university, followed by graduate school, followed by an established career with government or industry) is being challenged by alternative models that aim to produce a nimbler, tech-savvy entrepreneurial workforce.
At the end of an interview-packed week, we bid adieu to France and flew to Lisbon for Web Summit. France came too. Among all the nations of Europe (with some Asians, Africans, and even Americans whipped into the frenzy of this 59,000-strong event, Europe's largest startup conference), France was heavily represented at the French Tech booth, among the speakers, startups, and attendees. Some of the HEC incubees tracked us down to practice their pitches: Philadelphe Knellwolf and Antoine Auffray of Medway Assistance, a mobile tele-medicine service, and Geoffrey Costilhes, co-founder of Postmii, a digital postcard app and kiosk.
French entrepreneurism is in motion. Geoffrey is headed in January to the giant CES conference, where he plans to ride his custom digital postcard delivery tricycle from Los Angeles to Las Vegas – helping to take France across borders and into the future, one kilometer at a time.
---
SmartUp is traveling around Europe to catch the spirit of entrepreneurism. Follow us on the journey!
Starting Up in Switzerland: Batmaid, Studio Banana, MindMaze