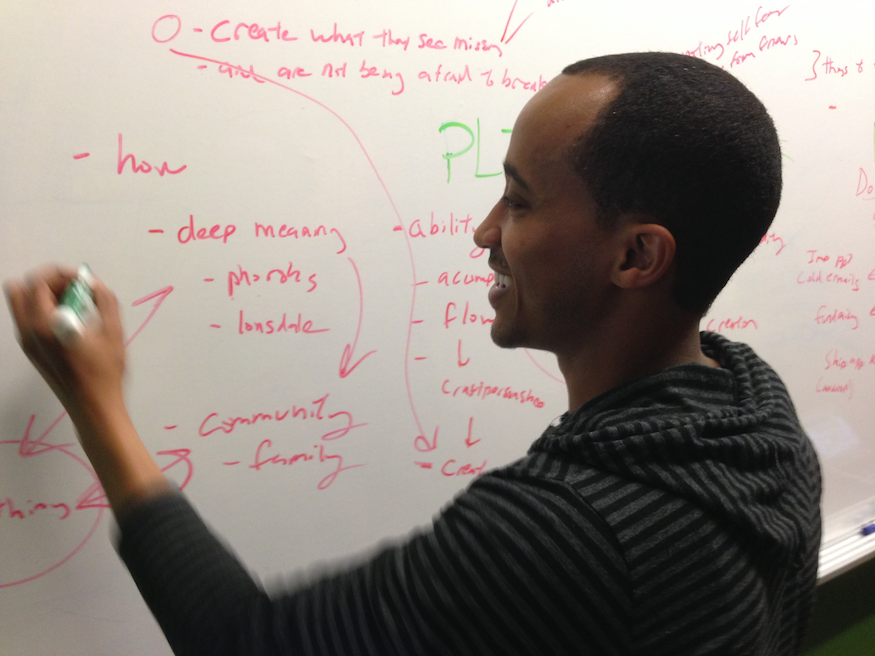 Born in the Sudan, a refugee from that "war torn immigrant experience," Lull Mengesha was just a toddler when he came to California. His parents wanted him to become a doctor or lawyer, but Lull was drawn to "side projects": everything from trading bugs for lunch snacks, to manufacturing a curvy, novelty pillow, to developing an app to improve texting prowess — and that creative thirst is how he recently ended up living on a friend's floor in Oakland, and studying Data Science at San Francisco's Galvanize.
Entrepreneurship came early to Lull. Bused to an upper middle class San Diego school as a seven-year-old, he watched "these other kids" eat snack lunches with Oreo cookies. Lull wanted their cookies. "I started getting kids to collect ladybugs and put them in jars," he says. "We'd trade the ladybugs for the snack lunches." And just like that, Lull had more Oreo cookies than he knew what to do with.
In high school, Lull worked briefly in a barbershop. Soon he was practicing on cousins, and set up shop in the school bathroom, clearing $30 a week cutting hair. At the University of Washington in Seattle, he noticed there were no black barbers, and began cutting hair for the University's many black football and basketball players. He'd trade haircuts for a share of the athletes' food cards. Pretty soon Lull had more food than he could eat.
Lull had a knack for seeing and meeting human needs. He started a dental club at UW to help students get into the profession (though after shadowing dentists "who didn't seem to enjoy what they were doing," he ultimately decided not to become a dentist). He saw black students dropping out, and started talking to them, and learning the obstacles they faced. "By my senior year I was pretty good at navigating the University. I'd ask them what were their pain points." Lull published The Only Black Student through Amazon, sold a few thousand copies, and was soon charging healthy sums for dozens of seminars on college campuses to help minority students navigate the pressures of college.
Lull got into dental school, deferred it for year, worked for a startup for a year, and then when it crashed, got serious. He never attended dental school. His economics degree earned him a job at Boeing, and the aviation giant paid for his Masters in Information Management. His job was to find and fulfill needs within the company and airlines. User testing. Requirements testing. But he kept experimenting. He invented and sold a novelty product developed through personal experience, the "Booty Pillow", which was featured on the Today Show. Lull also prototyped an app to analyze people's texting habits, in large part because he wasn't very good at texting.
After six years at Boeing as a product manager, functional analyst, and data modeler, he hit a ceiling. This February, his curiosity was sparked by a Venture Beat article about the Jesse Jackson scholarship for students applying to the GalvanizeU-UNH Masters of Engineering in Big Data program. He applied, interviewed with Mike Tamir, Galvanize's Chief Science Officer, drove down to San Francisco, sold his house in Seattle, and was soon taking classes on Galvanize's third floor South of Market. "Initially it was intimidating," says Lull. "Only looking at the quantitative skills, I was thinking, "'Man, I don't belong here.' Then I kept looking at all the people I met. I was able to make these genuine connections. I met the founder of Match.com last week to talk about my startup, and he liked it!"
Lull wants to help people get better at texting, a skill that he believes can be valuable for everything from dating to networking and sales. His app analyzes character length, response time, ratio of messages sent and received. "From those metrics you can get a good sense of interest – romantic or business." Lull believes his app will be a great tool for those in sales.
At Galvanize, Lull is excited about "being able to dive into semantics and the context of language [involved in texting]. That's why I'm in this program," he says. "To take a deeper dive, and give people meaning behind communication, not just hard metrics."
Lull just hired a new developer to explore these more complex capabilities, and is seeking investments. His app is live on Android, and he's already gaining valuable data. "Character length isn't as valuable as received messages," he explains. "If someone sends you a text, that's a good sign, even if it's just three words."
Tamir at Galvanize is impressed by what he's seen. "Lull is a true innovator. His text analytics app already showcases his strong product management instincts. I'm excited to see what he accomplishes with his new data science skills in the next few months."
This summer Lull hopes to crack perhaps the biggest nut when it comes to texting. "Once we get into the semantics, that's the hotspot for dating." And maybe, just maybe, an idea bigger than the Booty Pillow, The Only Black Student, and trading ladybugs for food.