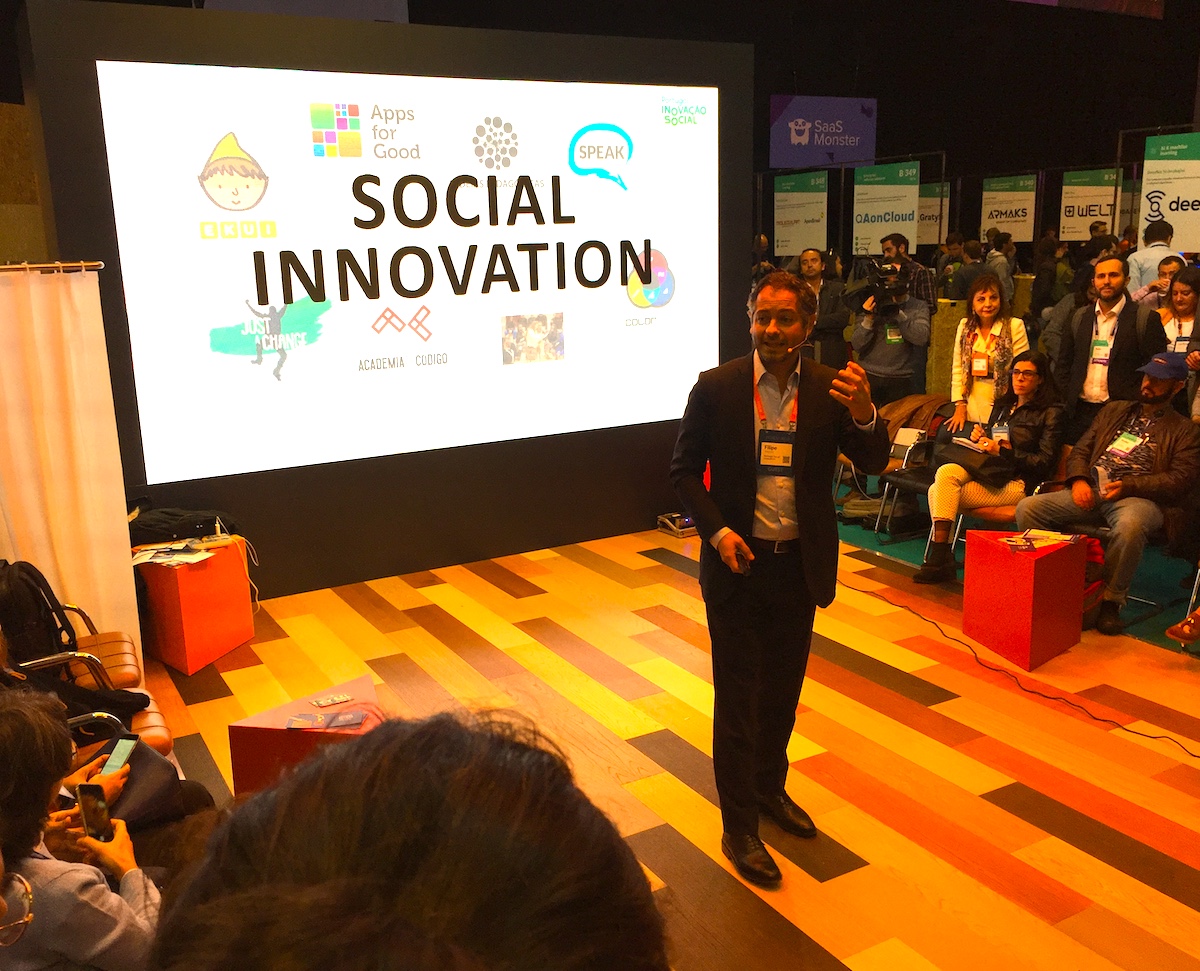 Entering the massive beehive of Lisbon's 70,000-strong Web Summit, we quickly grasped the attractions of Europe's biggest tech conference. You could feel the local pulse of innovation. Absorb the buzz of the hottest new trends. Converse directly with Portuguese movers and shakers, and see firsthand how entrepreneurship takes shape beyond the Silicon Valley microcosm. Even ask a question or two of Carlos Moedas, the European Commissioner for Research, Science and Innovation, on what Europe needs to do to maximize its tremendous potential.
Web Summit just announced that Europe's biggest tech conference will be hosted in Lisbon for the next decade. We'd landed weeks before to explore the thriving ecosystem, starting with a tour of the brand-new ultra-modern latest campus of Nova Universidade just west of Lisbon, fast becoming Portugal's hottest university. This particular one-month-old location showcases the promise of a progressive European educational model more in tune with tech and modern business trends. Dozens of American and international corporate sponsors have branded buildings, sports fields, and programs. The campus is adjacent to a just-opened NATO training facility and Google just opened shop in a new tech hub in nearby Lagaos Park in Oeiras. Student entrepreneurial, innovation and creativity clubs are thriving. There's a cool "land-sea" factor here, a nod to Portugal's glorious seafaring past, that you have to see to believe: an underground tunnel connecting the main student center directly to the beach.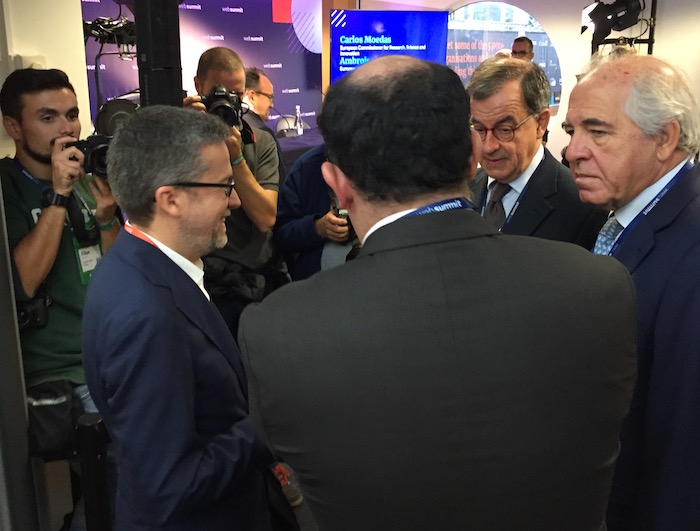 At a press conference for Ambroise Fayolle, European Investment Bank Vice-President and Carlos Moedas, EU Commissioner for Research, Science and Innovation, we asked, how can Europe build on Nova's success? "What we want to do more of in Europe is to create networks of universities that work with big companies," Moedas replied enthusiastically, pointing to the nearby university as a great example of an innovative strategy he hopes Europe can build upon.
"We want to see more of these companies within the universities," he said. "Because we believe that the future of education will not be about just having your degree and then going to work but about these bridges between the companies and the universities." Tying the school's expansion to a major announcement that day about a new €190 million European Investment Fund (EIF) investment in Portuguese small- and medium-sized businesses that tackle a range of social, environmental and related issues, Moedas explained, "The role of the European Union is to lower the barriers so we can work within these universities with other people in Europe and with other big companies."
After the press conference, we hit the teeming expo floor. Eager young entrepreneurs filled the booths and pitch stages next to giant corporate sponsor booths, attendees crowded the speaker stages and investors scouted their next big breakthroughs. Everyone everywhere was approachable for a chat amidst refreshments from food trucks in several open-air courts connecting the pavilions. The ambience at Web Summit is fueled by delights like Portuguese coffee from sponsor Delta Cafés, served up gratis from espresso stations throughout the show floor.
We stopped by the EDP booth, where Portugal's utility showcased an elaborate glass elevator styled to stimulate startup pitches, a key factor in the company's role in leading the worldwide global energy accelerator, Free Electrons. We bumped into Ricardo Marvão, Co-Founder of Beta-i, Lisbon's premier tech incubator. Known for his seminal role in building Portugal's entrepreneurial ecosystem after the financial crisis, Marvão agrees that Nova is an encouraging development, the best modern institute of higher education in Portugal (he's already brought Singularity University there). What does he see as the biggest opportunity in Portugal and Europe for international VCs and angels? To invest in a new class of emerging tools for startups to scale, to make that critical leap that so many fail to bridge.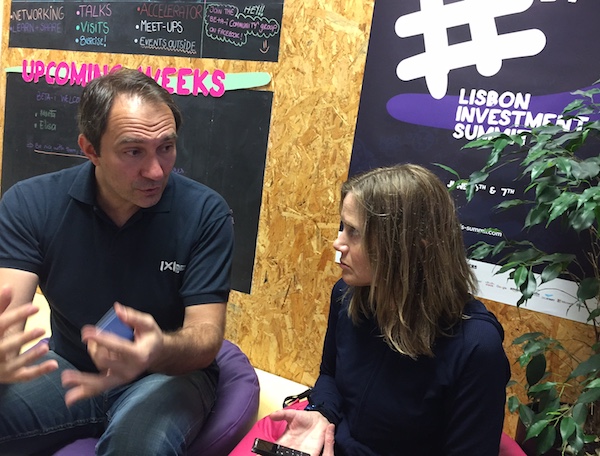 "But it's not just about the money," said Marvão, who had dined the night before at the House of Beautiful Business pop-up with a select inner circle of wealthy founders and investors whose disillusionment seemed proportionate to their financial success. "Work-life balance and quality of life," said Marvão, is part of the appeal of Portugal and indeed much of Europe where culture is often valued above cash.
The following evening at the party for the investment and builder firm Bright Pixel we ran into Pedro Santos Vieira, one of the padrinhos (godfathers) of Portugal's tech scene. We'd met him years before in San Francisco. Vieira earned his PhD at Berkeley, then promptly sold his company to UL, and the legend goes that at least one major Portuguese founder slept on his couch before launching his unicorn (Talkdesk, anyone?). For years, Vieira bounced between SF and Portugal, leading West to West, a San Francisco non-profit that supports Portuguese entrepreneurs in Silicon Valley. But, he told us over Super Bocks, he's happy to be home, building a house in Lisbon for his family, running in the nearby trails of Monsanto Forest Park, and hoisting his sails to begin a new phase of European discovery and investment.
Social Innovation and the Youth Factor
Back on the Summit floor, we circled back again and again to the central location of the Startup Portugal booth. There we met local representatives from Startup Lisboa and Startup Braga, executives from AICEP Portugal Global, and our contacts from the Portuguese trade ministry in San Francisco, then stuck around for a major announcement by the president of Portugal Social Innovation, Filipe Almeida. The Social Innovation Fund (FIS) is a €55-million EU-backed public investment in Portugal designed to foster social investment and facilitate access to finance by social organizations and SMEs developing a wide range of innovative social projects, a stark contrast to the US, where federal funding or political backing for social innovation is rare.
At the booth, we also learned a key trend: youth and immigration are often healthy indicators of entrepreneurial opportunity. As Alexandre Mendes, Executive Director of Startup Braga, shared with us, the up-and-coming northern city just outside Porto has the nation's youngest population, specializes in some of the newest and hottest technologies such as fintech and blockchain development, and is attracting thousands of successful and talented foreigners, notably a large infusion of entrepreneurial Brazilians.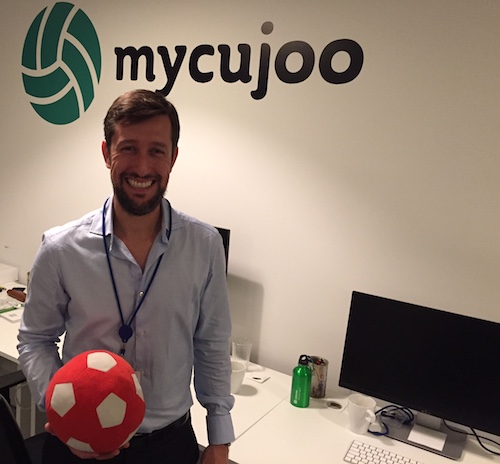 Youth was also a central leverage point of a startup we'd visited earlier that week on Beta-i's Lisbon Startup Tour, an immersive exploration of the local tech ecosystem, kicking off at the Beta-i incubator, with stops at major success stories like Talkdesk and Unbabel. Our favorite was Mycujoo.tv. Portuguese football fan frustration inspired this startup founded by the twin brothers Pedro and João Presa. Their local team, Boavista FC, rose to Primeira Liga champions, but then quickly fell to the third tier, pushing them off television. The brothers took football seriously; Pedro earned a FIFA Masters in Zurich, and then worked with top European leagues.
Sensing an avenue to scale – soccer is far and away the world's most popular sport – the brothers devised a simple, intuitive app enabling amateur and professional teams to stream games on their platform. The result is a "democratizing" effort in an age when the world's elite teams commonly demand hefty TV subscription fees. The Mycujoo platform allows hundreds of thousands of clubs to court devoted followings and profit from audiences, disrupting the power balance. Optimized for mobile, free for fans, Mycujoo is ideal for today's youth who increasingly experience the sport on their phones,
Think of Mycujoo as a soccer-specific YouTube or Facebook designed to create a global community around the hundreds of millions of fans for all levels of games: professional, amateur, youth, and women's leagues. Launched in Switzerland four years ago, the startup has quickly expanded, with its largest office in Amsterdam, and more recently in Lisbon, where they've outgrown their office in LACS and will soon expand to a new space. The company has already attracted approximately $9 million in funding and is currently raising a much larger round, an excellent example of how Portuguese entrepreneurs are targeting opportunities with a global perspective.
The EU Lends a Hand
Carlos Moedas brought the focus on youth's promise and the growth of tech innovation full-circle with his answer to our next question at the press conference. In a culture where the public cost of fracasso (failure) often discourages second or third tries, how can Portuguese founders learn to push past fear and take risks? Moedas replied that you must focus entrepreneurial efforts much earlier, at the secondary educational level, and reject the traditional European preference for hyper-specialization. "Not just studying disciplines but studying the interdisciplinarity, studying around the material, not just the material. And I think that if you look at the next wave of innovation, it will be about that, building on the intersection of disciplines."
Incentives too must change. Moedas talked about liberalizing bankruptcy laws – notoriously punitive in Europe – so that "the reforms in different countries give people the idea that actually failing is not bad." We would add that Portugal's StartUp Visa program is also a good first step in further streamlining the bureaucracy required to start companies, still cumbersome in most of Europe.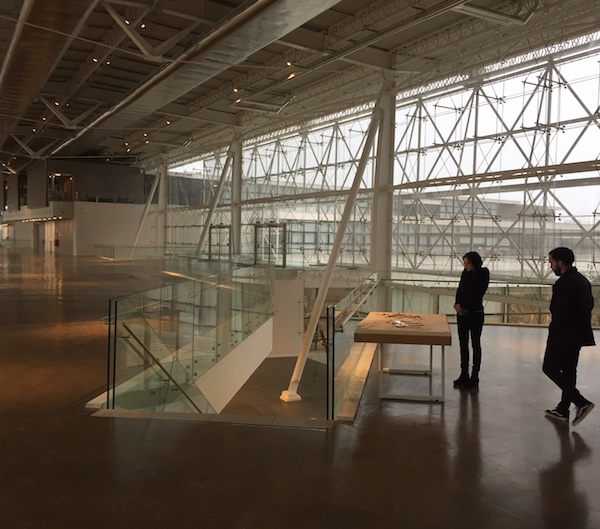 To unlock the latent potential in Europe's market over the next decade, Moedas spoke of engineering a more holistic approach, in which the key players recognize that "the problem with innovation is that it's a puzzle. And if one piece of the puzzle is not working, it doesn't work. You can have great things, but if one fails, it doesn't work. And I think the beauty of Silicon Valley is that all the pieces of the puzzle work at the same time."
Yet San Francisco or Silicon Valley isn't viewed as the answer to Portugal's or Europe's future. Instead of trying to reverse-engineer or replicate those elite California models in Europe, he spoke of creating a network of cities and "a network of universities and companies and venture capitalists that work on the diversity of Europe."
Moedas paused and shrugged, acknowledging it won't be easy: Collaboration never is. "There are a lot of things that we have to do together to make it happen. It's not just one government or one politician."
Ultimately, said Moedas, a central, human question lies at the heart of entrepreneurship and innovation. That only with tremendous risk comes reward. "It's really a movement that is not ideological. It's about creating the environment where people are not too afraid of failing."
---