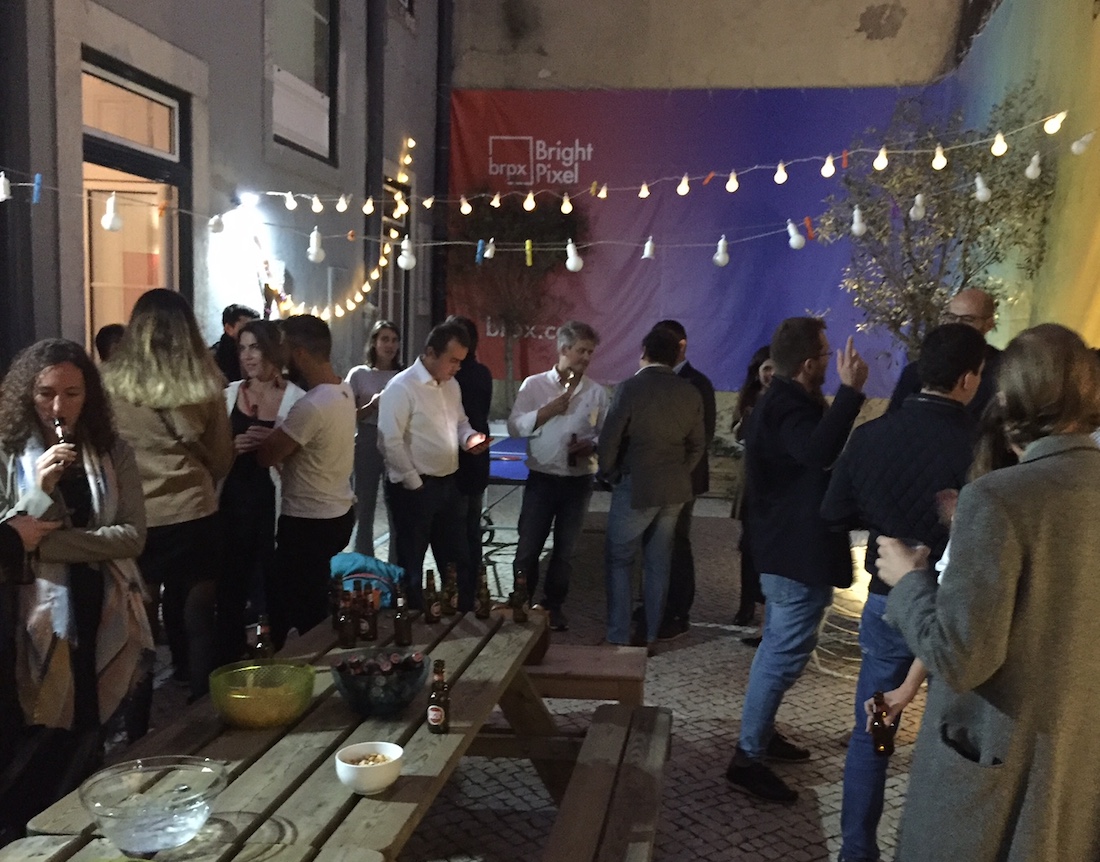 It's Thursday night in Lisbon's bustling Chiado district, revelers packed into an old stone courtyard, festooned with a string of lights, doing what Lisboetas do so well, leaning in early to start the weekend. Bright Pixel, a hot local company builder, and Startup Portugal have teamed up to host a pre-Web Summit festa for the city's upcoming mega tech conference, an event that has transformed Lisbon the last three years. Seventy thousand attendees from 160 countries will pack the city the first week of November for the four-day technology startup conference, and many will likely emerge transfixed by the city and the nation's increasing attractions for entrepreneurs, startups and big tech.
Lisbon has quickly risen to become a fresh new destination for economic growth and entrepreneurism, with even more potential than competitive European markets as the UK foolishly lurches toward the impending financial abyss of Brexit. Development here on Europe's West Coast is going strong with Web Summit providing a new and enduring fulcrum, the conference having just signed a €110 million contract through 2028 with the Portuguese government. There's an entrepreneurial movement afoot, with strong incubators and investors throughout Portugal, and increasing interest by multinational tech giants.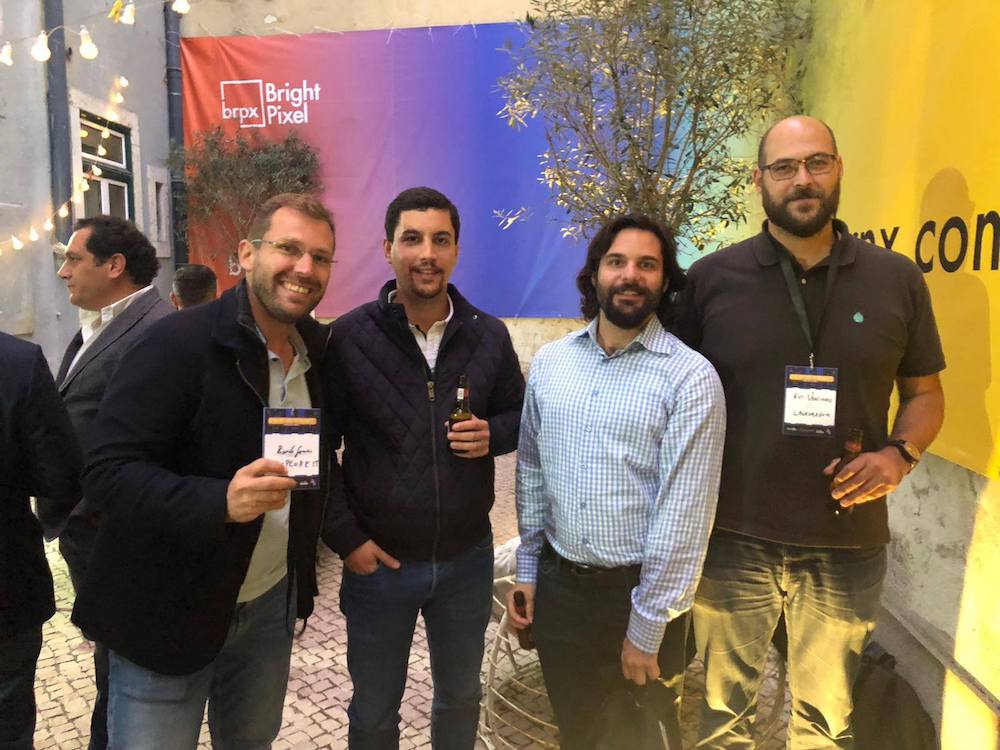 Brushing shoulders with dozens of members of the Portuguese startup community at Bright Pixel's party we met a local veteran founder turned angel, on the hunt for a startup that he can scale. Two bright-eyed young founders of Ready2Start, incubated at Fábrica de Startups, talked excitedly about their upcoming launch at the Summit. Fittingly, their company is designed to help the thousands of Portuguese itching to start small side businesses, ground-floor entrepreneurism, if you will, by handling back-end operations – sales, finance, and taxes – and providing a marketing front door.
We hung with Ricardo Lopes, a talented master's degree candidate at the local business school ISEG, who has been actively studying Lisbon's incubators and co-working haunts for his thesis on co-creation, while also putting in the hours as CFO and Co-Founder of fivehundred, a fast-growing video production studio. We spot man-about-town Ricardo Marvão, Co-Founder of Lisbon's premier incubator Beta-i, whom we met on our last trip here. Beta-i also managed this year's global energy accelerator Free Electrons, led by the Portuguese national utility EDP. To cap off an exciting evening, we chatted with Bright Pixel's Founder and CEO Celso Martinho, eager to hear our impressions of the Lisbon tech ecosystem.
The numbers speak loudly.
Portugal's high English proficiency beat out Spain, France and Italy: ranked 18 out of 80 countries (Source: Education First, English Proficiency Index 2017).
Fabulous weather, climate, tourism, and low rents for living and office space (approx. $20 sq ft in Lisbon vs. $70 in SF or $82 in London (Source: Cushman & Wakefield, Q2 2017.)
Superior infrastructure. Ranked #13 out of 137 countries for transport infrastructure – airports, roads, rail, and ports (Source: World Economic Forum).
Favored by American tech giants: Google, Microsoft, and Uber have already set up shop here, and Amazon Web Services is coming soon. Cisco just signed an MOU with the government to accelerate Portugal's digitalization.
International corporate destination: Mercedes Benz launched a digital delivery hub in Lisbon, Siemens created a cybersecurity operations center in Lisbon, Vodafone set up a major new location.
Excellent Education and Talent Pool: Hundreds of thousands of students are currently pursuing degrees in Engineering, Math, Computer Science; Manufacturing; Healthcare; Law (Source: PORDATA, Ministry of Education – DGEEC).
Job Creation Incentives from Portuguese government, with monthly cash grants for hiring interns or contract employees, exemption of social contributions for permanent employees.
We're fans of Lisbon and Porto, especially Lionesa, the elegant yet futuristic office park, in that fashionable northern city which is also enjoying a tech boom. But in speaking to Portuguese colleagues and friends here and in San Francisco, some question marks remain. Portugal has made great strides in reducing bureaucracy for startups but there's still too much paperwork for a country that smartly recognizes one of its advantages is its outward mentality and openness to working with startups and companies from Europe, Asia and the US. Big exits have been few, though the e-commerce startup Farfetch raised nearly 900 million in its hot IPO this fall, creating a valuation of over $6 billion, a success that will spin off dozens of angels.
There are bound to be some hiccups as the new economy collides with the old. Lisbon union workers just announced that the Web Summit may be hampered by a massive traffic jam caused by a planned first day strike of the Lisbon Metro. But that won't stop us from getting there early. Last year we met some great startups and founders from all over Europe. We cased the exhibit halls and caught countless well-crafted pitches, including one by Uwe Diegel. The fifty-something resident of Paris who beat out 1,200 competitors to take the grand prize for his LifeinaBox medtech invention that serves diabetics and others who need an easy portable way to keep modern medicines refrigerated. We met Uwe for the first time here. He'll be in our upcoming book on global entrepreneurism, and we're looking forward to seeing him again in Lisbon at the hottest startup conference in the world.
This isn't the bloated, retrograde CES in Vegas, where so much is phony, overhyped and oversized. It's Europe. No t-shirts. No slobs. The women and men dress impeccably, the food and wine are great, the city is lovely, and tech startup fever is heating up.
Why stay home?
Web Summit Formula for Success: How to Meet the People Who Matter