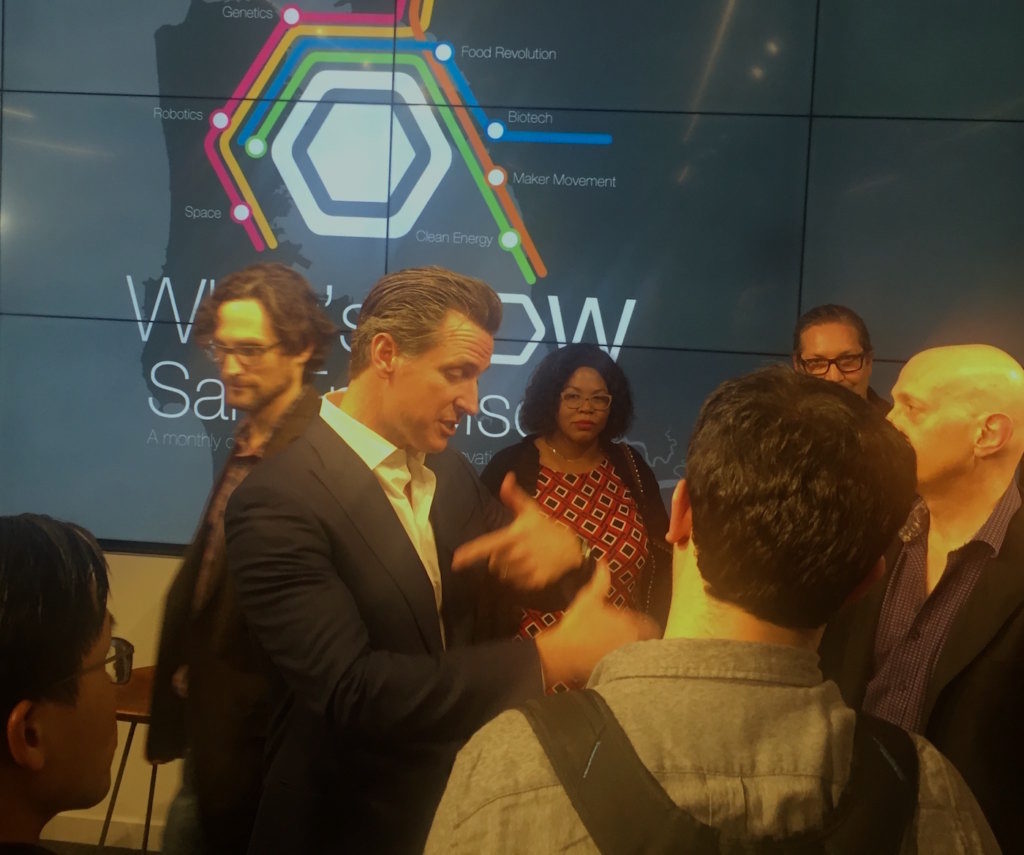 Gavin Newsom, the telegenic former mayor of the world's startup capital, and the leading candidate for the next governor of California, came to San Francisco's hot SoMa tech district last week to deliver an election post mortem. Facing an anxious overflow audience of entrepreneurs, venture capitalists, coders, and startup founders at Capgemini's Applied Innovation Exchange, Newsom tackled what he called a hinge moment.
"Technology is detonating," Newsom told the crowd of 300, many of whom had been expecting a different incoming president, and different kind of talk. "It's changing the way we live, work, and play. People are fearful, the world is radically changing. We're at a hinge moment from an economic perspective."
Newsom's compelling talk, moderated by Peter Leyden of Reinvent, addressed a palpable fear that California's recent gains in personal freedoms, its advancement of innovative environmental and urban solutions, and unique vantage at the nexus of technology and diversity, are now at risk. "The tech world is constantly talking about this transformation, but they're also really reluctant to talk about the politics of it," posited Leyden. "Do you see in some sense that the world has moved on, and we forgot to bring the politics with it, we forgot to develop the kind of thinking around it to think through the implications, and we're facing this dramatic catch-up moment?"
Newsom didn't mince words. "Trump picked up on that. And he was calling for bold change. He's basically trying to convince you that he can keep the future and bring you back to the past. It's an absurd argument. But it sold. And now the anxiety going forward is, once they realize they've been sold a bill of goods, what then of our body politic?"
Tech must change and adapt, continued Newsom. Leaders need to realize that the West Coast of California has a responsibility to set an example for the rest of the state, if not the nation. "Businesses cannot thrive in a world that's failing," he said. "And we have got to reconcile this. It's in business's interest to reconcile this. We can talk growth all day long, but it's got to be growth and inclusion."

Newsom helped reinvent San Francisco. His long tenure as mayor from 2003 to 2010 foreshadowed Mayor Lee's pro-tech moves, and helped shift the focus of the industry from Silicon Valley north into the city. Tax breaks to big companies to relocate into struggling neighborhoods, the loosening of zoning regulations to allow for easier conversion of empty warehouses into office buildings, and other tech-friendly initiatives led to a rapid influx of new businesses and talent from all over the world.
Newsom and Lee's progressive policies helped shape the thriving economic conditions that support the dynamic startups and feverish innovation that have taken hold in the city, while at the same time igniting rising tensions between the recent arrivals – young techies – and the city's traditional businesses and middle and lower class families. During his talk, Newsom confronted a harsh reality: some of San Francisco's flashiest startups are sparking a digital divide that is engendering divergent ideologies among those with disparate opportunities. Several times throughout the evening, Newsom addressed futuristic trends like the labor-saving automation of innovative companies such as Momentum Machines, which creates fast food assembly-line technology. "Their purpose is not to make employees more efficient," said Newsom. "It's to obviate the need for them. They're going after fast food workers. Anything that gets repeated, gets replaced. No overtime, no workers comp, no pension, no complaints."
Politics matter when creating such innovations, Newsom argued. Tech leaders must come to terms with how disruptive new models may threaten the workforce, and lead to collision courses with regulatory agencies and government. Newsom was touching on a dilemma that has international reach, with displaced workers reacting with strikes and violence against their gig economy replacements.
Where and how this night with Gavin Newsom in San Francisco came about is another part of the tech story, about how the city comes together and learns from seismic interruptions. Two years ago, Capgemini, a global consulting firm headquartered in France, began exploring the idea of some kind of innovation "lab or center" in the San Francisco Bay Area, said Lanny Cohen, the firm's Chief Technology Officer. His team explored classic old models, such as PARC in Palo Alto, the new-fangled Pivotal Labs in San Francisco, and the corporate research centers of Walmart, Orange Labs, and Target. Cohen's team also engaged with the independents: "We spent a lot of time with Galvanize and Rocketspace," he said of the two leading SF tech incubators. "They've got so many startups and businesses – both big and small. You can see the power of bringing startups and corporates together in that kind of co-location."
Capgemini ultimately chose a ground floor location on Brannan Street in SoMa to incorporate elements of incubation, acceleration, and collaboration. A space that, as Cohen noted, might help "bring to life this exchange." The Applied Innovation Exchange has a bistro feel, with a bar, tables and comfortable chairs at the entrance, and indeed at Newsom's event there was ample, wine, food, and talk. "It's more of a link to our Paris roots," said Cohen. "We wanted as many areas as possible that would promote conversations, intervention, design, and collaboration."
Gavin Newsom's post-election talk – free to the public – was the brainchild of Peter Leyden of the firm Reinvent, which collaborated with Cohen of Capgemini to create What's Now: San Francisco, a monthly deep-dive into the most important innovations emerging in the area stimulated by innovators and "thought leaders" from different fields tackling complex problems. "Together we hatched this idea of finding speakers on the cutting edge who wanted to put forward their thinking before it was fully baked. To create a venue that speakers wanted to come to," said Cohen. "We felt like the new kids on the block. We didn't want to be seen as takers, we wanted to try to give back to the community."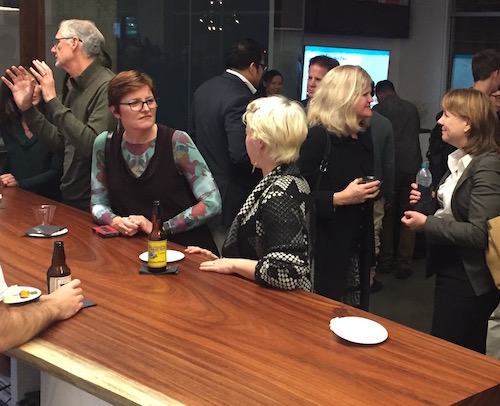 Indeed, whereas all too many tech-related events in San Francisco feel like all-male echo chambers for geeks, marketers, and financiers obsessed with venture funding, scaling apps, and exit strategies, Newsom confronted his What's Now audience. "What's missing from the conversation about tech is empathy," he said, a word and theme the politician invoked frequently throughout the night.
Newsom reminded the crowd that California, as the sixth largest economy in the world, a leader in health care, immigration, and environmental causes, has a duty to share its knowledge and technologies and to lead the rest of the country toward sustainable solutions. And yet, he said, "We have to be a little sensitive about how we talk about each other and find common ground."
California, after all, helped invent the very same gig economy that is threatening job security nationwide. "I worry about the future of work," he said, emphasizing the need to empathize with those not leading or overtly benefiting from the tech revolution. "I worry about labor-saving automation, I worry about the future of work. I worry about retirement security. The tech genie is out of the bottle. You can't put it back in."
Newsom's strongest message may have been simply that we must give back. "We don't need to be profligate to be progressive," he said, invoking the names of many of his friends from the upper echelons of Silicon Valley tech leadership. He recounted conversations with Google's Eric Schmidt and others coming together to discuss how tech can take a more constructive role to address issues of work and retirement security, as well as how corporate profits can be reinvested into the economy. "There is no better example of civic leadership here in San Francisco than Marc Benioff, who is calling out his colleagues in the tech world to step up and not wait until they are 30, 40, 60, to start distributing their amassed wealth. Don't achieve to be happy, happily achieve."
Newsom collaborated more than a decade ago with Google's Schmidt, Salesforce's Benioff and other corporate leaders on Project Homeless Connect, an initiative to provide services to people experiencing homelessness in San Francisco. He told the crowd that the homeless crisis in San Francisco is "eminently solvable." Not through money alone but through empathy and innovative approaches – like applying the lean startup scaling methodology to government. Education and regulatory agencies are not keeping pace with tech, Newsom argued, so young adults are coming out of college lacking the skills needed to succeed in today's digital economy. He cited fast growing, entrepreneurial tech campuses like General Assembly "that offer degrees in coding and data science, along with the promise of a guaranteed job," suggesting that if we want everyone to have access to these we need to apply them and scale them to the vocational education sector.
Newsom, of course, is a politician, San Francisco's former mayor and sitting Lieutenant Governor. He's also the author of Citizenville: How to Take the Town Square Digital and Reinvent Government. And perhaps more than any other recent candidate (for President or Governor), he's tuned into the impact – and pushback – of viral technologies and disruptive innovations on our economy and society.
Newsom hopes to become the next Governor of California and maybe more. He reminded the audience that they too were leaders. During a night when the voices of a more than a few in the audience cracked as they recounted their shared fears of imminent attacks on California's hard won political gains for women, gays and immigrants, he reminded everyone that there were many leaders in the room.
"Californians are resilient," he said, ending on a hopeful note. "Those societies that are the most inclusive tend to be the most resilient. There are economic returns on pluralism."