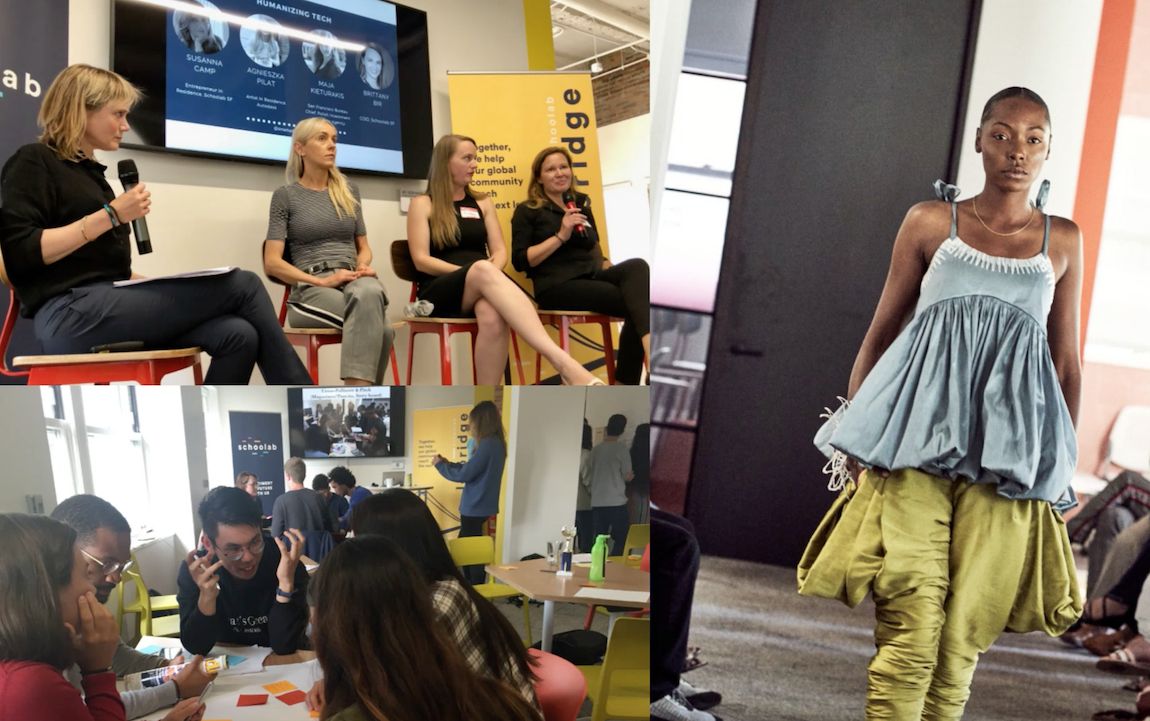 This past year we've come full circle on the research we started two years ago when we embarked on an extended European journey of exploration that spawned our upcoming book The Entrepreneur's Faces. In the fall of 2017, we befriended the talented French architectural designer Ingrid Ballmann at Capgemini's Applied Innovation Exchange. Later we introduced her to some hip spaces in San Francisco, including The Interval, a beautifully designed steam-punk space in Fort Mason that's home to The Long Now, a techie-centric future-leaning organization. Shortly thereafter we flew to Paris, where we toured the Sentier-based incubator Schoolab, and were blown away by its thriving ecosystem of entrepreneurs, students, and corporates. We featured Schoolab in an article about Paris's budding passion for startups.
When Schoolab opened shop in San Francisco this winter, Jonathan Littman and I found ourselves meeting one day with Ingrid Ballmann and Mathieu Aguesse, CEO of Schoolab SF, in the unfurnished, newly-leased office building at Montgomery and California Streets in the heart of the financial district, walking around this historic H-shaped building and sharing thoughts about how to lay it out for events, co-working, and community. To put it mildly, Ingrid had some ideas!
We interviewed her this week and asked how she designed the space.
SmartUp: What were some of your inspirations?
Ingrid: The foundation is Schoolab Paris, a very strong institution that doesn't have to prove itself after 14 years. The first time I saw Schoolab, I was doing research in Paris on the future of work. It was very colorful, with bolder, school-like colors. I call them Lego colors. One of the challenges was to transpose this vibrancy and identity to SF, toning it down to fit the SF visual language without diluting it and without conforming to other standards.
SmartUp: Tell us about the vibe.
Ingrid: Modern Museum meet Maker Faire! We wanted a mix of sophistication and creative, explorative energy to make sparks! The space is really bright and filled with light so it was naturally welcoming and happy. Every nook and cranny has its own reason to be. For instance, we could have seen the columns as an obstacle but I decided from the start they were a huge asset. We made sure all spots were great spots.
SmartUp: How is Schoolab SF designed to spark creativity?
Ingrid: Schoolab is both a happy energizing space and a relaxing space. Creativity happens when your brain has found the space to relax – not when you try to force ideas. That's why I broke up the area of work into smaller sections, separated by sofas and lounges. So people could relax and give that creative space to their brain.
SmartUp: How is Schoolab SF uniquely different from other spaces in SF?
Ingrid: There is a true community here. People feel like they belong. Everyone knows everyone. It's very diverse and culturally rich. Everyone has authentic curiosity for what you do, gets excited about your ideas, and wants to introduce you to so and so. People care about one another and help each other out. You can create space like this only if you carry that intention while you're designing the space. If you want joy, you'll make a joyful space. Here, we tried to create a fun, welcoming environment that allows for concentration too. For instance, the colors are vibrant without being aggressive. The furniture is comfortable while being playful, edgy and interesting. The finishes are rich and varied but they work in monochromatic arrangements so they're not too visually busy. And we color coded the space so people wouldn't get lost! Watch the video and see for yourself.
---