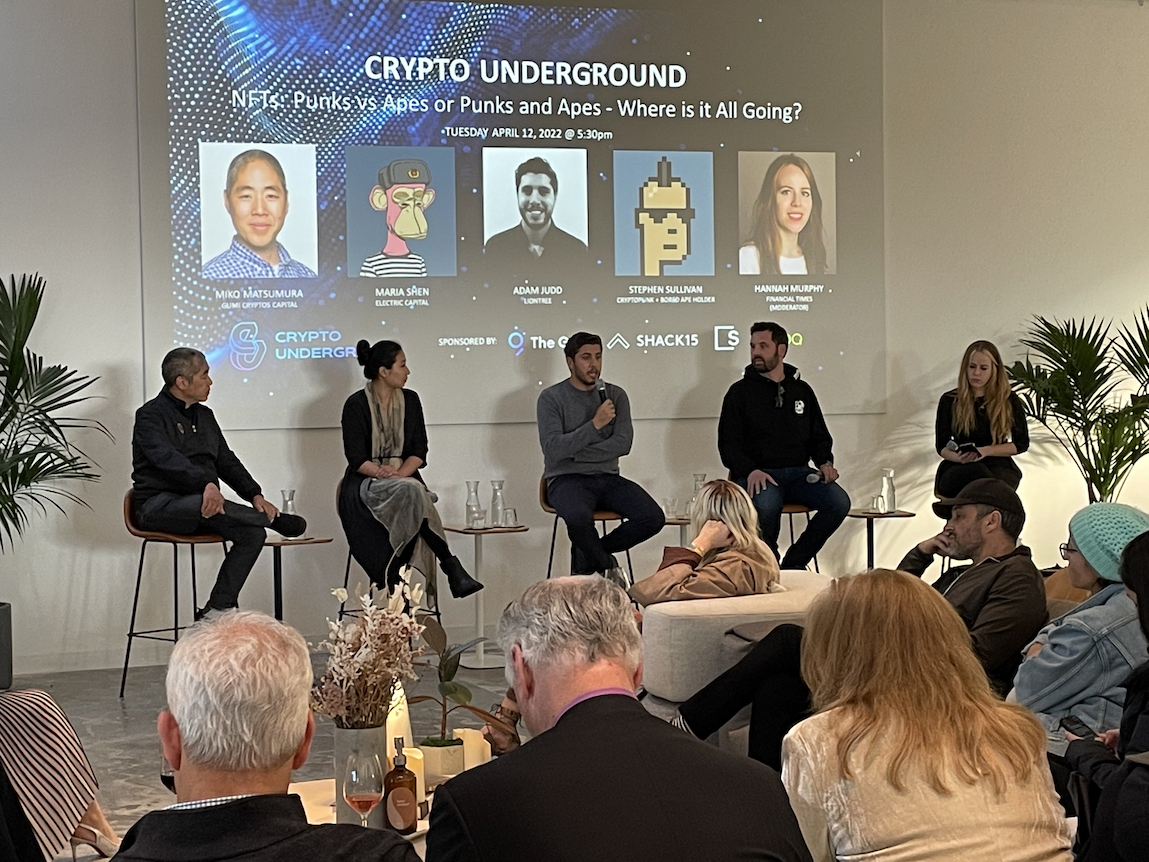 Last week's Crypto Underground extravaganza promised to predict the future of Web3: "NFTs: Punks vs Apes or Punks and Apes – Where is it all going?" Drinks and hors d'oeuvres were free and plentiful as the crowd of 200 began flooding into the sumptuous Shack15, perched atop the ferry building with its glorious views of the bay. One of the panelists, my old friend Miko Matsumura, gave me a tantalizing preview.
"I want to talk about Degen," he said, referring to the term that conveys the reckless "degenerate" mindset of investors who spend absurdly large sums of money on digital assets like NFTs without doing due diligence. What a delicious contradiction in terms – the first of many that evening. At first glance, Matsumura seems anything but a degenerate. He's an Ivy-educated serial entrepreneur, a co-founder of the Crypto Underground, and a VC with huge financial successes: General Partner of the blockchain investment fund GCC (Gumi Crypto Capital) and an early-stage investor in the NFT marketplace OpenSea (currently valued at $13+ billion). I wanted to know more, but the event was about to start, and Matsumura stepped up to the stage.
Led by moderator Hannah Murphy of the Financial Times, the crypto panelists introduced themselves, and Matsumura promptly took the mike. "Degeneracy," he declared, "is "fundamentally what people do to feel alive." He spoke of an irrationality that taps the American ideal of freedom from authority, well suited to millennials and younger, digital-first generations. Whereas "Boomers own all of the things you can put your hands on, and all of the real estate you can put your feet on," younger generations rebel, Matsumura explained. Degens want to own something more intangible: "You don't even know what it is."
Degeneracy by the Numbers
This provocative theme was echoed by Stephen Sullivan, General Partner at VC firm 2 Punks Capital, and proud owner of both a Bored Ape and a CryptoPunk (for which prices range from hundreds of thousands to many millions of dollars). "Last year you were handsomely rewarded for doing the most degenerate things possible. Like spending thousands of dollars on a picture of a monkey." And then paying a thousand more "to this random person on the internet" to have his NFT featured on a billboard, first in Miami and then New York City.
"Perhaps it was fiscally irresponsible of me to have purchased a picture of a monkey," added Maria Shen, Partner at Electric Capital. Not to mention the "hundreds of dollars in gas fees." But she realized that "people were purchasing the Apes because it was so meaningless, not in spite of it." And she reaped another benefit: she was suddenly welcomed into a tribe. When she meets another Ape owner, they are "instant friends," an invaluable personal branding asset and networking tool for members of crypto and NFT communities.
Statistics support the distinction in attitudes between generations. "Millennials today own 5% of [American] wealth," said Adam Judd, Managing Director at crypto investment bank LionTree. Thirty years ago, young boomers commanded 20 percent of the wealth. "Now you've got a generation of millennials with a mountain of government debt, student debt, and the environment's all messed up," he said. Young people feel that "You left me this system that doesn't work," he continued. "So we're gonna create our own system of value and economy. We're gonna play with these tokens. They're not gonna make sense to any of you. And that's fine because it's not for you, it's for us."
Metaverse Dreams
Degenerates they may be, but the young barbarians seem to be getting along. The panel discussed the new partnership between Yugalabs, the Bored Apes Yacht Club, CryptoPunks and other NFT collections to develop a new metaverse tentatively called the "Yugaverse." In this new virtual marketplace, owners and non-owners alike can interact in a world built around the NFTs. Matsumura explained the appeal of this new community using the metaphor of Disney, Hello Kitty, Pokemon and the like. Whereas traditionally corporate entities own vast collections of IP, the key difference in crypto is individual IP ownership, granting NFT owners the right to develop their own narratives around the characters. The Yugaverse will arguably make these collections of 10,000 distinct Apes and Punks more inclusive, without creating more characters that would degrade the scarcity and value of the originals.
Proponents frame this insider-built metaverse as a rebellious counterstrike against Meta's overtly corporate crusade. Facebook and Square recently rebranded their companies to Meta and Block, because "they know that's where the game is going," said Matsumura. "But the problem is that nobody trusts them. The revolution is against them. They're not leading the revolution in anyone's imagination."
The revolution will be championed by younger, nimbler Web3 startups that can move faster at building a metaverse that reflects their own vision, argued the panelists. "The definition of metaverse should be expanded," said Shen. "It's not a rendered 3D model that you walk around in, it's the digital fabric that we all exist in right now. It's talking to people on Discord, it's having anon accounts on Twitter, and multiple identities in the online communities you belong to." She gave the audience something to ponder. Maybe it's already here?
"We're already all living in the metaverse."
Monkey Say …
The event closed on a more practical note. Murphy asked what investors look for when evaluating new Web3 projects. "Real-world utility," replied Adam Judd. "It's time for real world industries to be disrupted, for industries to create products that we realistically will be using every day." Sounds reasonable, but it made me wonder, how does this square with the Degen ethos of irrational spending, the plunking down of thousands or even millions of dollars on an Ape or a Punk, for no real purpose other than publicity or entrée to a tribe? Like the dude who blew $2.9 million on a picture of Jack Dorsey's first tweet, only to find it's now worthless.
Is this a case of Monkey Say, but not Monkey Do? Everyone on the panel was a crypto whale, an investor with vast crypto holdings and millions in assets at their disposal. Unlike many in the audience, they could afford to take big gambles. In truth, the Degen label may be more whimsy than strategy. But perhaps institutional investors are growing up to the idea of investing in value and meaning, as NFT markets are maturing. The format is evolving from ephemeral digital items like Apes and Punks and other profile pic (PFP) uses to a more robust, utilitarian form: ticketing, music, movies, redeemable physical attachments, access to real-world experiences and all manner of virtual goods.
The tension raging between crypto's hype and promise is palpable. Which is why I'll continue to prowl the event circuit looking for answers on the future of Web3.
---