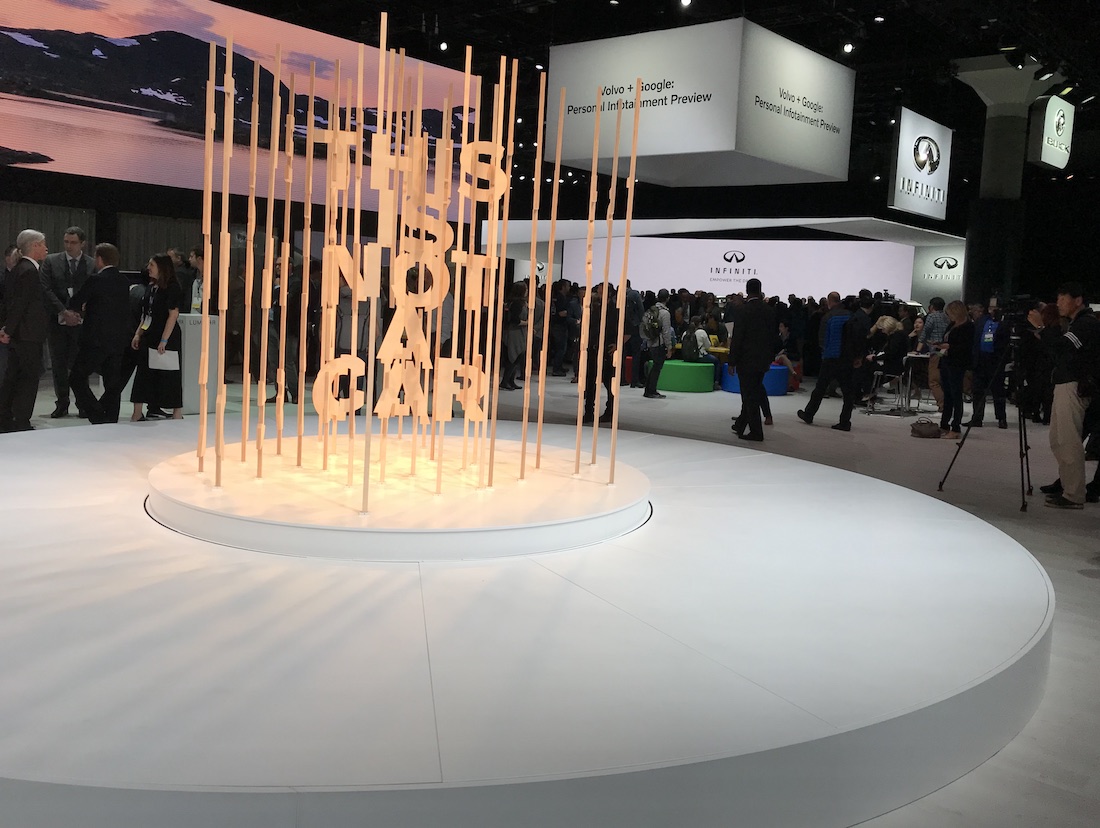 THIS IS NOT A CAR, flashed the message on the revolving abstract sculpture at Volvo's white minimalist booth, a brazen rebuke to the industry's endangered status quo and an enigmatic mission statement for the future. Walking the aisles and talking to experts at the L.A. Auto Show's press preview last week, you could be forgiven for thinking you'd opened the wrong door and ended up in a tech conference. Cars took a back seat to the industry that's really running the show. Volvo executives touted the company's agreement with Google to integrate Android directly into every new model, and revealed a new partnership with Amazon that will turn car trunks into mail drops. Some might say, where is the car?
Welcome to the future shock of an automotive industry grappling with a Level 5-Uber-Lyft existential threat. Carmakers now ditch the retrograde notion that they merely design and manufacture vehicles. Instead they deliver sophisticated "transportation solutions." By baking Android directly into its infotainment systems, Volvo thinks it's getting ahead of the curve. "The industry is changing," said Robin Page, Volvo's senior vice president of design, defending the company's auto-free auto show exhibit. "The Millennial generation is really influencing how we communicate and what the focus is."
As automakers come to grips with shape-shifting ownership models – will it be the Netflix-like on-demand version cherished by commitment-phobic Millennials? Or Airbnb-like sharing services such as Turo? – the cold reality is that automakers must look beyond steel, aluminum and tires to unlock new revenue streams. Simply selling lots of new vehicles, even with such subscription models, is not going to cut it.
The Google-Facebook Playbook
That's why they're stealing a page from the Google-Facebook playbook, with the growing conviction that connected cars are robust, mobile and largely untapped mines of personal information ripe for exploitation. Monetizing that data may be the industry's best hope for sustained profits — even survival.
Volvo wants cars to be an integral part of the customer journey. "We saw the leaders of the tech world would essentially own the ecosystem," Henrik Green, Volvo's head of research and development, told the Los Ange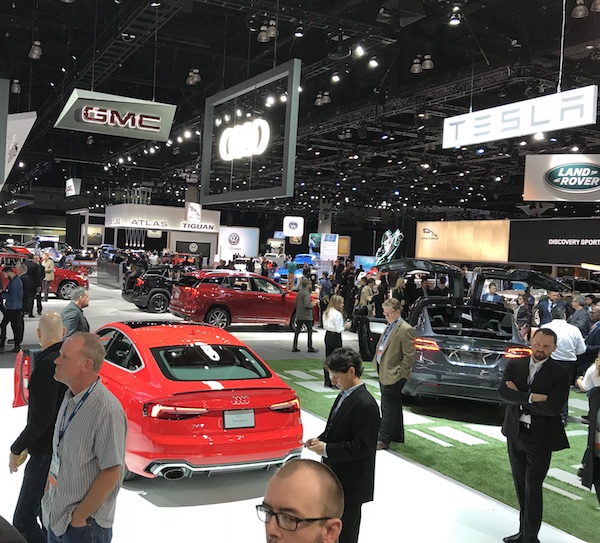 les Times. "As an auto manufacturer, we had no chance to compete."
Lauren Smith is policy counsel at the Future of Privacy Forum, where she leads the Connected Cars Project. And that mobile data, estimates Smith, could be worth up to $750 billion by 2030. "You're seeing opportunities that would be great for consumers," she says. For example, car-to-car data sharing that could help reduce crashes and fatalities — as well as "some things where there may be pushback."
China, for instance, is well on its way to perfecting a surveillance state where Big Brother can watch you while you drive. All electric car manufacturers in China must upload location information and dozens of other data points stored in the car's computers to government monitoring centers, without the car owner's knowledge or permission, the Associated Press reported this week. But you don't need to drive in Beijing to be tracked. Similar data is already being collected in California. In-car apps like Google-owned Waze transmit reams of location data and other metrics to the corporate mothership in Mountain View, California.
As connected cars add ever more apps and tech convenience features – Mitsubishi is developing a drone that drivers would launch from their cars to scout spaces in crowded parking lots – some see a potential Facebook-like privacy crisis buried in the end-user license agreements that few bother to read before clicking I AGREE.
Detection and Protection
John Gomez, CEO of Sensato Cybersecurity Solutions, pointed out that connected cars present intrusive data-mining dilemmas. "If we think Facebook is a challenge, [automakers] are going to know every place you traverse, right? It's going to know about you as an individual: health-wise, your reading and listening habits." Car seats that measure your weight, and retinal scans that detect your cholesterol level, are coming. Porsche's new Mission-E car will track your eye movement. Progressive and other auto insurers have a plug-in module to monitor your driving habits, all leading to this central question: what happens to your driving data? "What rights do you have?" asks Gomez. "In the healthcare space, there's legislation around HIPAA [the Health Insurance Portability and Accountability Act] where hospitals cannot resell your data. We need the same thing in the automotive space, but there's no HIPAA for cars at this point."
Surprise, surprise. People need to start thinking about wiping a new kind of hard drive. Even when you trade in or resell a vehicle, the cumulative data stored in an infotainment stack and other systems can be extracted by the new owner or by hackers. "What's happening to the hardware in your car after it's traded in, the lease is up, or it comes to the end of its life?" asked John Shegerian, chairman of Electronic Recyclers International, which specializes in wiping sensitive data from electronic hardware. "Given the data these cars are collecting, when that car goes back, who's going to have access to your information?"
But there are developments that make some in the connected-car space hopeful.
Smith points out that while the US lacks an omnibus privacy law on par with Europe's landmark General Data Protection Regulation, the recently passed California Consumer Privacy Act could serve as a federal template "in part because [tech] companies don't want 50 different laws," Smith said. In the meantime, "consumer education is really important because where we see blowback" is when companies do something "unexpected and creepy."
And for all the legitimate concerns about cars as assault vectors on our already embattled personal data, there may be an upside. Gomez was recently in Stuttgart observing recent advances in autonomous vehicle technology. "There are these innovative concepts they are playing with—a lot of these were cartoony when I was growing up and actually seeing them come to market is just amazing," he said. "Hopefully it will be done responsibly. We're not saying you shouldn't have the data. But protect it."
Nice optimism, but if the driving habits of tech company execs are any indication of future behavior, hold on tight, strap in and get ready for another Facebook on Wheels.