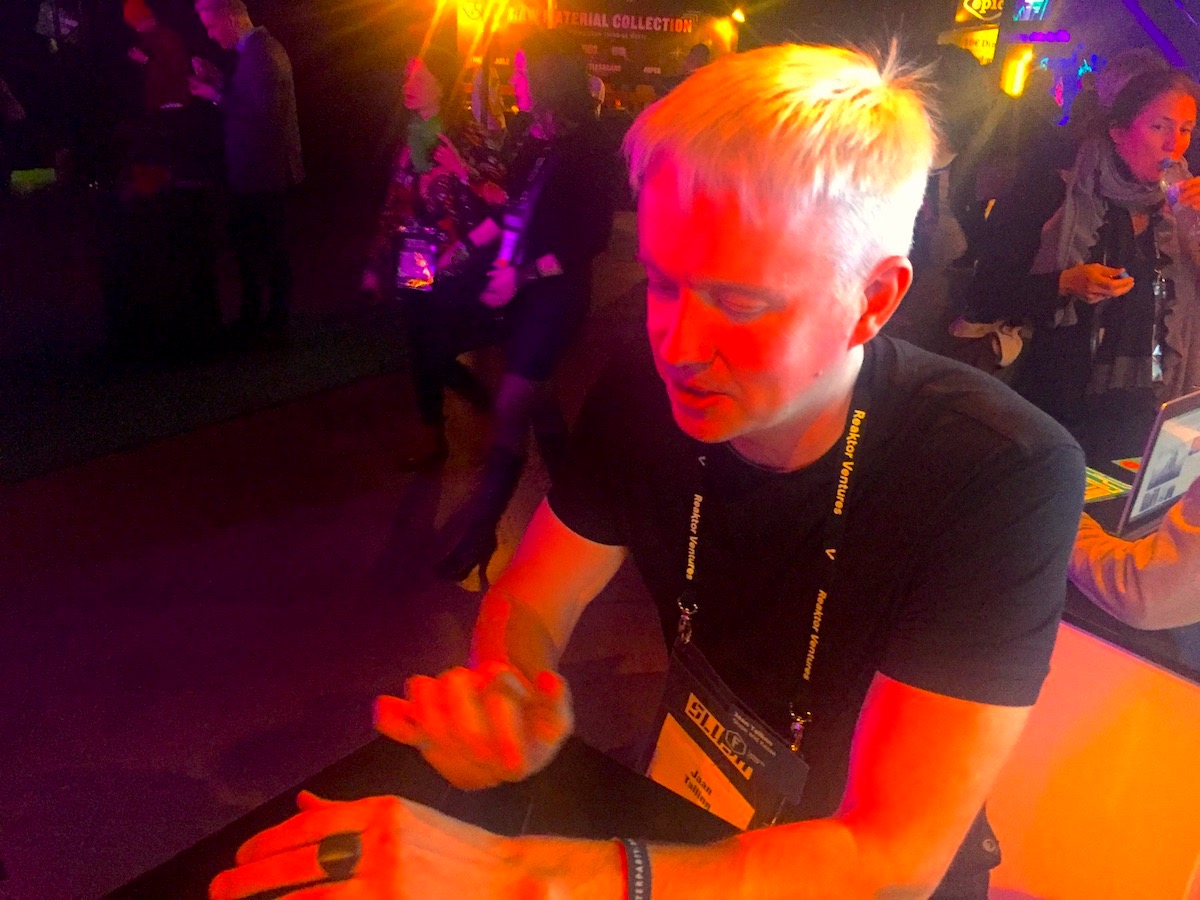 Jaan Tallinn waved his magic ring in the smoky black realm of Helsinki's Slush. He's the kind of visionary wizard you meet at this rock concert-styled startup extravaganza.  The physicist co-founder of Skype and Kazaa was telling us about not one but two startups he's backing, Oura, the wearable on his finger, and Lingvist, a breakthrough AI venture promising 4X improvements in learning languages and more.  Minutes later we met the CEO of Varjo, a Finnish startup about to bring human-eye level resolution to Virtual Reality. Just another day at Slush.
A uniquely Finnish immersion into this potent, northern tech world, Slush is rooted in local gaming and deep computing expertise that grew out of Nokia's former dominance.  Launched in 2008 as a conference for startups by startups and now a student-led non-profit, the event runs during the onset of Finland's brutal winter, a time when those who can, flee south. Slush or snow is common here this time of year, and the six or so hours of daylight pale next to nearly 18 hours of night. Slush-goers are invited to embrace the "weirdness" and descend into a cavernous dark space with intentionally dimmed lights, hazy air and colored LED lights. It's almost like spending hours within a video game, and the saunas and parties (which sometimes coincide) are legendary.
The contrarian approach keeps drawing converts and loyal veterans. This year, 20,000 attendees from over 130 countries including 2,600 startups, 1,500 investors and 600 journalists. Slush places big-name Silicon Valley investors in the spotlight, many of whom fly over on a chartered "nerd bird" with its own dedicated web page showcasing their presence like an episode of Celebrity VCs. Slush also draws prominent international figures: the President of Finland, Sauli Niinistö, Prince William, Duke of Cambridge, Prince Daniel of Sweden, and France's digital minister, Mounir Mahjoubi. Al Gore kicked off Slush with a rousing call to action on environmental sustainability. "My purpose is to recruit you to be a part of the solution to the global climate crisis," Gore said, to cheers. "There are really only three questions: must we change, can we change, and will we change? The answers to the second and third questions bring a lot of optimism, hope and inspiration." Throughout the sprawling subterranean exhibit hall, on four big stages and in exhibition booths, investors and founders talked strategy, and startups connected with millions in funding.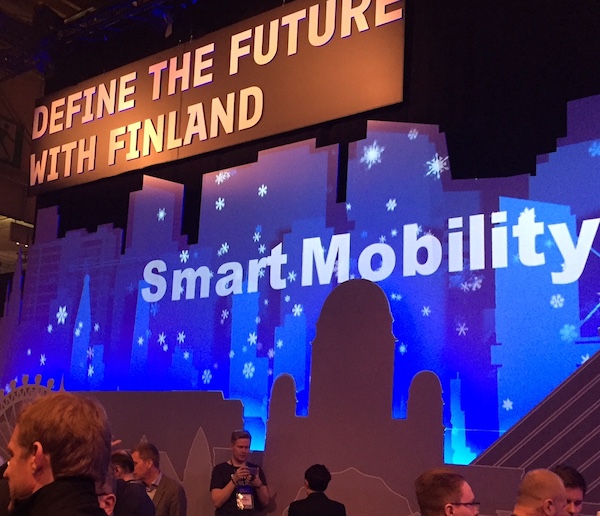 Hot Tech: Mobility as a Service & Human Vision Quality VR
We embraced the mobility theme. We'd arrived in Helsinki on the ferry from Tallinn, Estonia, at the tail end of a grand European tour to kick off the research for our new book. Over the course of our 35-day journey, transportation was integral: ferries, trains, metros, Ubers, taxis, plenty of walking, and planes.  We'd met Petri Martikainen of Moprim earlier in the month at Lisbon's Web Summit, and caught up with him again here. He showed us the Moprim dashboard, a data visualization of the various modes of transport he'd used that day: walking, a tram, the train, a late afternoon bicycle ride. The aggregate data will be shared with city transportation authorities with an administrator's view of their own, for planning purposes (e.g., put out more buses if everyone's taking the bus at a certain time). Petri said a primary current focus is an upcoming pilot optimizing cloud-based services to share data on transport mode detection (TMD) with officials in the Finnish city of Lahti.
Another big local player is MaaS Global (named for their defining Mobility as a Service business model), who recently launched their Whim app ("Netflix for transport") with a promotional offer to Slush-goers. Subscribers have access to nearly all modes of public transportation through a simple, easy-to-use interface and monthly package (one is economy, while another is an all-you-can-travel approach, including unlimited taxis and car rentals).
"We remove the pain points of mobility and transportation, by bundling all the modes," co-founder and CXO Kaj Pyyhtiä told us at a Slush media event. "We do routing. We do ticketing, we do payment. Most importantly, we focus on the service experience. The freedom and the dream of unlimited mobility."
Like Moprim, MaaS will be sharing data with transportation officials to improve the public grid. The hope? To eliminate the "camel hump" overload phenomenon during peak hours, where traffic and congestion is jammed during the morning and evening commute. "So we want to tell them, 'Look, here's the data. Start running on-demand buses for off-peak hours. There's going to be 100 people arriving at the railway station in 50 minutes, please make sure your fleets are there.' It's going to improve their services, improve our customer experience, and we get to keep the customer."
Startups were not only everywhere. Numerous companies offered services to support them, such as the Hub, which connects startups with candidates and investors across the Nordics.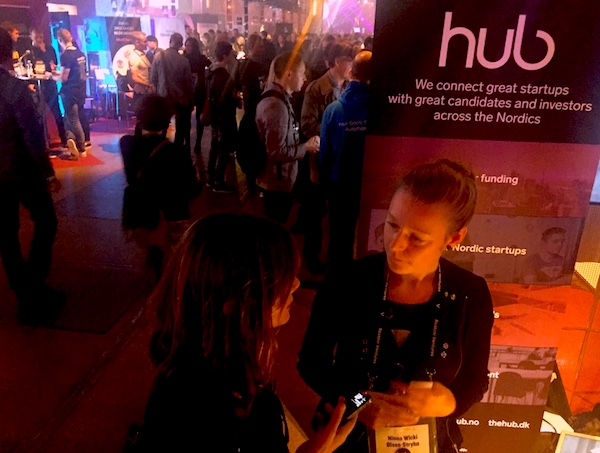 At the press event, organized by Tekes, Finnfacts, and Finland's Ministry for Foreign Affairs, we also met Tom Granvik, founder of Linkker, whose fast-charging electric buses are already operating in Helsinki, with contracts underway in Copenhagen, Paris, Berlin and Moscow. Kimmo Rauma, CEO of Visedo, told us about his company's hybrid and electric powered marine vessels, commercial vehicles, and heavy equipment. Finland officials are partnering with dozens of local startups in a far reaching commitment to reducing congestion and managing environmental impact in Helsinki and beyond. It's the sort of comprehensive, sustainable, community-based approach often missing back in the US.
The conference featured a smart cities and mobility track, where we caught a pitch by Sam Hashemi of Remix, revealing a tool he's developed to determine the efficiency of mobility by maximizing reach and redesigning public transportation — the cost, number of  people served, best routes for traffic. It's about balancing the system. What started as a side project while Hashemi was at NASA is now in place in 250 cities in 10 countries (including Finland) and no less than Sequoia Capital is leading their A-round.
At the press dinner on our first night, Petri Rajahalme of Tekes (the Finnish funding agency for innovation) clued us into one of the hottest startups at Slush, Varjo, which promises to let you see VR in human-eye resolution. "We've been able to jump roughly ten years ahead of the typical technology curve," CEO Urho Konttori told us, next to a huge line of attendees trying out Varjo. "We've been working in mobile phone industry for many years and developments in that industry made it possible to now start capturing reality in high enough fidelity and frame rate to create a world where you see at the same resolution we do with our eyes."
Varjo won patents this April and shocked the world this June. "Has This Stealth Company Solved Vision-Quality VR?" was the headline in Wired. There's a catch though. It's expensive, so the first partners to build systems (before entertainment) will be Volkswagen and BMW, and companies in construction and engineering. Design and simulations may be revolutionized. "There will be breakthroughs in training and simulations," said Urho. "You can start replacing mock-up based simulations, which takes a long time and costs a lot of money. So being able to go from CAD to a full VR replica in minutes is pivotal."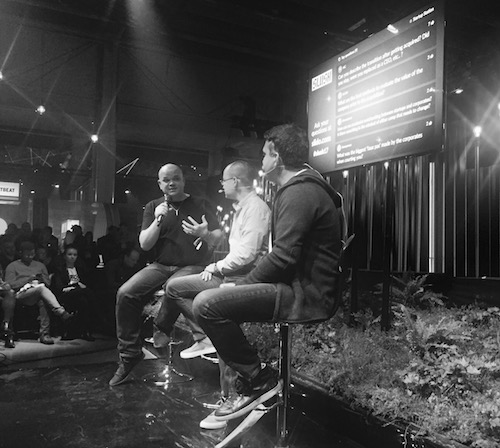 Investors and Startups Run the Show
Slush is about uniting in one dark realm the geeks and financial seers who lead technology breakthroughs and startup investment. Jaan Tallinn is a great example: a talented Estonian who has spread his Skype bounty (the company sold to Ebay for $2.6 billion more than a dozen years ago) to seed countless promising startups. Jaan has recently been putting his considerable gray matter and wealth to use in exploring technologies to improve health and extend life, and save us from threats to humanity, such as AI. He co-founded the Centre for the Study of Existential Risk at the University of Cambridge, and was an early investor and advisor in the deep learning startup DeepMind, snapped up by Google last year for half a billion. While he invests extensively in the US and UK, Jaan has supported numerous companies in his native Estonia, investing in Funderbeam, which touts itself as "the world's first primary and secondary marketplace for early-stage investments, secured by the blockchain," and other early stage ventures in his native, 1.3-million population nation – Fleep, ShipitWise, and Plumbr – as well as plenty of Finnish startups, including the tantalizing (and aptly named) outlier recently gaining attention and headlines in "unsupervised learning", the Curious AI Company, headed by Finnish math prodigy Harri Valpola.
Jaan talked to us about two of his favorite investments – the Estonian-based Lingvist, and the Finland-based Oura.  In speaking to Jaan (and studying his investments), you can glimpse how a brilliant developer and entrepreneur-turned-investor blends his understanding of deep technology and scale with the soul of a philosopher. Jaan seeks startups with global, far-reaching potential in accelerating learning and human performance. "My main area of interest is artificial intelligence and how can we survive it," he said. "When I make investments I try to take shortcuts. Which means that I invest in people I know." He favors companies that sell directly to consumers, and thinks "physicists have an advantage over other people because physics is a field that teaches intellectual honesty."
Mind, Body, Party!
Long intrigued by AI, in 2001 Jaan began a simple act of play and exploration, creating a program to explore the technology and in the process teach himself something. He chose a tough language: Japanese. Then, by chance he caught up with his friend, the nuclear physicist Mait Müntel, who had been busy working with a team at CERN in Switzerland discovering the Higgs boson particle. Müntel had felt isolated. He had foundered in learning the local language, and wanted to break out of the bubble caused by his lack of French fluency.
By chance, both men created programs to explore AI's potential for teaching language. "He had all this machine learning at his fingertips.  He thought that perhaps he should tap into that," said Jaan. "So, I had a program to learn Japanese and he had a program to learn French." Müntel had a computational edge: he designed an algorithm, and then fed CERN's supercomputers with an astounding 40,000 French flicks (complete with subtitles). His data-crunching experiment unlocked the first key: the words and phrases that are the heart of a language.
Needless to say, when the two physicists finally got together and compared notes, Jaan said it was no contest. "His program was so much better than mine, that I said, 'OK, you have to start a company.'" And so Lingvist was born, an AI-enabled language startup with nearly $10 million in funding that promises 4X improvements in learning languages. Exhibit A is Müntel, who after using Lingvist for 200 hours easily passed the French high school exam. More than half a million people have already used the service, currently offered in Spanish, German, French, Russian and Estonian.
If Lingvist is about tuning the mind for language, the Oura smart ring is about tuning the body.  The Finnish team behind the startup pitched a VC fund Jaan is involved with, and he "liked the team" and "got the ring." While there's a lot of competition in this wearable space, Jaan loves the app, and the small, convenient size has a distinct appeal. "I hadn't worn watches for a decade," he said, after experimenting with the Basis Peak watch.  "Now I'm glad to get rid of them again." Another potential technical advantage.  "It's much better to measure your heart rate" from the finger than the wrist. Made of titanium, the Oura draws on a pulse oximeter to measure blood volume on the finger, and taps a 3D accelerometer to gauge movement and the quality of sleep.  Jaan said that Oura-generated data helping him make better decisions. "I try to stay away from alcohol," he said. "I've seen what it does to my sleep. I wasn't a big drinker anyway, but now I have an additional reason, and the data."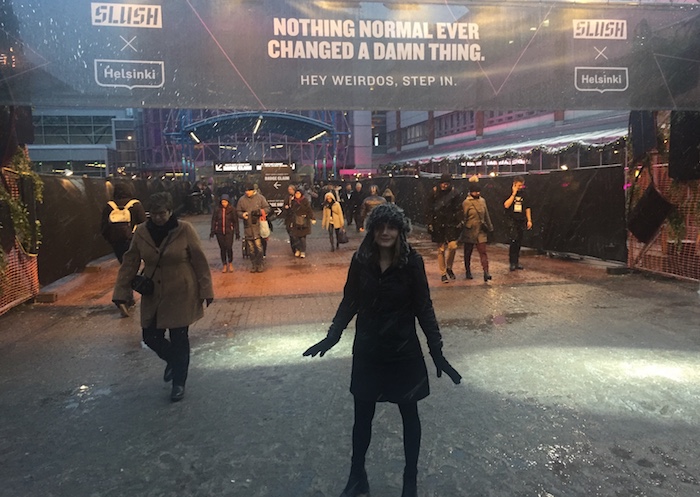 Slush, however, was not the ideal destination to try to cut back on drinking. Partying, taking saunas with strangers, and generally ignoring the reality that there was a conference to go to in the morning was the order of the day. Access and engagement was the rule. Following the startup principle that "it's better to beg for forgiveness than ask for permission" we crashed one of the best parties in Helsinki. Two San Francisco VC friends suggested we take their spot at the extravagant dinner hosted by homeboy-made-good, Risto Lähdesmäki, CEO and co-founder of Idean, the global experience design firm acquired by Capgemini earlier this year. We arrived at the elegant Michelin-starred restaurant Demo to find the VCs' name tags already placed on the white linen tablecloth, quickly reckoned we had to come clean, and then were welcomed by our hosts in a spirit of open innovation.  Phenomenal company, lively conversation. Eight or ten courses (we lost count) each accompanied by a new glass of champagne, wine or liquor. After this glorious five-hour feast, we headed to Idean's wild afterparty, where the guest list also included a prince.
Just another night at Slush.
---
This was the fifth story in our 35-day European Entrepreneurship series. Here's the latest.