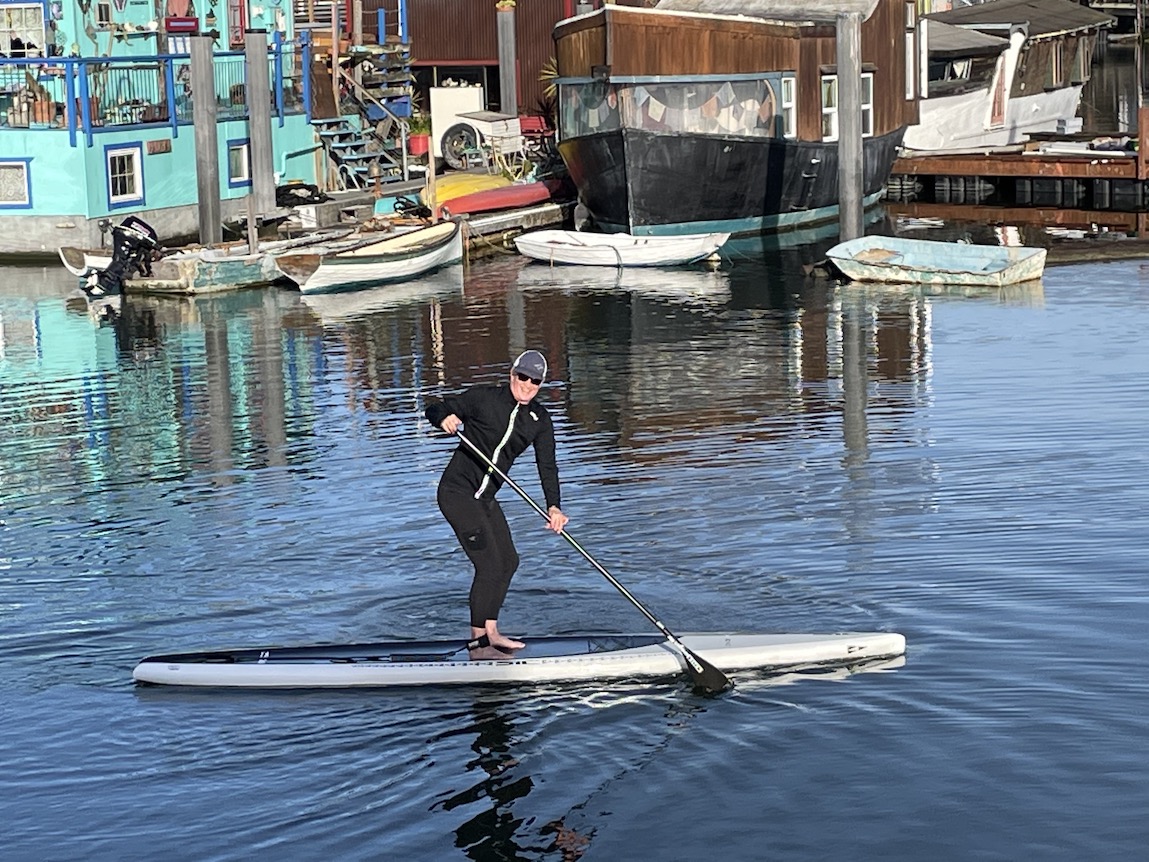 Innovation and movement are intricately connected. We're well past quarantining here in California, most of us having already received the vaccine. But to reach the next stage of recovery requires a new, more holistic commitment. It's time to get off our collective a**es and out of the house. Ditch the screen, condemn the Peloton to the closet and move our bodies out into the streets and onto the trails. Movement implodes the static homebound routines that have dulled our minds and diminished our muscle tone. On a deeper level, this change is about rediscovering nature, recalibrating our brains and bodies, and reconnecting with others.
Movement, ideas and action have always been linked in my life. My fifth grade teacher had an intense passion for both reading and sprinting, and I won her favor by excelling at both. Early reinforcement tends to imprint good habits, and I grew up with a firm belief that physical and intellectual pursuits were connected. As we emerge from the pandemic, this truth has never been more important. Here are my six tips to help you shake off Covid-era stasis.
Step into the light. A few years ago, while writing a story about the lighting startup Ario, I learned the fascinating research behind something I'd always felt yet never truly understood. When we get a 20 or 30 minute dose of natural morning light – especially outside for a walk, jog or ride – our energy switch flips on. Why? This blue-rich light stimulates cortisol better than coffee, with an added boost of serotonin. In essence, natural light exposure kicks your circadian rhythm into gear. Benefits include improved mood and weight loss. (And a new study shows that morning blue light shrinks fat cells.) This is all on top of the normal endorphin boost from exercise. 
Find your groove. Many of us turned our homes and apartments into makeshift gyms this past year, acquiring Pelotons, rowing machines, weights and the like. Now, exercising at home seems…depressing. Consider instead picking up a new sport or activity, say something radically different like pickleball, a mash-up of ping-pong, badminton and tennis that's growing like crazy. Requiring just the space of half of a tennis court, people can play pickleball with minimal skills, and with far less running than in tennis. Plus, whether you play singles or doubles, it's a social activity. More of a water person? When Covid shut down the world, many took up stand-up paddling (SUP), a friendly, easy-to-learn water sport (perfect for social distancing). Of course, people are also pouring into state and federal parks to hike, mountain bike and trail run. And to those who invested in home exercise machines – hello, it's summer! Is this really the time to keep sweating it out in your bedroom or garage? Find something new you enjoy doing outside and you're bound to meet other, engaging people to share experiences and build friendships.
Interval training for fun. The physiological benefits of breaking up exercise into bursts with intermittent rests is well proven. Any serious athlete can tell you that slogging at the same pace all the time is the path to mediocrity, while interval training heightens performance. What I call "Fun Interval Training" (FIT) adds yet another boost. Coming out of the pandemic, once or twice a week I challenge myself to see how many different sports, activities or just plain goofy fun I can pack into a day. Eight is my record so far – SUPing, hiking, erging outdoors, swimming, pedal boating, and the entertaining pastimes of bocce ball, shuffleboard and pickleball. Variety is great for your bod and even better for the soul.
Falling is part of movement (and innovation) too. Just as failure is a prerequisite for learning and growth, we need to push ourselves if we want to improve. Embracing movement in the real world entails risk. Muscles tear, and bones bruise or break. Ride a bicycle long enough and you will fall. Run trails and you may hit the dirt. I encountered this harsh reality recently while roller skiing, when I struck a hidden hole in the pavement and abruptly met the asphalt, bruising my elbow and shocking my system. Entrepreneurs fall and fail too. That's part of the game. But we get back up, dust ourselves off and go on. I believe it's integral to the organic process of learning from movement and athletic endeavors. Risk-taking is an individual choice, and it's up to you to take enough chances to grow, but not so many that you are sidelined.
Nature is the ultimate stimulant. Studies show that the symphony of sounds, sights, and sensations of being out in the world vitalize our brains. Children perform better if they walk through nature before a test, and our short-term memory improves 20 percent after a hike. Beyond these unconscious gains, there's an added holistic benefit when we take it up a notch. Whether out on the trail or on the water, the birds and wildlife, wind, uneven surfaces, sudden obstacles, and ever-changing, intervening life keep us on our toes. You may be able to simulate some degree of this in a compelling video game, or even on your Peloton, but there's no substitute for the random beauty and performance-enhancing effect of nature.
Get out of that chair. Let's not forget the bulk of our day – the hours we toil. For many of us, interminable spans of time during the pandemic were spent mainly in one room, in one chair, often without even a view outside. That's neither normal nor healthy. Researchers have shown that sitting without regular movement lowers our metabolism, interfering with the regulation of blood sugar and blood pressure, even hindering our ability to metabolize fat. Excessive sitting weakens our muscles and bones. I should have known better. I profiled a company years ago that created a great product to counteract this problem, but sometimes it takes a pandemic to nudge you to try something new. Not long after I was vaccinated this spring, I eagerly headed back to the newly reopened SHACK15, my entrepreneurs' club in San Francisco. The space happens to have long, high-top tables that are the perfect height for standing on the Level balance board. Just like that, I've found myself gliding side-to-side, effectively surfing, standing and stretching for three to four hours a day. My mood is improving, and I'm getting more productive. It's a win-win.
Wherever you find yourself – on the trail, riding your bike, gliding along the water – I hope you're standing up for yourself out in this beautiful world that's opening up. Relearning how to think, work and move all at once. Where will this new movement take you?