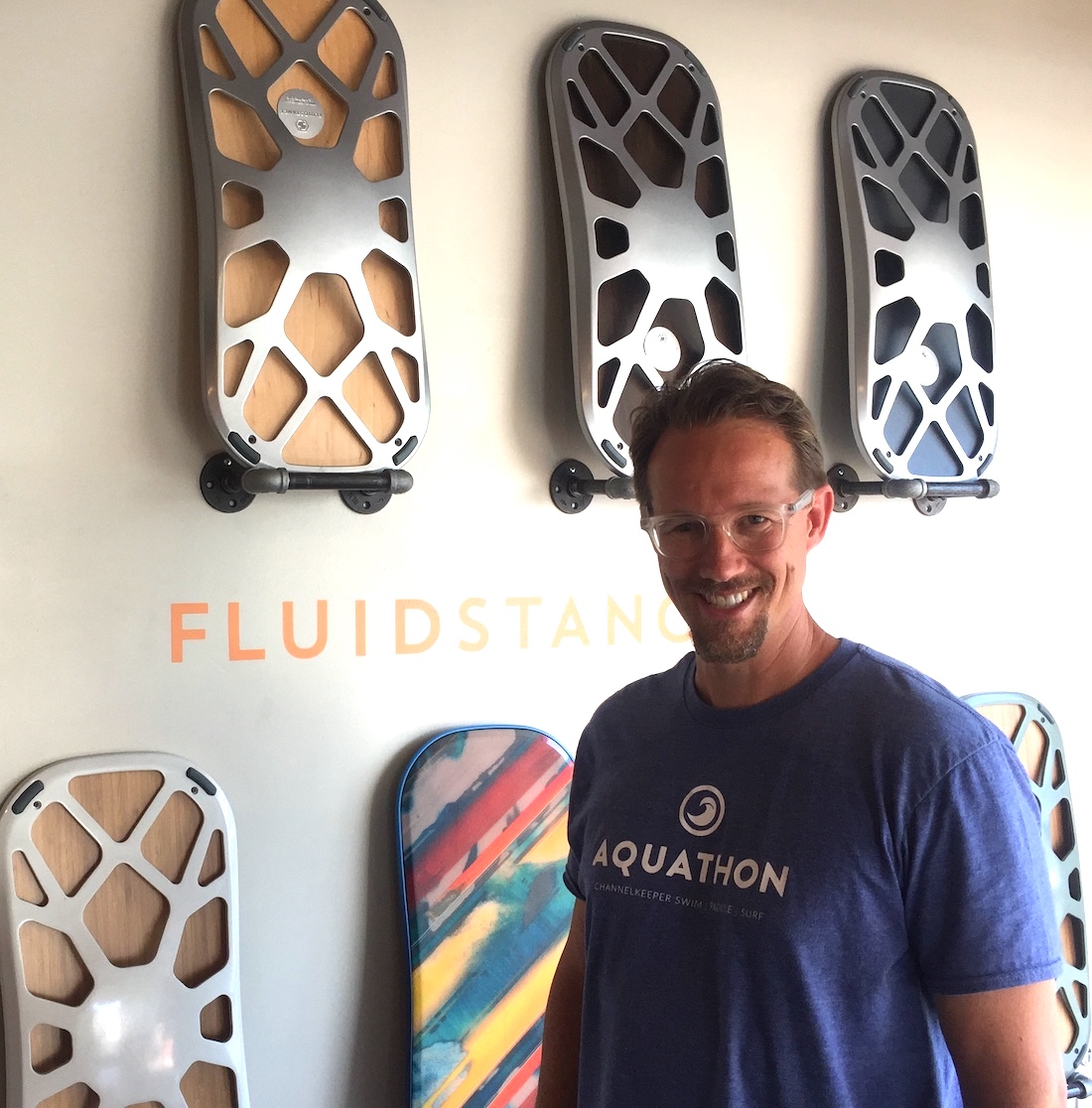 Joel Heath slammed into his own personal pain point at his desk job. After a decade in motion, working and playing in the all-year mountain paradise of Vail, Colorado, he'd taken a corporate job with a hot athletic shoe firm. He rose to president, but the long hours took their toll, and suddenly he was hurting. That backache might have sent him crawling to the doctor or gulping down pain pills. Instead, it spurred him to explore whether the traditional work environment needed shaking up.
Joel gave few early indications that he would one day disrupt office ergonomics. He grew up in beautiful Boulder, Colorado, a competitive swimmer, with a deep love of the outdoors. Upon earning a degree in business he had a simple goal: to get into traditional ski mountain management by taking a job at Vail's ski school. But then, a chance internship at the local tourism bureau gave him a taste of a fresh, fast developing trend. Adventure sports were soaring in popularity, and Joel spied an opportunity to entirely reimagine the mountain experience. He founded the Mountain Games, and launched his first company, Untraditional Marketing, Inc.
"We took a bunch of niche sports, and put them into a single environment and really had some great success," Joel recounted. "For the first time, mainstream sponsors could embrace adventure-related sports." The Mountain Games quickly became the world's largest outdoor adventure event, while Joel's brand and promotional agency attracted dozens of major clients. He was carving out a natural philosophy around work and engagement, anchored by the concept that work and play don't have to be separate. He and his team held staff "chair" meetings on ski chairlift rides up the mountain. "We shortened conversations that could be short," he said. "It was a healthy way to have dialog." They worked hard, while also maintaining a "six-inch rule", where there was an understanding that the workday could be truncated when the snow was great.
Fighting the Flatness of Business with Instability
Surrounded by Vail's spectacular mountains he felt the conflict between traditional business culture and nature. "Business desires to make the world flat," he explained. "It's all about safety. You're chained down, you can't move, your feet are on the floor, you're not moving." This established view of work confounded Joel, especially given Untraditional's success in building sponsorships and community in a novel field. Instability was where he believed he and his company would find breakthroughs. "It's what our bodies want to do," he said. "It's how our bodies are meant to move."
Six years after founding Untraditional, Joel felt the global slowdown coming, and sold the business in 2008 to Vail (who later rebranded the event as the GoPro Mountain Games). That led to a dream job, a marketing position with the Teva and Simple shoe brands of Deckers in Santa Barbara, California. Within two years, Joel was promoted to President of Teva. He was excelling in his new, traditional role, but suffering from a common occupational hazard: the aching back that comes with the sedentary office job. He wasn't the sort to seek a solution in drugs or physical therapy. Instead, he saw the standing desk concept, and went to the hardware store, where he bought some bricks to raise his desk. "But I realized really quickly that I'd just shifted my sedentary state from my butt to my feet and knees." Now Joel's hips started hurting. Standing wasn't the silver bullet.
Everything was too stationary. Perhaps, thought Joel, even himself. At 40 years old, with a wife and two kids, and a track record of consistent business successes, he felt it was time to move on. In late 2013 he left his great job at Teva. He wasn't sure what was next, but he had what he thought were five great ideas and a supportive network.
Some people scribble down ideas in a notebook, others memorialize them on post-its or a white board. Joel wrote down his list on his bathroom mirror. He called it his own shark tank. He had five ideas staring back at his face in the mirror when he got up in the morning, and every day he'd move them a little further along. One of his concepts was strikingly simple: a balance board for the office, a way to introduce movement into his day.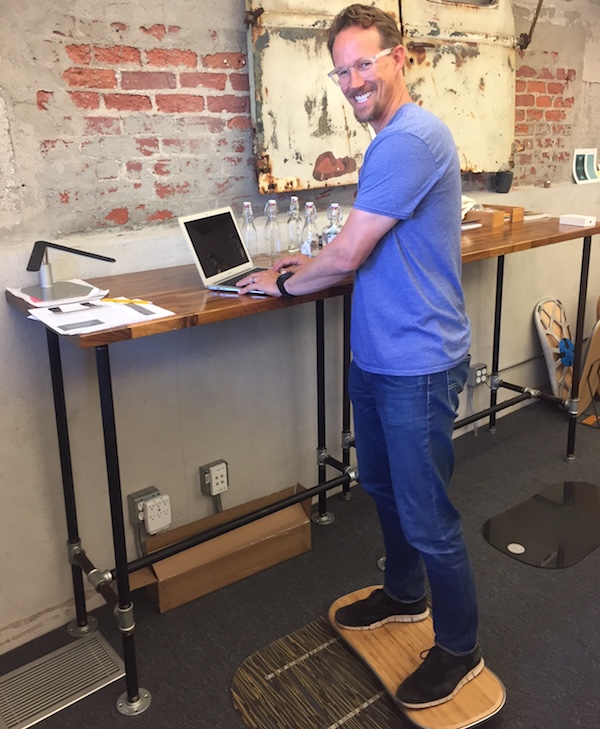 He started toying with the concept in earnest, "playing with the idea that if you put a subtle rocker under the foot, you could move out of a sedentary state." He partnered with his footwear designers and footwear testing labs. It was tricky. This wasn't a novelty or a toy. "How do you create enough movement to matter, but not enough to distract?" he recalled. "That's a fine line." Keystroke productivity became one of Joel's baseline tests.  As he researched the field, he saw tradeoffs.  Earlier attempts to shake up office furniture, like treadmill desks, generated movement, and even exercise, "but they were really challenging to maintain the productivity that we all need."
Sitting is the New Smoking
Joel hacked his first prototypes out of raw plywood in his garage, experimenting with the length, height and weight of the board. Working with Heeluxe Lab, a Teva footwear tester, he discovered that his initial models were overstretching the calf and heel. "So that's where we went next, to figure out how we can stop you at 16 degrees or thereabouts." Dozens of prototypes later Joel filed for utility and design patents. The FluidStance Level, as he dubbed it, would be the iPhone of office movement furniture, with a stylish military grade aluminum base, and a variety of elegant, interchangeable top decks, from wood to bamboo. He knew he was onto something when TIME magazine ran a story in September of 2014: "Sitting at your Desk is Killing You." The piece quoted Dr. James Levine of the Mayo Clinic, who coined the term "sitting is the new smoking." Levine called for a paradigm shift in the office: "In the same way that standing up is an oddity now, sitting down should be."
Next came the Level Indiegogo campaign, which included statistics that "86% of the American force sits for over 7.7 hours a day, and 80% of us truly hate sitting." "Forget Treadmill Desks: This Device Lets You Surf in Place At Your Standing Desk," was the headline in Fast Company. The crowdfunding campaign kicked in, and Joel's phone started ringing.   In early 2015, he got an email request to demo the board when he happened to be in San Francisco with samples. He walked up to the address and realized it was Google. Playtime. Joel spent half the day in a Google engineer's office giving more than a hundred Googlers rides on his boards. On Monday, Google's facilities engineer ordered a hundred. Apple, Adidas and Met Life also put in early big orders for the Level. By March of 2015, Joel had raised eight times his projected goal on Indiegogo, more than half a million dollars, and by May they shipped.
Since then FluidStance has won utility and design patents and stayed true to its goal of a quality American-made product. Last year the Mayo Clinic tested and approved the Level for its NEAT (Non-Exercise Activity Thermogenesis) Certification process for products that increase energy expenditure over sitting by more than 10 percent, logging an impressive 19.2 percent energy boost.  Perhaps equally important, tests show that FluidStance models (including one fashioned from recycled materials) result in a less than 1 percent decrease in keystroke productivity, proving Joel's north star — that we can work and play at the same time.
The company is neatly positioned among a wave of new office products focused on flexibility in the workplace. Sit-to-stand desks have become the norm in current building projects, and a recent stat drives home the heart of Joel's mission to infuse movement into the work environment: 83 percent of Level users report being happier, balancing at their desk. "The need to produce is real," said Joel. "But it doesn't mean you have to give up your lifestyle when you walk through that door."
Joel Heath is proof of concept, an entrepreneur who took a chance to step away from a stable corporate career to deliver on the promise he put up on his bathroom mirror years ago. At a time when his back ached and he felt stuck, and he didn't know what was next: "I just set out on a journey with a purpose to help set the world in motion."
---
This is the third in our series on global entrepreneurs. Read our earlier two stories here: