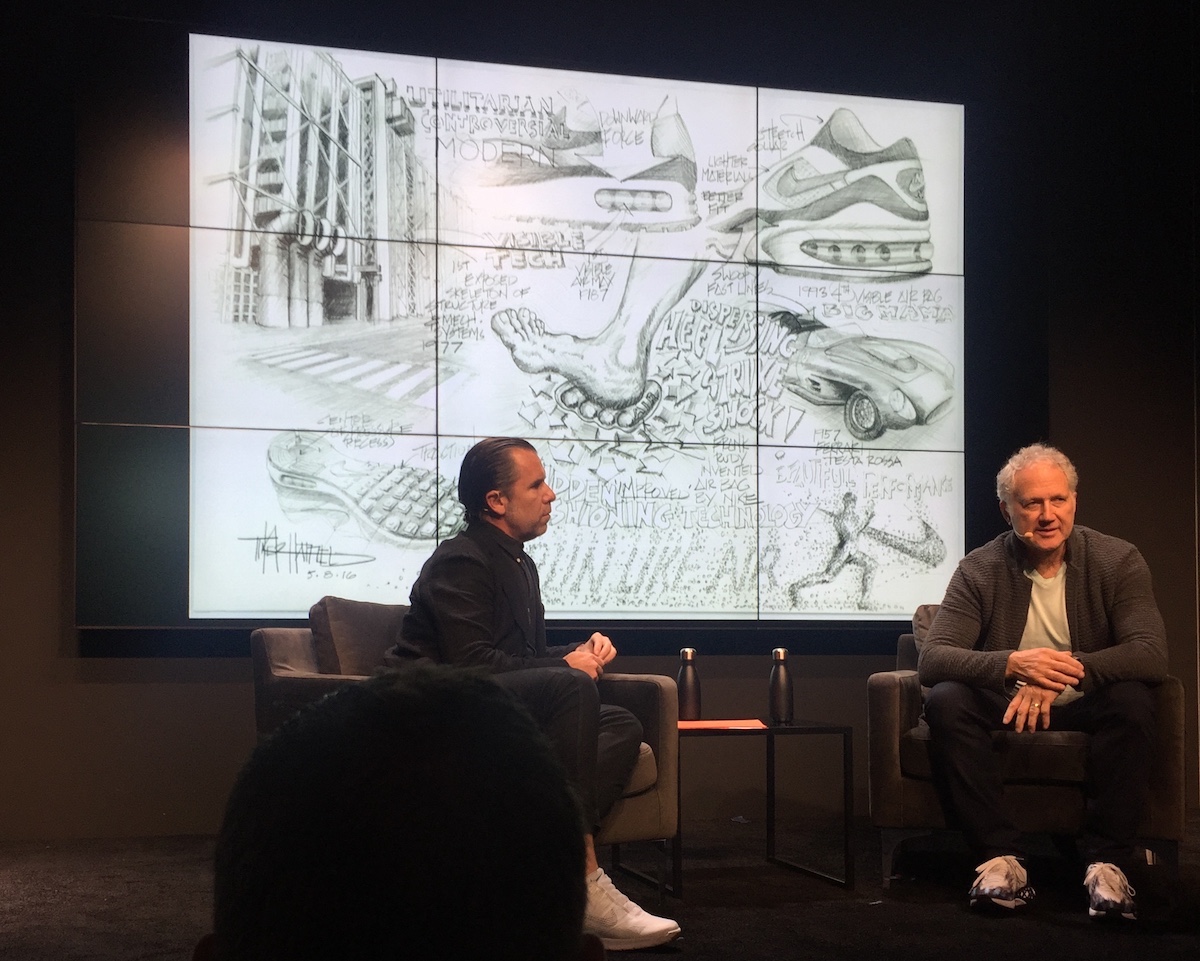 Tinker Hatfield, the legendary Nike shoe designer and master storyteller, was owning his moment on the stage at the WIRED25 conference in San Francisco, pulling his rapt audience along. If you value innovators, entrepreneurs, or people who do extraordinary things, listen in. It begins with pain, an intuitive understanding of looking outside for fresh ideas, and knowing that you've got to be strong because your best ideas will meet the most resistance.
"I often say, I'm not really a designer," said Tinker, joined in conversation with former Wired Editor-in-Chief Scott Dadich. "I'm a storyteller." On stage before a packed auditorium gathered to celebrate Wired Magazine's 25th anniversary, Nike's Vice President of Creative Concepts gave visual and animated proof of both his storytelling mastery and fascinating career.
A star multisport college athlete, Tinker was recruited to the University of Oregon by the head coach and Nike co-founder Bill Bowerman. Place and pain propelled his amazing design career. First, he told the audience, he had the good fortune to run track at Oregon. "I learned quite a bit about solving problems in footwear design just by being an athlete. But also by being exposed to the tremendous innovative mind of Bill Bowerman and what he was doing with athletes at the time." Then came the unexpected: the pain and trauma of a terrible accident – a frightening pole vault injury. Five surgeries later, he made it back out to the track, but his Olympic dreams were quashed.
The injury made the athlete realize that he needed to keep studying architecture, and so this guy who truly was originally named Tinker, began tinkering. Bowerman would hand him track shoe prototypes to test, and the athlete would give them a spin and then draw sketches of the shoes, providing feedback through his illustrations. This is when Tinker first learned the value of rapid prototyping, and to tell stories through drawing.
After taking a regular job as an architect at Nike, Tinker wanted more, and pulled an all-nighter to win a Nike shoe design competition, dreaming up a combination running shoe and street shoe, that would also be ideal for riding a scooter. The prize was a job – and a fabulous career. Nike Air was his very first major project, a design for which he nearly got fired. Inspired by the post-modern high-tech Georges Pompidou Center in France, Hatfield came up with the radical idea to expose the air bags built into the shoe, framing a window in the sole with a bright red wrap. Nike executives were freaked out, thinking it would never sell. "There were five or six reasons why that project almost didn't happen," he said. And then "the Air Max One took off. It was an amazing success story for, not just Nike, but all of footwear design. It's built on taking a risk for a good reason, which was to tell a story and to make a better product."
On stage, Tinker demonstrated his skills as a performer, charming the crowd with an animated tale about reeling Michael Jordan back from the brink of leaving Nike, acting out the parts of the basketball legend's much shorter father giving his towering son a lecture in the parking lot after a pivotal meeting.
Next up, the future of footwear. Dadich was modeling the HyperAdapt, the much-celebrated self-lacing Nike shoe that solves problems for people with finger dexterity issues, as well as for athletes, who need to have their shoes tightly laced while performing at high levels, and unlaced while they're not, to prevent peripheral nerve damage. These futuristic shoes automatically adapt to the shape of your foot via motorized sensors and sophisticated cabling. Put your foot in this smart shoe, and it automatically conforms to the shape of your foot. Run fast and it tightens, slow to a walk and it loosens. "Products can recognize you," Tinker said, "and adapt to who you are and what you do."
The designer himself was modeling a new Jordan running shoe tentatively named the GOAT, after Michael Jordan's nickname ("Greatest Of All Time"). A less futuristic shoe, but one that attacks a pain point. It's for people who don't love to run but need to train. The shoe provides stability in the heel to help slower runners. Then, when you switch into a higher gear it adapts and allows for lateral dexterity, for quick cutting and accelerating, so you can do a cone drill or catch a Frisbee on the fly.
Tinker's talk and conversation was both inspiring and beautifully illustrated. Well-orchestrated slides and short videos highlighted Tinker's designs and shoes, and Tinker generously shared his inclusive, overriding message. If you want to be innovative and disruptive, you've got to take chances, and expect push-back. "I'm sure some of you have almost been fired for some of your best work," he said with a smile, and then he headed out to autograph shoes for a long line of fans.
---
Nike's Self-Lacing Shoes: Innovation 5,000 Years in the Making