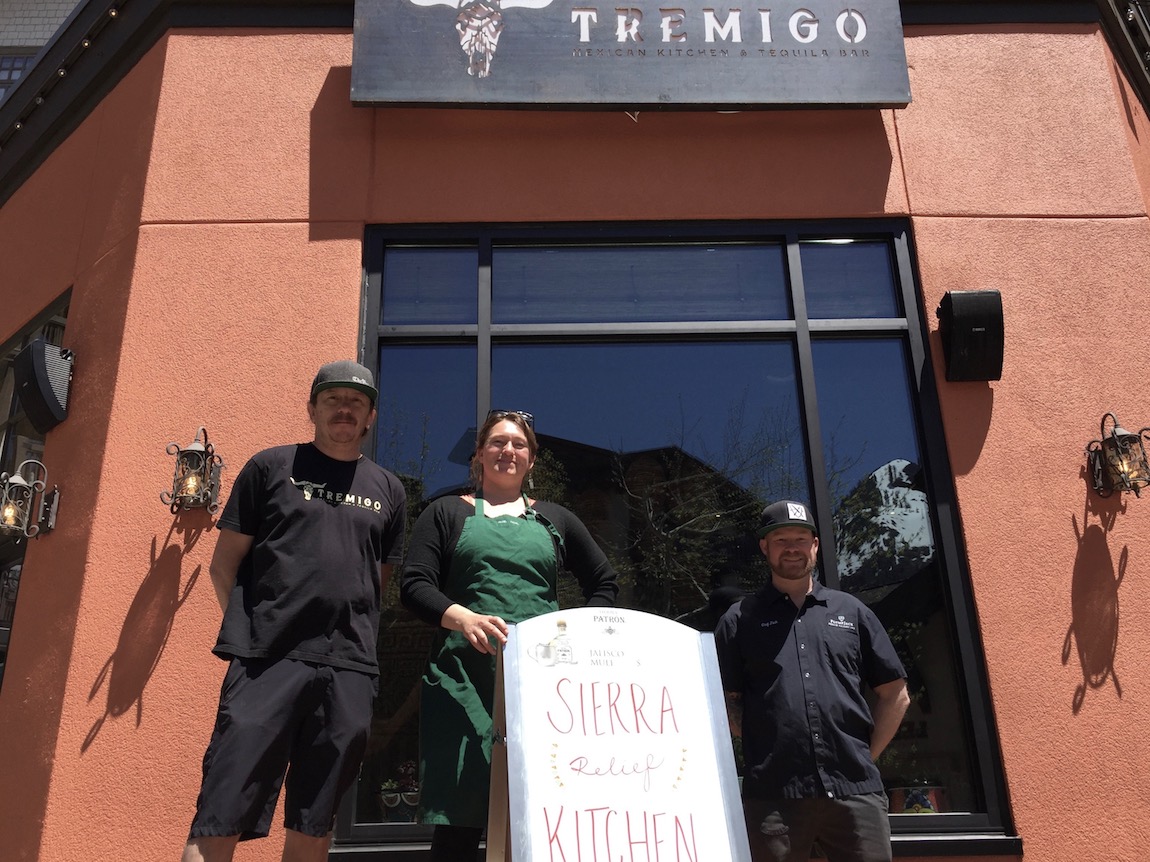 Tremigo Mexican Kitchen was the place to be at Squaw Valley in Lake Tahoe when it opened this December. Launched by long-time restaurateurs of the popular Auld Dubliner two doors down in the Village at the sprawling ski resort, the venture was an immediate hit. The resort was packed with skiers and snowboarders over the holidays and into January and February, and when Tremigo's liquor license came through in early March, margaritas were flowing along with the good energy. And then came the pandemic. On Saturday evening March 16, resort owner Alterra shut down operations, "zeroed out" employees, and Squaw became a ghost town overnight.
Just like that, Tremigo co-owner Rachel Graf-McCabe and her business partners Randy Rogers and Carolynn Nunn had to shutter two restaurants and sideline dozens of employees. Several hundred waiters, cooks, hospitality employees, and ski resort workers in the Truckee and Tahoe City region were instantly idled by the shelter-in-place mandate. Like millions across the nation, many local residents were running low not just on funds but on food. But Graf-McCabe wasn't ready to lose the momentum of her restaurant's launch. The former competitive snowboarder and rafting guide – comfortable managing a staff of 50 she considers her family – knew only how to keep moving.
On April 16, Rachel and husband Danny McCabe, owner of the Truckee restaurant The Station, launched a GoFundMe for a new venture they called Sierra Relief Kitchen. Her Tremigo and Auld Dubliner partners also came on board, along with her colleague Jack Connell, Executive Chef at neighboring Plumpjack Café. With four restaurants and three industrial kitchens, all they needed was money for food.
Donations poured in. Volunteers signed up. The New Moon grocery contributed vegetables. Tahoe Luxury Properties set up a Facebook page. Granlibakken Resort in Tahoe City donated food warmers and to-go containers. Operations were up and running fast. The funds covered the cost of the food.
And most importantly, people showed up. Lots of people. The Sierra Relief Kitchen was cooking. "The first Saturday we thought we were only going to feed 40 people," Graf said, "we ended up serving 120." The following Saturday, they were up to 250, the next week 550, then 650, now up to 750 free meals served for take-out or delivery. It was a massive job.
Now a few weeks down the road, it's a well-oiled machine. "We've got a really good system down now," Rachel says, "and it really only takes a few hours." Meanwhile, the effort has brought her closer to others in the tight-knit community. She's partnered with the First Baptist Church in Tahoe City and the local Boys and Girls Club. "They're great at running charitable efforts," says Rachel. "They took care of a lot of the sign-ups and delivery. That helps lessen the workload."
Graf-McCabe's youth had its share of lessons in compassion and empathy, essential skills for a social entrepreneur. "I grew up in a family where my mom's a nurse, my father's an animal lover, my brother has Down's Syndrome," she says. "So I've always had a passion for community service and giving back." Feel-Good Fridays were an ongoing event at The Auld Dubliner, with proceeds supporting the Achieve Tahoe foundation for disabled skiers. Last year, her brother came out to visit from New Hampshire and Achieve Tahoe taught him how to ski. "That was amazing," says Graf-McCabe. "I never thought I'd see the day."
What's next for the Sierra Relief Kitchen, Tremigo and The Auld Dubliner? The food donations will continue as long as they're needed, and the restaurants are set to reopen as soon. Meanwhile, Graf-McCabe is realizing a life-long dream. "I've always thought that social and environmental responsibility would be the future of successful businesses," she says. "With the way the world is going, you need to stand out and create sustainability."
Generosity and commitment never matter more than during hard times. Social entrepreneurs like Graf-McCabe who provide a platform for community members to support one other lead us out of this crisis. Tremigo has already opened for takeout Fridays and Saturdays, and this Cinco de Mayo the margaritas are flowing – with proceeds benefiting the Sierra Relief Kitchen. ¡Andale!
---