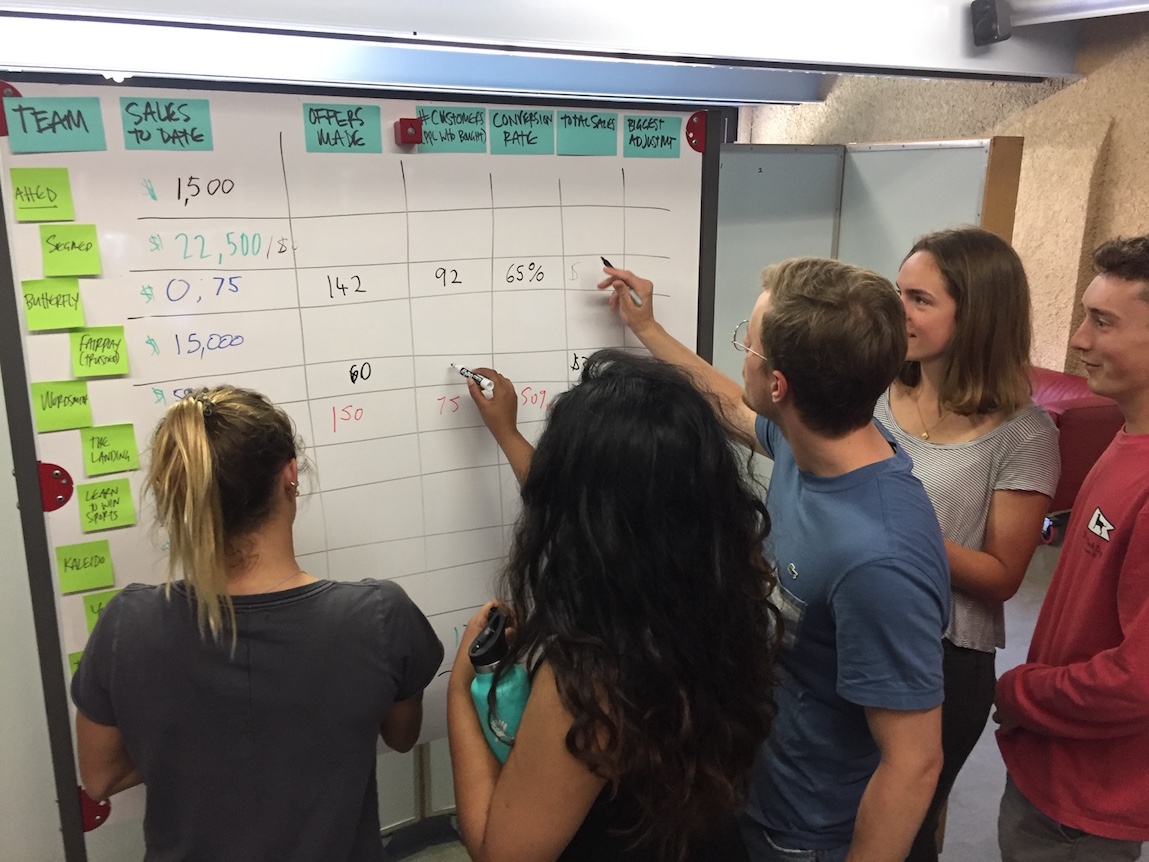 Welcome to The Test. You've reached the pivotal trial of your idea, product or project. Battle-tested entrepreneurs live for this stage. The thrill and high stakes of The Test are why, when they do finally succeed – even after failing two or three times – they're often hungry to come back for more.
What does it take? An ability to leap obstacles with tenacity and courage – to push beyond your comfort zone. The Test is about speed. Suddenly you're that Athlete thrust into a vastly more competitive arena where everything happens faster, where there's no time to think, barely time to do. The Test is about ambition, reaching higher than you thought possible. About making your own luck. And that heightened pressure demands another level of commitment. The Test is where entrepreneurs learn to fully trust their nature. Who they are, and who they want to become. Today in our excerpt from The Entrepreneurs Faces we take you to Stanford Launchpad, a hugely successful college accelerator created by Perry Klebahn and Michael Dearing that has birthed startups valued at over one half billion dollars. An immersive experience that puts the prospective entrepreneur through The Test.
[Below content is excerpted from The Entrepreneur's Faces, © 2020 by Jonathan Littman and Susanna Camp. All rights reserved.]
The Lemonade Test
Launchpad was like Survivor for entrepreneurs. Conflict and drama were both expected and exploited for the greater good. Teams bonded, teams splintered. Whatever happened, Perry Klebahn and Michael Dearing mined the real-life frictions of starting a business as powerful lessons for the whole cohort. One day, for instance, a student announced he wouldn't continue on with his team after the semester because he wasn't ready to throw himself behind what was fast becoming a real business. "One of your peers is standing up and having a whole discussion about how somebody's leaving because it's a real company," said Perry. "Because they actually need to get space, sign leases, distribute stock. It's like, 'We've got to get going!'"
Launchpad accelerated that forward lean, keeping the students on their toes, thrusting them out of their comfort zones. Some days they were spontaneously tested on their ability to hustle. They walked into the classroom to find Perry and Michael unveiling a cache of plastic cups, ice, pitchers, and drink mix – all the ingredients for a pop-competition to sell the most lemonade. The classic childhood summer pastime might seem a silly diversion. But Launchpad's Lemonade Sales Day celebrated ingenuity and salesmanship. This was a winner-take-all contest. No rules, just an exhortation to sell like crazy, and over the years the best teams showed moxie. One squad announced they were raising money for female entrepreneurs, and collected $400 in less than an hour. Another gave impromptu campus tours to visitors, charging for the service and offering the lemonade as a freebie, raking in a stunning $700. The next year two squads vied for the top spot. One team caffeinated their lemonade and sold it door to door in the dorms as a morning coffee alternative, collecting $656. Impressive, but not that year's winner. The other team, shut down by a bureaucrat who said they couldn't sell on campus, improvised by soliciting "donations" for their startup. They cleared over $2,000, which combined with their classmates' sales, nearly topped $4,000 for one hour's work.
The exuberance and can-do spirit of Lemonade Sales Day provided a critical lesson. Teams almost always earned more selling lemonade than they had so far in selling their own fledgling product. What did that teach? That startups needed to sell a whole lot better. Perry had just the remedy. Soon after the mid-semester Beta Test Trade Show, Perry confronted them with the 10X Sales Challenge, where the goal was to scale and sell ten times more than they'd managed to date. It sounded impossible, but the test often inspired exponential leaps.
Growth was about more than sales. Hiring and managing were also critical startup skills. So, during the second five weeks, each team was assigned a few freshmen interns. Most teams passively directed their recruits to a shared Google Drive document, with feeble results. The best teams met the enthusiastic youngsters in person, discerned their passions, and channeled those interests and talents toward essential tasks, often in the process grooming their first hires.
Launchpad inspired the students to throw enormous effort and ambition behind highly practical company building techniques. Perry and Michael didn't pre-judge success. This crash course in the Maker mindset was about imprinting the founders and teams with a direct, action-focused way of doing and making. The professors were forging a method, just as more than a hundred years ago a Harvard professor pioneered the case method of teaching law. The secret was going beyond studying, in casting off the shackles of your academic training. Launchpad was about making stuff, selling stuff. Getting results. Perry and Michael were teaching a method and mindset. It wasn't just about launching. The question was whether you had what it took to keep the momentum after you got out there.
---