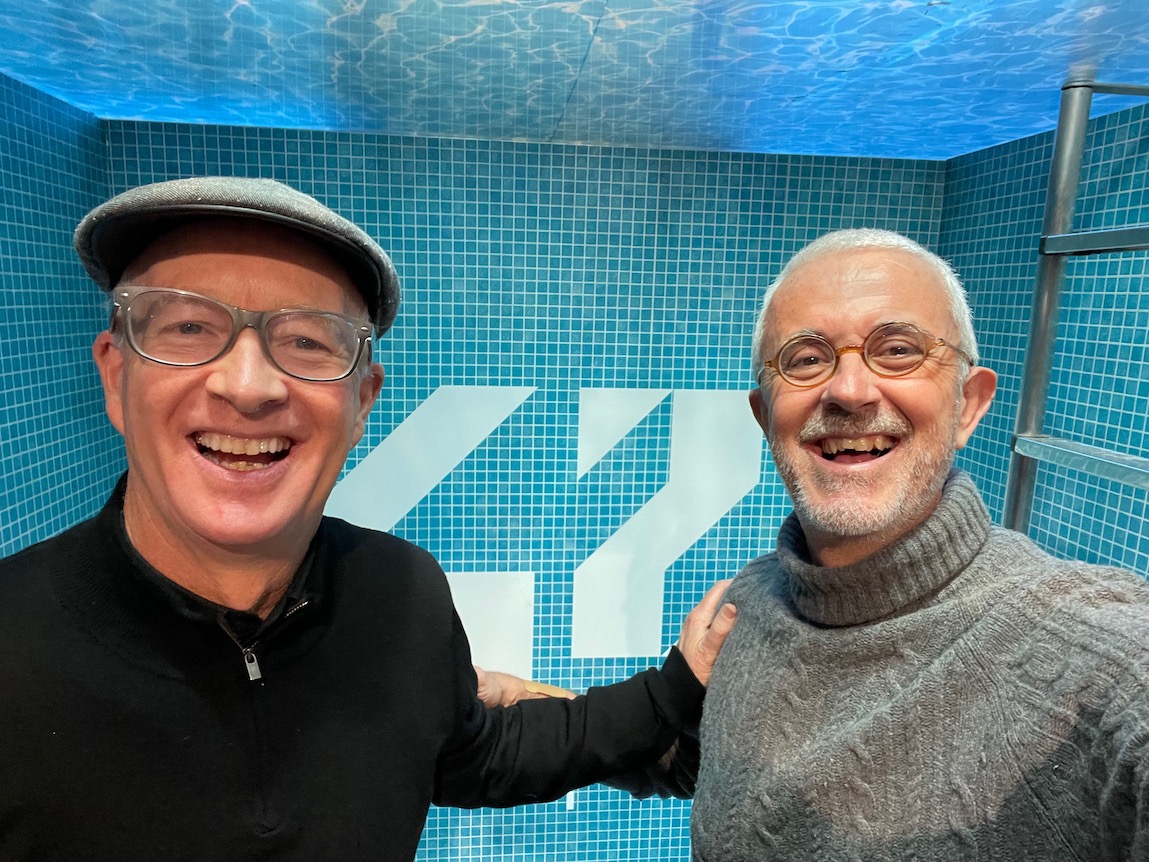 Meet Pedro Santa Clara, the extraordinary Lisbon fundraiser and visionary behind the ultramodern seaside Nova campus in Carcavelos and the transformative tuition-free coding school 42 in Lisbon's historical center. Pedro is cooking up other innovative ventures too – infusing Portuguese middle school and high schoolers with an entrepreneurial project-centric mindset. "If we really want to change the next generation in this country, we have to start right about that age," he told me recently at the dynamic 42 Lisboa campus in Penha de França, where he holds the title of Director. As a proud Cal Berkeley graduate, I was excited to also discover that this iconic Portuguese changemaker taught finance at the University of California, Los Angeles (UCLA) for more than a decade!
I first met Pedro by 42 Lisboa's iconic ping pong table, a staple of the school's 46 dynamic campuses around the world. Tall, lanky, extremely smart and exuding a certain LA cool, Pedro breaks the mold of traditional academia. Wondering where education and talent is headed in Portugal, Europe and beyond? Pedro's proclamations are a blueprint for where other smart cities and countries will soon run. One man who woke up one day and decided to change the course of learning where he could make the biggest impact: His native land.
JON: How did you get your backing and funding for 42?
PEDRO: I'm a beggar.
JON: Pardon?
PEDRO [laughs]: I'm a beggar.
JON: Well, a good one, apparently!
PEDRO: Yeah, I am, definitely. So already for Nova, I don't know if you've been to Nova?
JON: Yes, I have.
Nova SBE is a stunning modern business and economics university just north of Lisbon tightly aligned with major international corporations that has quickly garnered top international rankings; students can take a "surf break" walking from the soaring seaside campus through a tunnel to the beach. The university's Executive Ed program is attracting elite visiting professors and Fortune 500 attendees. [I wrote about Nova back in 2018, here.]
PEDRO: We raised €54 million for Nova. And for 42 Lisbon and 42 Porto, we've raised €9 million. Then for this new project that starts next year, we've already raised seven million for Tumo, a program for 12- to 18-year-olds in Coimbra with support from Nuno Sebastião of Feedzai and others.
JON: How are 42 Lisboa and 42 Porto going?
PEDRO: Well, we've had so far about 35,000 candidates between Lisbon and Porto, which is almost more than any university in this country. You know, the total number of applicants to higher education per year in Portugal is only about 40,000.
JON: So, your 42 Lisboa has more applicants than every other university combined?
PEDRO: Yeah, almost.
JON: You should be proud.
PEDRO: But we can only accept a small fraction of the applicants.
JON: How do you choose?
PEDRO: When you apply, you first go through a battery of online tests, which does a good job of selecting qualified candidates. Of the 35,000 applicants who do the online tests, something on the order of 5,000 get through.
After that you have the "piscine" [pool], a 26-day bootcamp. It's very intense. There, they learn to code in C. It's like a Navy SEAL [coding] boot camp. We've had ten piscines in Lisbon, three in Porto. So far, more than 2000 candidates have gone through that, and typically a third quit in the first week. They realize this is not for them. We end up selecting roughly half of the survivors. So altogether we have a bit over 700 students.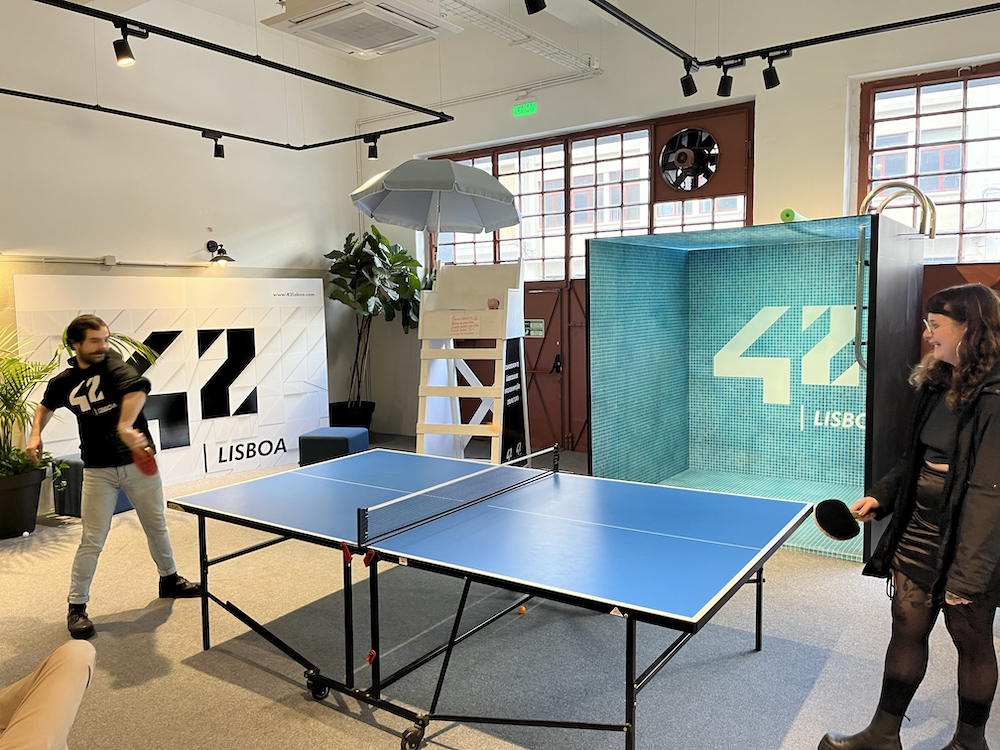 JON: And when was your first piscine?
PEDRO: In October of 2020. The first batch started the program in February of 2021.
JON: What have been your learnings? You've taught at elite institutions; you were a professor at UCLA for more than a decade, and now you're bringing your broad, diverse experience to Nova. What have you learned with this batch of students here at Lisbon 42? What are you finding works?
PEDRO: I'm totally convinced that the future of education is something like this. The very reason we were attracted to 42 and wanted to open it here in Portugal is that we like the pedagogical approach. You know, a lot of our educational system in place right now is an inheritance from the late 1800's in Prussia. I think at that time there were some valid objectives. We wanted to bring people in from the fields to the factories. To sort them out and so on.
But that's no longer really the ultimate objective of education. Now, we believe that you can do much better. For more than a hundred years, we've known that sitting in a classroom is a hugely inefficient way to learn. The retention rate of knowledge from sitting in an hour-and-a-half class is typically five to ten percent. It's just appalling that we're still doing that!
At 42, we're turning things upside down Like, I give you a problem and tell you, "Go pick it up. Go learn whatever is needed to tackle this problem. Work with your colleagues. Go online. Figure it out!"
Try, fail, try again. Right? Until you succeed! THAT really is a better approach.
JON: Do you have a vision beyond coding?
PEDRO: A startup we launched last year called Miles in the Sky does exactly that. Inspired by 42, we developed a learning platform based on the same principles, that is open to develop programs in any area. Right now, we're working on programs ranging from medicine to agriculture, from political science to entrepreneurship, and of course, a lot of digital skills.
JON: But it has the same problem solving, self-discovery, team-centric approach?
PEDRO: Exactly. The same pedagogical approach, designed from first principles to not rely so much on having the students physically present. So, it's better suited for remote programs.
JON: What do you think will be interesting about the 12-to-18-year-old model you'll be launching in Coimbra?
PEDRO: If we really want to change the next generation in this country, you have to start about that age. Teenagers are still transformable. It's a time in your life when you're still able to change your values, your culture. And that's why we want to do this project. Each of these centers will be for at least 1,500 students. So ideally, if we succeed and we manage to open five of these centers in the next few years, and we reach 10,000 to 15,000 students, that's a sizable chunk of that age cohort. And hopefully these will also have an indirect impact in the educational system.
JON: This is in addition to grade school and high school?
PEDRO: These are centers. Students come for four hours a week minimum. It's voluntary and free of charge, like 42. Over the course of three years, they develop a portfolio of projects in three areas, chosen from 14 categories, from creative writing to music to drawing, to photography, cinema animation, programming, game development, web development, and more. It's a mixture of technological and creativity areas. Self-learning guided by a platform that's very cool, with workshops given by specialists.
More about 42 LISBOA: The Podcast
Before Pedro could spearhead Nova SBE and 42 Lisboa, he had to break free of his own academic box. Abandon a successful teaching career at UCLA. Return to Lisbon and lead projects that he couldn't imagine in California. Pedro is a perfect example of why Lisbon, Porto, and Coimbra are leapfrogging into the future of talent and education. New, disruptive models that emphasize discovery and project- and team-centric learning. Why do we need this? Because international tech ecosystems accelerate when skills and capabilities scale.
Want to know more about Pedro and 42 Lisboa? Why this no classes, no teachers, school of "second chances" threatens the big Harvard, MIT Stanford brands with a network of 46 campuses worldwide? And why the viral model is attracting the likes of Mercedes, Google and big tech, and why Lisbon and Porto are becoming international hubs for talent?
Check out Ahmad Mansur's great video podcast with Pedro Santa Clara.
---